Does anyone knows about this sweetener SB-800 from CHEMNOVATIC?
I ordered 100ml today, really need to try this one




I've never heard of that @BigDisplay, you'll have to report back.
Well, CHEMNOVATIC is Sold retail as Molinberry brand and I haven't seen that on the Molinberry site, is it something new?
That might be a bit of a leap…but I'd be curious to read/learn more if you have a source!

I do vaguely recall reading/watching something about MB working with Chemnovatic in the development of their line (perhaps in the video interview with Pippa?).
Just trying to clarify that there's a difference between the fact that Molinberry is not a Brand owned/sold by Chemnovatic.

Kind of like just because Flavorah might work with Mother Murphy's in developing some of their flavors… Doesn't mean that FLV are owned by them.

Well I was on Chemnovatic site just the other day and it asked "are you a business" if you check no it pops you directly to Molinberry site, sooo I assumed (maybe incorrectly) that Molinberry is the retail side. If I'm incorrect,(maybe a stupid question) where can I buy from Chemnovatic?
I'm not sure that you can buy direct from Chemnovatic… I know that River Supply and Vaperstek sells their nic, as well as a few other vendors (someone else may have more details though).
Chemnovatic flavors and additives can be bought from DIYVS (DIY Vapor Supply) and Molinberry.
https://www.diyvaporsupply.com/chemnovatic-flavors/
Business to Business link: (read as: wholesale)

Please welcome Chemnovatic's Sweetener Blend SB-800!
We have something that will change the game completely! Sweetener Blend SB-800 is just as sweet as sucralose but has none of its downsides.
Why should you consider using Sweetener Blend SB-800?
It strengthens the sweetness of the flavours in your e-liquid.
It fits in the current consumer needs for sucralose alternatives.
It is not carcinogenic .
It is TPD compliant .
It doesn't caramelize or burn.
It doesn't overtake e-liquids' flavours .
It doesn't build up on coil so you don't need to change it so frequently.
It is manufactured with the use of only certified ingredients of the highest pharmaceutical quality from reliable European suppliers.
The same as all our products it undergoes strict quality procedures which are confirmed by ISO 9001:2015 , HACCP and GHP/GMP standard.
We provide our customers with full traceability of products and additionally every batch of products that leave our facility is laboratory tested on site.
Build your competitive advantage with Chemnovatic
At Chemnovatic we know that our task as a manufacturer of ingredients for e-liquids production is also helping e-liquids producers in meeting the customers' expectations.
Sweetener Blend SB-800 is the result of the hard work of Chemnovatic's R&D department which tested dozens of different solutions to find the one with the effect as close to sucralose as possible.
Order NOW!
Yes Molinberry is owned by Chemnovatic and another company …
Thats it Sobucky…Chemnovatic is the wholesale and Molinberry is retail…I believe they may even have retail locations BUT that part could be wrong
I saw this some weeks ago.
I could buy it, I just look at the price for sending letters to the US it starts with 100 gram, next step is 250 gram.
And the price for sending a letter at 250 gram will cost 8.73 USD for sending 100ml.
Just a thought, but now I will wait for it and then test it.
Do you have to show your EIN to shop at Chemnovatic?
Is this the VAT no.?
I have to show my VAT no. yes

That's the site I went to to find the Vanillin V-100 and it redirected to the Molinberry site for retail purchase,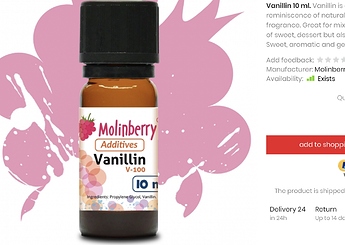 Maybe it's the other way around, Chemnovatic is a brand sold by Molinberry?
Thank you sir. Very much appreciated.
I apologize @BigDisplay (and everyone else) for putting out wrong information.
Just so I'm clear in my understanding…
Does Chemnovatic sell Molinberry direct to the public?
I remembered the lady* talking about working with them, but had the distinct impression that it was a wholly separate company.
(still catching up on the thread, but I'm still under the impression that it's like Nicotine_River was with their flavor house (that they work with). Two separate companies, just a joint agreement. Again though, please correct me if I'm wrong.)
*Edited to add:
"the lady" refers to Marcelina Gęca, the interviewee.
What I found when I went to Chemnovatic website, they do not sell direct 2 public only B2B, they redirect you to the retail site which is Molinberry. To find MSDS sheets on Molinberry Flavors you have to go back to Chemnovatic, which is listed as the supplier;

As far as the Sweetener Blend SB-800,
Looks like it's not available (yet?) to public, and there is no MSDS listed Yet. Looks like it's PG, EM, flavorings
(they do also have a Sweetener SB-65 which is EM on data sheet)