I recently began exploring the options I have with vaping. I wanted to see what it is like to use Temp control.
Before that, I always did 45-50 Watts on my Alien 220W. Depending on the ejuice, I'd go 5 Watts up or down from my usual sweet spot.
I recently purchased Eleaf iStick 200. Updated firmware to Arctic Fox's latest version.
I built with SS 316L for first time. I tried it on the Eleaf on Watts mode, 42-45 Watts seems to be just fine. However, When I went to TC mode, I was facing a problem. The lower I set the temp, the more likely I'd get "Protection" displayed on the screen when I hit the fire button. this prevents it from firing at all. The higher I set the temp, the more delayed the "protection" message is displayed. Meaning, that rather than showing up instantly, it would fire for about one second before I get "Protection" on my display. I went all the way up to 600 F.
I am sure I am doing something wrong. It might be the coils I built, or the settings on Arctic Fox, or both. Here are screenshots of both. What do you think is going on? I appreciate your input here.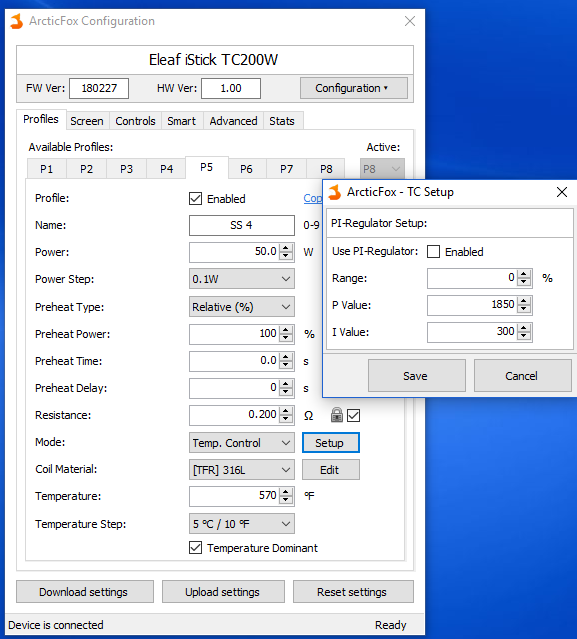 (Must click on image to view whole screenshot of steam-engine)