Hey everyone! Today, I am bringing to you all a review of the Mad Dog V2 RDA created by Desire Design, which I won in the Easter giveaway hosted by @buybest last month! However, this will, in no way shape or form, brighten my reviews in favor of the product, unless that is how I truly feel!
Okay, let's jump in…shall we!?!
First off, the Mad Dog V2 is obviously the next generation to its predecessor, which I have not had the pleasure (or maybe displeasure) of vaping on, therefore, this review is just a review of this RDA and will not offer any comparison to the original version of the Mad Dog RDA.
The package is simple. This RDA comes in a small black box:
Front and Back: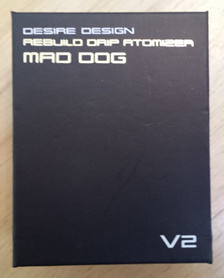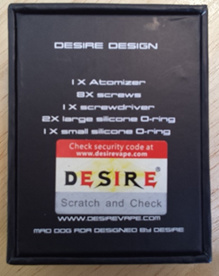 Top and Bottom: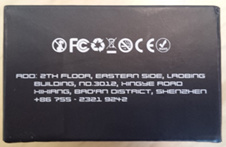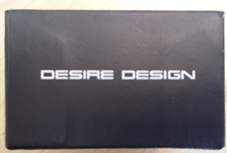 Right and Left Side: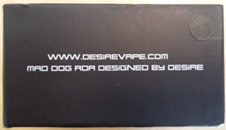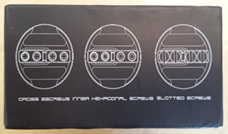 And when you open it:

This RDA comes in six colors, including black, white, blue, red, purple, and gold. However, the pictures shown on the Buybest website do not do the actual colors justice. Those pictures make them look very matte in color with a yellow ring around the top of the barrel and an orange ring around the bottom, but that is not really how they look.
This is how the website shows them: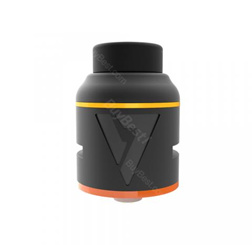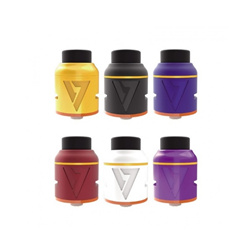 This is the way they actually look (much better, imo):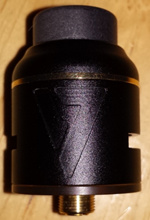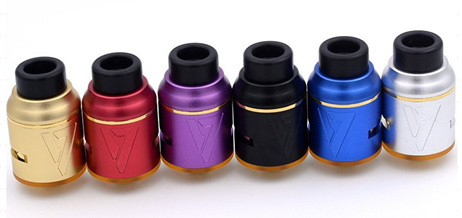 The colors are really nice, and the branding on them is really simple. Although, I have seen the original Mad Dog RDA and I really like the lettering on that one better, but this one isn't bad. As one can see, the color is a little shiny, not completely matte, and what looks like the yellow ring in the top pictures is actually a shiny gold band, just as what appears as an orange ring is actually an Ultem heat dissipation ring that screws onto the 510 connector.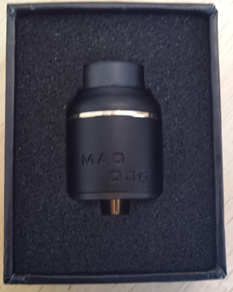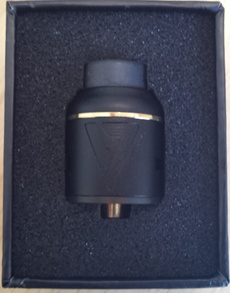 Also included in the box: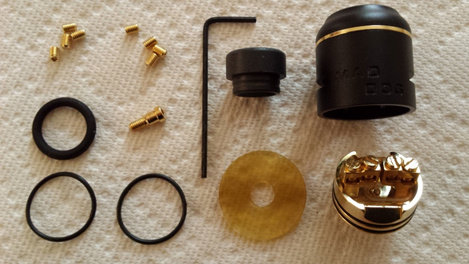 One thing I absolutely love is that included in with the extra goodies are two extra sets of screws, in addition to the ones that are already on the deck! That's right, there are 4 hex screws, 4 Phillips screws, and 4 flathead screws so that, no matter what kind of screws a person likes, they will be satisfied with this RDA because their preferential screws will be included!
Also included is a squonk pin, which I believe is, and should be, becoming the new standard in all RDA extras. I have used the squonk pin, and this RDA does a wonderful job on a squonk setup. The wide-open juice well allows the e-liquid to be distributed evenly to the wicks. In addition, the deck, screws, 510 and squonk pins, are all gold plated for better conductivity.
I do want to mention that the included Ultem ring really needs to be used with this RDA. The 510 connector is too long without it and will leave a significant gap on most mods. However, in my opinion, it does not look bad at all…not to mention, it will protect the top of the mod it sits on from suffering scratches.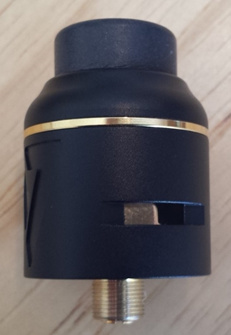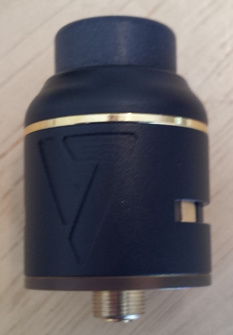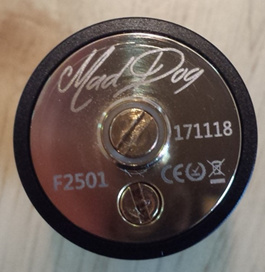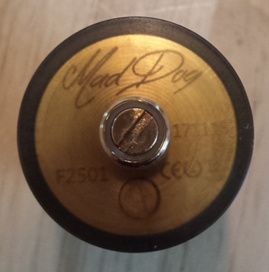 I really like the looks of the Mad Dog V2 RDA! One thing I was really sketchy on when I first started using it was the included 810 drip tip. I still have no idea what type of material it is made of, and at first, I wasn't too keen to use it because it felt really cheap. However, I decided that I would give it a chance, and to be honest, it may not be the prettiest drip tip, but it does a great job at dissipating heat. Not once while using this drip tip have I felt it get hot. The material it is made of is also very soft, almost too soft though. As can be seen in the following picture, the drip tip has an indentation in it. I did that with my fingernail very easily by barely pressing my nail into it.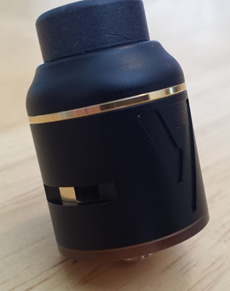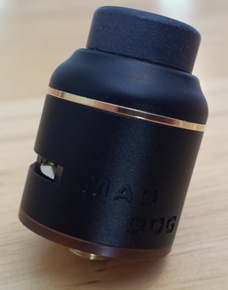 The Mad Dog V2 is a 24mm RDA that is only 37.5mm tall and is constructed out of a combination of aviation aluminum alloy and stainless steel, which makes it very lightweight.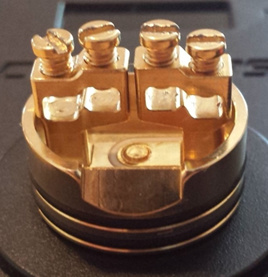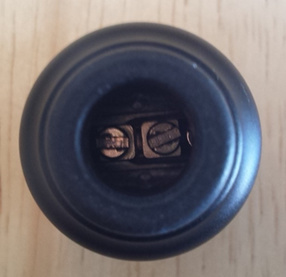 As can be seen in the picture above, the deck is comprised of a two post design, and both, the positive and negative posts, can be removed. The juice well is 8.5mm deep, which helps me out a ton because I have a tendancy to over drip, because I am still fairly new to dripping and squonking, however, with the juice well being this deep I am able to better guage when to stop!
Also, as can be seen in the other picture above, dripping directly into the drip tip is not a problem at all. After throwing a build in it and saturating my wicks, I measured how much e-liquid I could fit in it with a syringe and was successful in putting an additional 1.3ml in it with no leaking. The airflow is hosted by slanted slots that will direct airflow under the coils. This, in combination with the way the cap is domed inside, may be the reasoning that this RDA delivers great flavor.
I am sure it didn't go unnoticed that the post holes are staggered with the innermost post holes being higher than the outermost post holes. This can create somewhat of a problem if large coils are used, because when it is time to wick, there may not be enough room to drop the wicks into the well. Therefore, I recommend the coils be created and positioned with the outer legs coming from the top of the coil instead of from the bottom. This is so there will be more room for wicks on the outside of the coils. I did not do this, because I didn't really pay attention when I was building this RDA, and I really didn't feel like doing it all over again! Besides, my coils aren't huge, so I figured they would be okay, and I was right! I mounted dual coils with a 3.0mm ID, 6 wraps each, 28/36 clapton paralleled with 26 guage SS316L that are .15 ohm. Sorry guys, but I forgot to take another pic after I wicked it up! My bad, but I think it can be seen that after fitting the RDA with these coils I still had enough room for my wicks.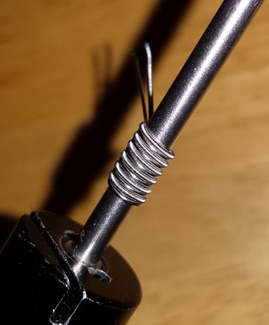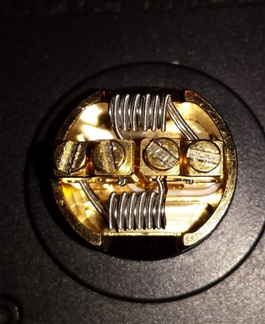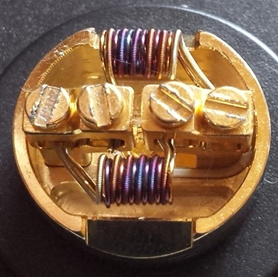 Okay, I am gonna go ahead and sum this review up with my Pros and Cons, however, if you have any questions feel free to ask and I will try my best to answer your questions.
Pros:
Looks good – available in multiple colors
Lightweight – made of aluminum alloy and SS (however, I'm not sure of the durability, but it
Spacious dual coil build deck
Offers 3 full sets of screws – Phillips, flathead, and hex
Price range - Buybest has them for $25.16
Great flavor and decent clouds
Airflow offers very little restriction and is very smooth when it is fully open
Wide open juice reservoir allows for unimpeded squonking
Cons:
No option for single coil use
Must take off top cap to remove the RDA from the mod because there is no way to grip the deck to loosen it (hope that makes sense)
This is an RDA, and there are no coils included! (not really a con, but I like to get nice coils included!)
There was only one hex key included, which fits the hex screws, yet the squonk pin takes a bigger hex key to install/uninstall it (luckily, I had one of my own)
I would like to see additional drip tips, possibly an Ultem 810 that would match the heat dissipation ring at the bottom, because I have a feeling there are going to be a lot of people who do not like the included drip tip (not really a con, but personal preference/insight)
Final Thoughts:
The Mad Dog V2 RDA by Desire Design, is a good little RDA, however, there is nothing spectacular about it. I say this, because it has nothing that has not been seen or done before on RDA's that are already on the market. There are better RDA's out there, but for someone on a budget, a beginner who doesn't want to spend a lot of money figuring out if dripping/squonking is for them, or even someone who just wants a decent RDA for a great price, this is a perfect choice! If one is looking for something that is top of the line and one of the best RDA's that can be bought, this is not it. This RDA has awesome flavor, and I really like it, especially for the price. If this RDA included all the things that I mentioned in my cons, the price would increase and be right up there in price with all of other RDA's that have hit the market recently. Can it compete with those other RDA's? I wish I could better answer that question, but I only have a few RDA's to compare it to. I will say though, out of the RDA's that I do have (Ijoy Combo Triangle, Digiflavor Mesh Pro, and the Vapefly Wormhole) this one is absolutely on par with them!
Feel free to point out anything I forgot to address, as this is my first hardware review ever! I will do my best to answer any questions anyone has about this RDA.
Thanks for reading!