Recurve RDA by Wotofo & Mike Vapes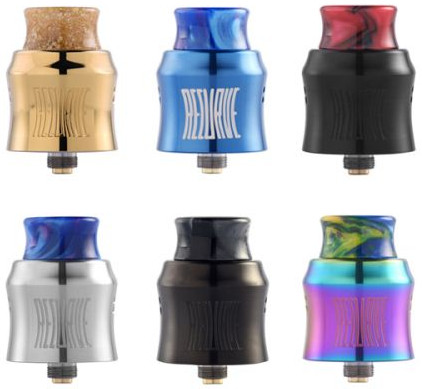 intro
I am excited and happy to present you a review of the Recurve RDA today. It was sent to me for free by @HealthCabin for the purpose of this review but I will give you my unbiased opinion about it.
So here we have another RDA designed by a reviewer, Mike Vapes. It's a single coil RDA that is marketed to flavor chasers and squonkers, but it comes with a standard 510 pin included for people like me that haven't found the right squonk mod yet. The Recurve is 24mm wide but due to the curvy design, only has a 20mm single coil build deck.
The first time I saw the previews I had my reservations. I'm a dripper, not a squonker, and the juice well looks really tiny. On the other hand I was attracted to the design, the build deck and the airflow. Before I received this RDA, I heard and read quite a bit about this RDA so I have to say my expectations were very high.
The Recurve comes in 6 colors: gold, blue, black, stainless steel, gunmetal and rainbow and is available from HealthCabin for the very competitive price of $27.99. They sent me the blue and the black version and if it lives up to expectations, this is going to be a keeper!
If you already made up your mind about the Recurve RDA, you can find it here. By the way, HealthCabin is celebrating its 9th anniversary this month so if you're looking for amazing deals, be sure to check out the info at the bottom of this review. Free shipping on hardware and e-liquids, up to 90% off deals and more.
unboxing the recurve
The Wotofo Recurve comes in a small box with a see-through window that shows exactly what you get. I received the blue version and it is a very nice color blue, not at all the bright blue color pictured on the Wotofo website. The cap with the resin drip tip comes out easily but tightly fit in the packaging. You probably want to be a bit careful taking out the build deck to avoid losing or damaging the dry o-rings.
When you open the box you'll find:

the RDA itself
a spare 810 drip tip, clear or dark frosted depending on the main color
an adapter for 510 drip tips
a multilingual user manual
Japanese cotton
4 extra grub screws
a standard 510 pin
2 replacement o-rings for the build deck
1 replacement o-ring for the 810 drip tip
3 nichrome coils, 3mm id, 5 wraps, quad core fused claptons around 0.25Ω
a Phillips head screwdriver
2 coil rods, 2.5 and 3mm diameter
As usual with Wotofo, some accessories come in black Comp Wire bags without anything written on it. You can't see but you can feel what's inside of them. They're not ziplock bags so you can't reseal them.
Even though the whole set seems very complete, I didn't see a flat head screwdriver to replace the squonk pin with the regular 510 pin.
Everything is also very nice and clean out of the box but for my own peace of mind, I always clean everything in my USC before use.

The 2 included coil rods also serve as a tool to cut the legs of your coils at the perfect length each time so that the airflow lines up in the ideal way every time you rebuild. Just align your coil with the short leg of the rod and cut at that length. A nice, simple and easy way to cut them the same length every time. At least… that is the idea!
I cut them about a mm shorter because my coils stuck out above the build deck ever so slightly.
The grub screws on the build deck take both flat and Phillips head screwdrivers and they're big enough to really tighten your coil in your atty. They're also positioned in the right place so you're not going to warp your coils when you tighten those screws.
The included screwdriver is the perfect length and a lot easier to work with than the tri-tools that I've become used to and cursed so many times. I prefer these type of screwdrivers but sadly enough, it appeared that the size of the Phillips head is a size too small for these grub screws. I would have been much happier with a single, proper size flat head screwdriver that could also be used for the squonk pin. Not the end of the world but it will probably just end up as waste for so many people.
As usual with Wotofo's atomizers, you won't find any information about the included coils on the box, bag or in the user manual. If you go to Wotofo's website however, you can see these coils are made from NiChrome, quad core fused claptons (4x28g/40g), 3mm inner diameter and a resistance of about 0.25Ω for 5 wraps.
A big thumbs up for providing this information but it would be even better if this information could be included in or on the packaging.
a look at the rda

From the first moment I saw the Recurve, I really liked it. It's got curves in all the right places and just looks classy with a nice build deck that seems able to take big diameter coils. The bigger your coils though, the more restrictive the airflow will become. With bigger coils comes more cotton and there just isn't all that much room for it, so I will stick with 3mm coils.
No aggressive looks, subtle airflow holes on each side. On the front they engraved the logo pretty deep, in the same curvy way as the rest of the RDA. On the blue version you will clearly see this logo because it hasn't been painted but the black version is.
The blue version is anodized, it's shiny and since there's no paint involved, it won't flake off and since this RDA is almost leak proof, it will stay clean. I'm not too sure how they paint the black version, but you can get scratches revealing the stainless steel look. It's also a dust and grime magnet.
Both blue and black version of the RDA came with slight damage on the squonk pin from assembling it with a screwdriver that was too small. This won't affect anything though.
The build deck looks really well designed, rounded and makes for a compact air chamber. Six little holes on both sides provide the airflow to the coil in what looks like a 90° angle but if you inspect closely, you'll notice that they're drilled in an angle. The outer holes are positioned a tiny bit higher than the inside holes. The deck is postless and allows for coils wrapped in both directions. A little bump inside the cap slides over the edge of the deck and blocks it between the posts from spinning around.
The deck is made from stainless steel and is sand blasted. The only gold plated thing on this RDA is the 510 connection pin, both regular and squonk versions.
The juice well will be filled completely with your wick, so that's probably why the Recurve comes pre-installed with a squonk pin. In the middle, by the squonk pin that's sitting flush with the deck, there's just a tiny little reservoir that can hold a drop or 2 but not much more.
The 510 pin is sticking out more than enough to be safely used on a hybrid mod. The squonk pin has a cut-out for a flat head screwdriver. The edges still seal off the juice flow to avoid making a mess.
The positive post is completely surrounded by a PEEK insulator. Both 510 pins come with a sealing o-ring attached and the pinhole on the base also has a PEEK insulator to avoid any shorts.
To use this RDA as a dripper, I replaced the squonk pins in both drippers. The one in the blue version was really tight and hard to remove. I didn't want to damage the pin any further so I had to go looking for a proper size screwdriver since the Coil Master v3 one was way too small. The black version was easy to replace so there's a bit of inconsistency in the manufacturing.
The cap of the RDA has wall that is about 1.8mm thick at the bottom and top and the outside is curved inward to give it its very recognizable looks. The walls on the inside of the cap are straight with a bit of a dome shape on top. There are 2 stoppers for the airflow on the inner walls as well, which will lock in cut-outs between the posts.
I did find inconsistencies between the blue and black cap with the placement of the stoppers. The black version, when fully opening the AFC, would turn a little bit further than intended and start closing off the airflow a bit. I only noticed because the airflow was a little bit louder when I "fully opened" the cap, I'm still getting decent airflow through it. The blue version lines up perfectly with the airflow however.
I'll just say that these are tiny little details that you can expect from an RDA in this price bracket. If everything would be perfect and super consistent, it would probably double the price and I think I'd prefer pay less and deal with these non-issues.
The first image (above) shows how the AFC is going too far.
2nd, 3rd and 4th image show normal airflow settings.
The last picture shows that you can't completely shut off the airflow (it opens up again at the wick's tails)
Due to the combination of tiny holes and thick posts lining up against those holes, it is not always easy to see how much your airflow is opened. When it's dark, you will probably need a light to actually see. For me personally it was never a problem because the fully open setting is by far the prefered setting.
building, wicking and vaping it

I've gone through several builds while playing with the Recurve:
the included Nichrome quad core fused clapton (0.25Ω)
a 5 wrap 24g 316L SS round wire coil (0.27Ω)
a 6 wrap 24g 316L SS round wire coil (0.36Ω)
a 316L SS dual core fused clapton (2x26g/40g) 5 wraps (0.25Ω)
I also used a variety of cotton, Koh Gen Doh, Cotton Bacon v2 and the Japanese cotton included in the package.
The ease of building is the same for all these coils. Just snip the coil legs at the right length using the included coil rod, space them, drop them in the Recurve, tighten the grub screws and wick. Prime, fill the juice well up with liquid and vape on it. There's really not much you can do wrong with it, super easy!
The grub screws handle both round and exotic wires just as easily, as long as it's not super wide fancy coil. I don't have tools to accurately measure the width of the post holes but you can't go a whole lot wider than the included 4 core coils, maybe a bit but not much.
Wicking the Recurve is fairly easy. There are probably a lot of RDAs that are easier because you don't have much room for the tails in the Recurve. I cut the tails of the wick just above the upper o-ring of the build deck. The cotton just touches the deck of the well without bulging up on the sides.
No matter which coil or cotton I used, I got plenty of flavor from the Recurve. The compact chamber and slightly restricted airflow allows a dense stream of flavorful vapor to go straight into your mouth. The top of the build deck sits just under the bottom edge of the drip tip so you shouldn't have the coil sticking out above the build deck.
I did get a bit of spitback when I over-dripped but as soon as I took 2 or 3 puffs, no more. I don't see this as a problem on a squonker because the excess juice will be sucked back into the bottle.
The quad core fused clapton is a real juice guzzler and you'll produce enough vapor to fill up the room pretty fast.
Under 40W, there wasn't much going on in the flavor department but it is vapable as low as 30W.
Between 50-60W is my sweet spot with a lukewarm and very flavorful vape.
At 65W and up, it's becoming really warm but you can keep on pushing this build up to 90-100W without the cotton burning or the RDA getting too hot to handle. At that power, no one would even believe you're vaping on a single coil atty… simply mind blowing what this RDA can do.
Dripping with this RDA is easy too. When your wick is getting dry, just squirt your juice through the drip tip. You can easily see the level rising to the level of the airflow holes. It doesn't matter if you go over the 2 rows. The wick will suck up the excess liquid and your first pull will clear out any liquid out of the airflow.
As long as you keep the your mod a bit straight, no juice will leak. Only if you'd purge it with liquid in the airflow or you'd lay it flat with a full chamber will you see a few drops coming out. I literally had no leaking or condensation and that's a huge plus in my book.
When I switched to my 5 wrap round wire build I did notice a tiny drop in flavor/vapor production but that is to be expected. The 6 wrap round wire build did a much better job, amazing what an extra wrap can do. Both coils still produced big clouds but just not as dense as with the fused claptons. Using this build will also save you quite a bit of e-liquid, the claptons were real juice guzzlers.
The build I vape on most times, a dual core SS 316L fused clapton at 0.25Ω, was just perfect for me. Clouds and flavor for days with the comfort and ease of temperature control. I could just vape my cotton dry without worrying about burning my cotton
I had it set at 65W and 250°C (480°F) which gave me a very similar experience to the 50W on the nichrome coil. SS fused claptons are notoriously worse in ramp up than nichrome, hence the 15W increase in power. Limiting it by temperature makes sure the temperature of the vape doesn't get too hot so overall the experience was very comparable.
airflow control

When it comes to the airflow, you don't have many options with it in my opinion though. There are 6 little holes on both side of the RDA that provide good, quiet and turbulent free airflow.
When you reduce the airflow, you're going to close 2 holes at a time from left to right. Instead of having the smooth airflow covering the whole coil on both sides, you'll adjust it to cover only the outside of the coil and this has a negative impact on the flavor.
In the most restricted position, you're not going to cool your coil as much on the hottest (center) part so you risk burning/scorching your cotton that way much faster.
Fully open, it feels a tiny bit restricted. With only 4 holes open there's even more restriction and keeping only 2 holes open will be quite restricted but nowhere near a mouth-to-lung experience.
None of the 3 airflow options will whistle, none will make excessive noise but I don't find the Recurve remarkably quiet either. Something that I did notice is that I have significantly less popping and crackling with this RDA compared to others and I have no explanation for it. I've used the same coils I use in other RDAs and sometimes I'm getting mini explosions in them. I can only assume it's thanks to the airflow and the way it consistently cools the whole coil.
The stoppers on the Recurve's airflow are a joy to have. If you screw the RDA on your mod, it'll open the AFC automatically when it's screwed on and it prevents the cap from spinning when you try to unscrew it from your mod. The o-rings on the build deck also have the right tolerances to allow the AFC to rotate without unscrewing the RDA from your mod. They twist easily once they're juiced up but they still hold on tight enough to pick up a 3 battery mod by the rda without the cap slipping off. I actually recommend twisting the cap when you pull it off to avoid putting too much force on your (press-fitted) 510 connectors.
thoughts
My expectations for this RDA were really high because and when you have such high expectations, it is the perfect setup for a huge disappointment. It was actually easy to find a couple negatives for this RDA, but overall I absolutely LOVE the Recurve RDA! Even though it's a single coil RDA, it performs very similar to a dual coil RDA both in flavor and vapor production.
One thing is certain, I am going to spend many more hours enjoying its company. I will keep feeding it delicious liquids for a very long time and will soon even get myself a squonk mod for the sake of convenience. This doesn't mean though that it's a bad RDA to drip on.
When I buy a dripper, the most important thing to me is the vaping experience and that is where the Recurve excels. Not only that but it is really easy to build on, you have the performance of a dual coil RDA but it has the ease of a single coil setup.
All the negatives are about the extra stuff that comes in the package: the screwdriver, the manual, missing information, … nothing really that impacts the actual vaping experience.
So will I recommend this one RDA to other people? Without any doubt, even if you don't yet have a squonk mod. If you are looking for a new RDA, if you aren't happy with your current RDA, if you just need something extra for flavor tests, … pick this one up and you won't regret it.
If I need to give it a score, it'll get a 9/10. That's how little the cons weigh through. If I didn't have one and a friend would let me try his, I would now be on my way to buy one.
pros
Very good flavor RDA, no matter what build you throw at it
Maybe a few could do better, but it scores very high.
Clouds bro clouds for a single coil RDA
You really get a dual coil performance from this beast.
Never gets too hot, even when chain vaping at high wattages
Price
Design & finishing
Super easy to build
No leaking or condensation thanks to a very nifty airflow system
2 useful 810 drip tips
Included coil rods allow you to cut the coil legs at the right length
3 nice coils included, including surprisingly good Japanese cotton
Coil specification available on the Wotofo website
More than enough space on the build deck for wider builds or to space your coils
Coils can be positioned in both directions (clockwise & counterclockwise)
Airflow is smooth as a baby's bottom and a little bit restricted.
cons
Cheap, useless screwdriver
No tool included to remove squonk pin
The spare drip tip is another 810 model instead of a 510
No mention of coil material on the packaging, nor which cotton is provided
The user manual is a bit of a waste of paper.
The juice well is really small
Not all 810 drip tips will fit (properly) on this one
Some will fit in loosely, some won't even fit at all.
Not too many useful AFC settings and difficult to see its position in low light environments.
May not look great on box mods due to the curvy design
Here are some more pictures of the Recurve on my mods. I'm sorry, some of my mods have had a tough life and are showing their age, but I wanted to include all possible shapes I could find. Not everything is mixy-matchy but it's just to get an idea of the shape and how it looks on different styles of mods. The curvy shape of this RDA may not suit every type of mod.
user manual
Like I said in the cons, a waste of paper. New users would sure like to have a little better explanation.

And that's all folks!
healthcabin
HealthCabin is celebrating their 9 year anniversary this month with a set of great promotions. They have a wide range of products at competitive prices and from May 14 until June 15 they even throw in some extras like worldwide free shipping, price reductions and buy-one-get-one-free promotions.
$5 off for orders over $50 - code hc905
$10 off for orders over $100 - code hc910
$20 off for orders over $200 - code hc920
Besides these promotion codes, you can save up to 90% on select products!
If you're in need of new hardware, now is the time to check them out at https://vape.healthcabin.net/healthcabin-ninth-anniversary-celebration/