Thoughts on steam crave v2?
You talking about this one @JustDot_Sam ??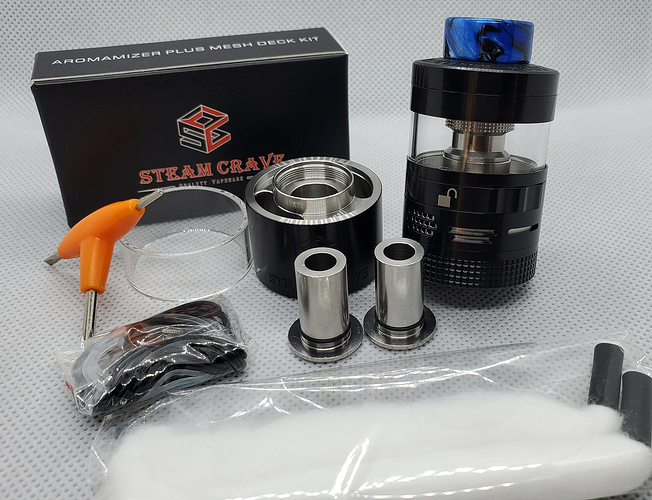 Yes mate just ordered one from fast tec just waiting for dispatch email
It kicks ass, and the backpack squonk addon for the Hadron kicks even more ass. I'm a SteamCrave zealot, so don't take it from me, but working up a review right now. I ordered the Advanced Kit form FT almost 3 months ago. Got sick of waiting, re-ordered direct from Steam Crave, and it showed up in less than a week FYI.
So do you think I'm gonna be waiting a long time?
Well, I don't want to discourage you, but they seem to be having some "issues" for the past few months. You may want to consider ordering elsewhere. I'm in the states, and got direct from SC in less than a week for what it's worth.
It's saying dispatching the 27th I might wait just to see what's happing, I have dropped them a ticket message see what's going on but like I say it was only ordered 2 days ago
@JustDot_Sam you will not be disappointed with the SC Plus V2, it is a very versatile RDTA.
The flavour is on point and the AFC caters for all configurations from single coil through to the mesh deck. I haven't found any fault with it yet.
Only problem is that when you have one, you'll want another :grin
Of course you could then get the Ragnar as well

That's my jam, love the Ragnar

I do like the V2 30mm but it won't make me replace my V1 in every color anytime soon. The Plus V1 is probably my all time favorite tank so tough competition indeed.
TBH My real favourite is the Titan with the mesh deck
The backpack definitely saved the hadron for me. It works really well, holds a ton of juice and you get half a ml with each pump. Small hands need not apply though

Agreed that combo is huge
I gotta agree, I still have the same build on the dual mesh series deck going on 3 or 4 weeks and still going strong. I am going to buy more of those decks for my other Titans.
Have you tried the new squonkable decks and new single coil deck? If so how are they?
Yes I have, and they are great, but my preference is for mesh decks.
I haven't bothered with the single coil deck for the +V2 or Ragnar.
Later this year should see a new Titan tank, that will be interesting.
Still meshing myself silly on this thing, and it's becoming even more difficult in finding something, anything that doesn't seem to work well. It's a juice hog, but duh, that's expected at this level/size. I did BRIEFLY extend to the larger tank, and with the extended chimney, I WAS able to notice a slight change, but it don't know how SteamCrave designs to seemingly overcome physics, but they do (i.e. typically, longer distances, reduces flavor).
With so little time, so many other reviews on deck, I probably won't be doing much with the series, single, or velocity (my personal favorite on my v.1 RDTA for SFT), but this setup MIGHT be converting me to being MORE of a mesh fan. Def. more than I was before.