I've been noticing some weird issues lately and I've heard I'm not the only one.
Clicking on user avatars usually gives a pop-up with info, msg button etc. Some profiles don't have this anymore and their avatar has been replaced by a placeholder.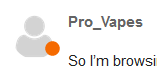 I've had it with SmokyBlue yesterday too, although today her avatar is back but still no pop-up.
I've tried different browsers too. Not sure if it's me or something up with the site. For most people, everything looks still A-OK on my side though.


It's weird…