nah, would not vape that !!! its lil pocket pistol, North American Arms 22 magnum.
those are pre-made SS316L from Advanced Vape
I always forget those guys-I've heard and seen that they do some fine work. One of these days I'll get off my duff and place an order.
I bought them and some rolls of wire when they had memorial day sale. I plan on making some myself, I have been making them but I only had 30ga kanthal for the outside wrap and 24ga double stack SS316L. I even bought some magnifier glasses with light from amazon so I can see the 34ga SS316L… That stuff is thin, thinner than human hair !!
When I used to do Claptons, I often used 28/40. Talk about tough to see! 40g makes you feel real old real quick trying to look closely at it.
Just arrived Saturday! Got the Aegis V1 for my wife a few weeks ago and was very impressed. Had to get the latest after my Therion 167 bit the dust. These things are solid!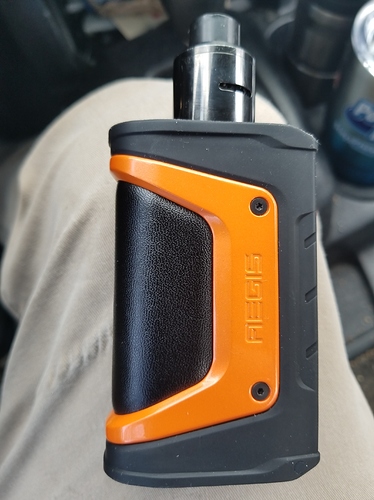 only two new flavors , and inly needed to restock the VIC and Sweet Cream so why spend money when i didnt need to , a couple years ago i would have went crazy with the sale …
Still looks like a lot of icecream lol.
i shldnt need any for awhile lol
Loving that SC and VIC haul @fidalgo_vapes. I have the FA NYC on order, but already have the graham crust, and it's good.
i may try the GC down the road , but i really am looking forward to trying the Cheesecake
have an extra steam crave aromizer plus 20ml if you want me to send cause yours got stolen
the loaded revolver mod is kinda dangerous to vape from isn't it?
extremely !!!, that little thing will jump out of your hand as soon as the fire button is hit !!!
I'll assume it's a one hit wonder
Looks like the latest mod by LastVape. The vape that ends all others!!!
hmm, that must be the dual 21650's

Shame it only "kills it" with one flavor… Pineapple.