@nchris I'm assuming you ordered direct from MF because of the Cucumber and Honeydew Melon ?
I hate to say it @NChris , but you should have asked for samples. They sent me three free samples with my last order (of seven flavours) . But they don't send unless you ask.
Ah well, you'll know next time

Personally, I'd put in several orders with 'em before I caught onto this
This is the first time I ordered straight from Medicine Flower. I've always ordered from Good Earths Beauty and they always just throw in some samples so I didn't even think about. Oh well, next time.
Good grief! you've identified the two flavours thrt GEB don't stock! …or are there more? I ask cos I was seriously thinking of ordering from GEB next time…or maybe the time after that, seeing as Honeydew is on my wish-list. Anything else I should order direct from MF before hopping over to GEB?
I didn't think Medicine Flower gave free samples, I thought it was just GEB that did that ?
@jay210 Obviously I know of those two, but can't give an entire list at this point. I HAD assumed GEB were the only ones that gave away free samples, not MF ?? If MF IS giving away free samples, might just be best to order with them.
I only recently found out MF do it , shared that info here:
If you think about it, it makes sense that they also give out free samples,to retail customers, seeing as they're the ones who manufacture those cute little sample bottles and send them to GEB .

I reckon we're all idiots for not thinking of that before. (But especially me, since I've made this MF-buying lark my thing

)
You're quite right: might as well order direct from MF, except, perhaps, for we foreigners. GEB offer droolingly cheap International shipping rates!
PS apologies for turning this into yet another Medicine Head thread . But people will post pics of Medicine Flower deliveries here, won't they? What are we poor, malnourished MF obsessives supposed to do?
PPS. For Pete's sake @SessionDrummer, I just noticed that you've already read that post and liked it


What the heck can i do? :shrugs:
LOL, a lot of posts here, trying to keep them all straight…
That is a huge bottle of wild blueberry… is it that good and what are you making with it? I've used blueberry extra tfa and blueberry jam cap but haven't tried the wild
I ordered directly from MF this time and I did ask for samples, we'll see how it plays out tomorrow when they arrive. I figured the value of the free samples may offset the cost of shipping, so why not.
Blueberry, strawberry, banana. Just got Butterscotch last week. I fear I may have just stepped over the edge of my budget!
Got my rubber coated Rage Squonker today. What a nice vape. Comfortable in the hand and the TC default for SS seems to be OK. Haven't messed with it too much…too busy enjoying the vape! They're still $35.00 off at recoilrda.com for just the mod.
vape mail today !! got some new and some new gold smooth vanilla, has anybody used this flavor? , also excited about some VTA, YEP imon that train!!!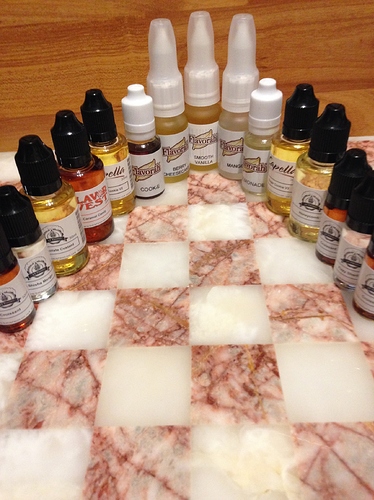 oh, and been meaning to post my new RDTA'S Steam Crave Aromamizer Supreme Lite and Vandy Vape Pyro, and a MTL pod Joyetech Exceed Edge. side comparison pic. to show how small it is, and the camo pink Andis mini razor, yea its mine, They did'nt have the green/brown camo, and I was in a rush !!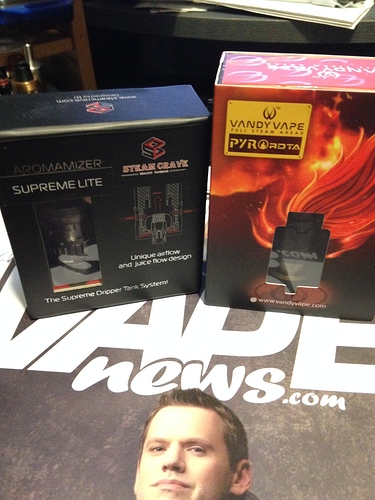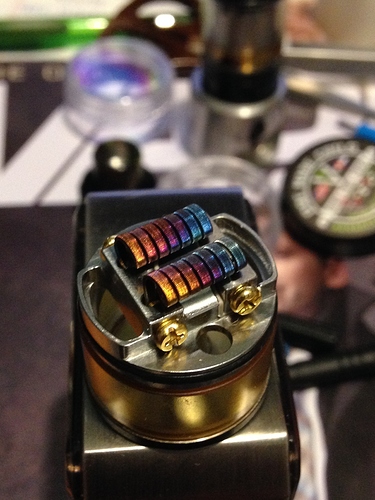 One of those things is not like the other!

On another note, are those SS Staple coils, per chance? Quite beautiful-Kudos!
Your not telling me that the gun shaped piece also is a vape device?
That wouldh be a sight

Come to think of it, you wouldn't be able to vape it because pepole all arround would stop ya !