New Year New Thread
Post up your latest vape mail.
Just got BCF order in after a little finagaling at the post office dealing with delays. Begged them to check in the back and they found it. Otherwise would had to wait to mix until Wednesday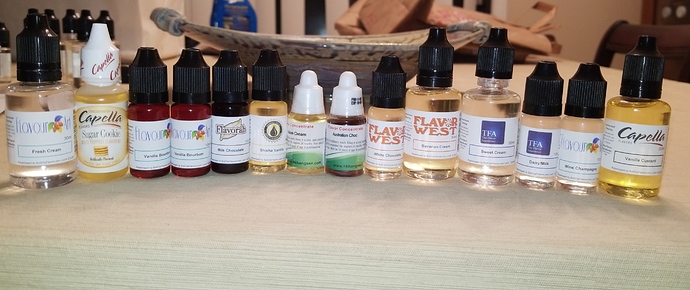 Enjoy the SilverPlay…its a great RTA…first one i got was during black Friday sale…I think it was 28.00 then eightvape had them on clearance for 9.95 I had to get 2 more…lol…its a strange atty as far as wicking…but dont take long to figure it out…this is like the rebirth of a attty called the Hurricane…if i remember right…then VaporDna brought it back under thier own atty…
its full of flavor…vapes like a dream…set it up fast cause u may want another…lol…go to Eightvape an get one…
there was also another silerplay a while back…but I still think the Hurricane was the original with that style wicking…but not sure
Everything's here!!! VG concentrates and nic came Friday. VG, bottles, scales and some odds and sods came today! Now I really do have all the (DIY) gear and no idea!


Just went and picked up my order from Juice Factory. Took advantage of the 20% off sale.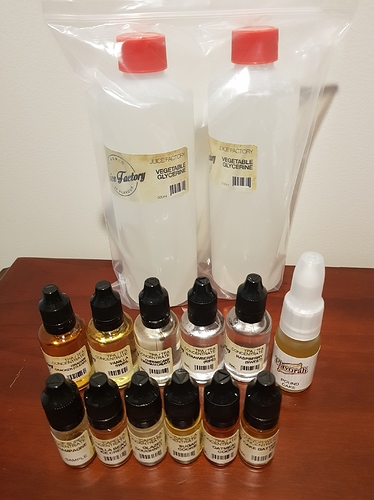 (Still available until midnight Wednesday AWST if anyone interested)
Just out of curiosity why do you get VG in 500ml containers?
I would usually buy in a bigger container from another supplier on the east side but didn't have anything else to order from there so the shipping cost would be high.
Juice Factory is 10min down the road so i can pick up for free. I havent looked into anything larger 5ltr before as it takes me awhile to get through it as i only mix for myself.
Out of curiosity what size container do you usually purchase and how long does it last you both?
We go through 1 gal every 3 months, we normally buy in gal jugs, but just started buying in the 2.5 gal size. We shall see how we like those containers. And we only get nic river VG, PG.
Those things are monstrous , ive only bought it once , just way too big for me to handle … Bring on the jokes lol
Couldn't help myself. I've gone through numerous 2.5 gallon jugs, and they can be a chore, especially when off-loading into 1L bottles and/or smaller mixing jugs. Beyond transfer issues, something to keep in mind when buying mega jugs is obviously how FAST you go through it. As you wear down the big 2.5 gallon jugs, the amount of air inside increases, and it can be a chore to shake shake shake to make sure it's blended good before off-loading. A good set of funnels is a must IMO, and I have a pile of 1L bottles that I break my big jugs down into, just to keep it easier. Buying big can save you money, but only if you don't dump it all over the place working with it !!!
A good set of funnels with the ever important air indent make it easier …
That's what I have been buying is the 2.5 gallon, but to make it easier I just refill the gallons jug's from the bigger bottles, should be getting 2-2.5 gallons from nicotine rivers New year's sale Friday, breaks down to a little over $10 a gallon shipped, probably the cheapest option. Then I make liters of my adv's, and and nic according to the level required when I break those down to 8 125 ml bullets. Just the easiest way for me mix when I do my bulk flavors,
I suppose mainly for me it is convenience and as couple others have said decanter bigger bottles can be a pain. I only refill a 250ml squeeze bottle. I probably could get cheaper price else where but i do like to support the Juice factory seeing they just down the street. I pay abit more but i only order when i need it.
Im still yet to try NR, one day soon ill try them
Do you remember what the lid looked like?
This may be a one time thing, just depends on how easy it is to handle.
I believe it had some serious knurling ( I hope thats the right word ) lol
Cool, I was hoping it would have a threaded knock out in the center. So I could just put a valve in and set it on its side.