Looking too buy a new in box Dopvpo top side any color. If you have one pm me.
Don't know if they would post to but there's quite a few for sale in uk vape shops
I know but the shipping costs are sky high to the US.
Dovepo has a few colors on their site. Saw Silver and green. If you want a fancier finish $5.00 more.
I just checked MyVpro still has some of the blue/black SE in stock $88, if you were looking for a place in the US
Thats the dual battery I'm looking for single battery
Sold out

Picky, Picky, Picky. LOL.
A little heavy but the dule is very comfortable to hold. Best squonk I own.
I might have to get one … then my battery platform (all 20700's) is wrong…see why i want the single.
I just went back and looked again after you says sold out, they still have them but only that one color listed at the very bottom
Oh wait, I just read where you told someone else you weren't looking for a dual battery one, never mind, lol
20700 is odd. 21700 is a standard format for single battery mods.
The dual is 2X18650 but I see your point.
21700 doesn't fit (as far as i know)
no it doesnt. Wish it would so I wouldn't have to buy a third battery format for my pulse squonker.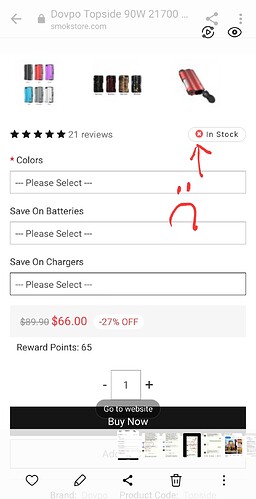 Its not in stock … press the buy now button nothing loads, but that is the animal I'm looking for. The 21700 battery is a typo they dont fit it. Thanks for effort I really appreciate it.
Actually 21700 might fit I was looking at the battery hole with a 20700 in there and there's a lot of extra room …

This one is in stock. Blue only.
Must be Extra for storage since 2018. Has a 10% site coupon.
I've been using the single every day since they came out. I have 7 of them but there have died. I've been using 21700 every day. Don't forget that it comes with an adapter for an 18650.
Also, the paint came off my blue one way too fast, none of the others did the that. I'm going to be sad when my last goes.