Now this looks a lot better then the last pos
It does look better though sadly it's a fail for me as it's not a 21700.
Dam new I should've held out I had a feeling that was coming
And it got a proper bottle
That actually looks much better than the previous versions.
I just noticed my brain fart there.
I was thinking the same lol
Oh yesh it does. No need to pull bottle to fill it. It looks way better then the 2
Tony.B.has got an introduction video up on his channel but I haven't watched it yet.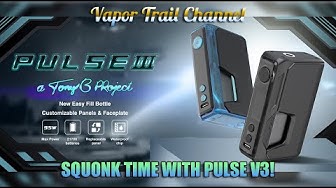 Looks nice but the fact that it's only 97 watts and a single 20x00 is a con for me. The battery would not last for me. I'm at 85-100+ on my dual coils. I do testing on a single coil, but obviously not squonking. I have several of v1&2 and like them for my Profile RDA's. I love Tony though, great guy getting things done.

These single battery squonks are best with a single mesh rda or in my case a SC supreme v3. Its all i run on single battery mods. Mesh is best
Sourcemore has em for 31 USD (and change) with code VVPV3. The shipping is 13.00 though (unless you spend $90, then its free).
Ill have to look as $44 is roughly £37
Is that a Titan or Titan 1.5? definitely a different beast to a squonk.
I still have the first 80 watt version of the Pulse upgraded to 90 watts and it's still working great and in mint condition, I bought some of the extra resin side panels to change the look and match my toppers. Its only downside is that it only takes up to a 20700 battery but I only run a single coil RDA like the Venna on it so it's not a problem. This new clear plastic version doesn't look as solid as my old one and also looks like it will crack if dropped, I hope I'm wrong.
Yeah most likely it will. The pulse 2 was brutal. The side panels just warped and cracked. The very first mechanical pulse was solid. Side panels stayed intact. As i tend to drop them now and then it does worry me