That includes Bigfoot.
I do enjoy fiction. Mostly in movie form though.
If anybody's wondering, I'm not dead, only to the world, blame @Wombatred26 for getting me into the Pendergast series.
Just finished Brimstone and straight into Dance of Death

Don't know about werewolves, but vampires are definitely real.
They just got the story wrong, they don't suck blood, they suck energy.
I was raised by one.
Fortunately they're not immortal

Back to Pendergast

Red Rising series by Pierce Brown. Loved every book.
Yet another falls to Pendergasting
Wow, still trying to finish "Acceptance". I look forward to getting that out of the way.
I was going to read those next, but I was prodded by someone to read Mark Haddon's "The Curious Incident of the Dog in the Night-Time" first - so I'm gonna do that

Doing a RE-read of one of my favorites …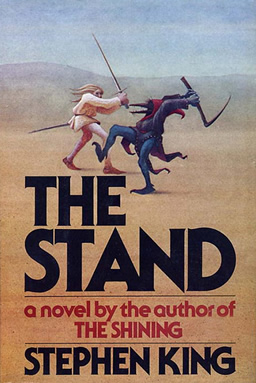 Oooh, I loved The Stand!

M-O-O-N. That spells "read it about a dozen times and still can't get enough of it."
Laws yes!
Currently reading "Ahsoka". It's a Star Wars novel.
Don't judge me…
Have you ever seen the US TV series "Castle"? It's based on a book series by a guy writing under the nomme de plumme (spell?) Richard Castle.
The book series is about a detective by the name of "Nikki Heat" who's forced (at first) to have a journalist ride along with her during investigations.
I'm on book 6. Don't let the ABC or Disney branding fool you! It's more adult than you'd think with publishers and branding like that.
Very good series, so far. Really draws you in!
BTW, I've not watched a single episode but in book four or five, they VERY briefly mention the journalist talking about a movie option based on one of his articles … (LOL giggleSnort) … Someone mentions a Nathan in the background … Fun fact: Nathan Fillion plays the journalist/novelist character in the TV series… Hahahaha can you break the fourth wall in a book… LMAO
I finally finished "Acceptance". Meh. IMO you can just read the first book of the trilogy and call it a day.
Also finished "The Curious Incident of the Dog in the Night-Time" by Mark Haddon - that was pretty entertaining.
Currently reading "Let's Explore Diabetes With Owls" by David Sedaris - pretty entertaining. I don't know what I was expecting, but it's sort of like reading a stand-up comedian's set.
That one is staring at me from the table. Gotta finish the Pendergast series first.
The Pendergast-series - you're reading 20 books?

I assume they're good? I'm looking for something - I'm almost done with "Lamb" by Christopher Moore. Not as funny as the reviews led me to believe. Not bad, but I had hoped it was funnier

EDIT: I guess we'll see - I just sent Relic and Reliquary to my Kindle

Though I just realized I have a few actual paper books that I haven't read. One of them is "Jonathan Strange and Mr. Norrell" by Susanna Clarke…
Yep, 8 more to go, I can't put them down.
Already dreading the black hole that will follow after finishing the last book of the series.
It will take me a while to get into something different after that.
Give that Richard Castle series a try, @Josephine_van_Rijn. They are supposed to tie in with the TV show but it's not necessary to watch to enjoy them. They're surprisingly good.
Thanks girl, I've got plenty on my reading list, that's not the problem.
My mind has to adjust after a binge like that. Anyway, I'm not there yet, just starting two graves.