I'm half way through reliquary now and completely hooked.

Fantastic!! I am on the fourth book of The Dresden Files series, now…haha and I'M hooked lol


I enjoy mostly non fiction. Autobiographies, true crime, history, with a bit of erotica thrown in for good measure. I lived at the library as a kid and used book stores.
I found this website recently… I won't say what book I recently checked out because it's very very naughty.

The Internet Archive serves millions of people each day and is one of the top 300 web sites in the world. Books published prior to 1923 are available for download, and hundreds of thousands of modern books can be checked out through the open library.
https://openlibrary.org/
https://archive.org/
You might like the two series by Laurell K. Hamilton, then. She has the Anita Blake, vampire hunter series and the Merry Gentry, fae series. They aren't nonfiction or autobiographical but they are great fun in a supernatural erotica sense.
Bigfoots and aliens gettin' funky??
More like werewolves and vampires or anything Anita can get in the sack, First few books were good then it got a bit monotonous.

But there's no such things as werewolves and vampires!
That includes Bigfoot.
I do enjoy fiction. Mostly in movie form though.
If anybody's wondering, I'm not dead, only to the world, blame @Wombatred26 for getting me into the Pendergast series.
Just finished Brimstone and straight into Dance of Death

Don't know about werewolves, but vampires are definitely real.
They just got the story wrong, they don't suck blood, they suck energy.
I was raised by one.
Fortunately they're not immortal

Back to Pendergast

Red Rising series by Pierce Brown. Loved every book.
Yet another falls to Pendergasting
Wow, still trying to finish "Acceptance". I look forward to getting that out of the way.
I was going to read those next, but I was prodded by someone to read Mark Haddon's "The Curious Incident of the Dog in the Night-Time" first - so I'm gonna do that

Doing a RE-read of one of my favorites …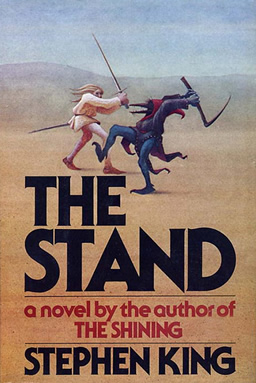 Oooh, I loved The Stand!

M-O-O-N. That spells "read it about a dozen times and still can't get enough of it."
Laws yes!
Currently reading "Ahsoka". It's a Star Wars novel.
Don't judge me…