Really cool

Looks good and produces great flavor especially using the Ice Creamed Espresso of yours! SO GOOD!!
I'll have to consult with the Mods here, but I don't see why we shouldn't get a thread like that running. Start bringing ELR BACK to what it WAS before. All about the vaping, DIY'ing, helping out others, even paying it forward to others.
Hell, how many of us have flavors (LOL) sitting, right now, that were extras, accidental orders, maybe even flavors NOT in our wheelhouse (not fans of) ??
What if you could SEND them to another ELR member who didn't have them, couldn't get them, or really wanted them ?? How cool would THAT be ??
That would be awesome! I may not have the extensive flavor stash as others but I do have flavors that aren't me so to speak, and some I just ordered too many of, so yes it would be cool, and a great way to energize our community!
I did that a few months back I sent Lynda a big bag of flavors that I had no use for. I figured with that noted gig it must be expensive to have to keep buying flavors all the time.
THAT'S what I'm talking about @McDuckie !!! And the thing is, it doesn't have to be a "Big Bag O Flavors" (which is kick ass, hehe), but it can be anything. I remember years ago, I was having some issues with SS wire, and I forget what the issue was, but I had just mentioned it in passing. BAM, a random bag of SS claptons (hand made) showed up at my door, from a great member here. Nothing fancy, not expensive, but it was a nice surprise.
My buddy I grew up with is getting married after dating this lady for nearly 10 years… Great people! I feel my card is 100% appropriate…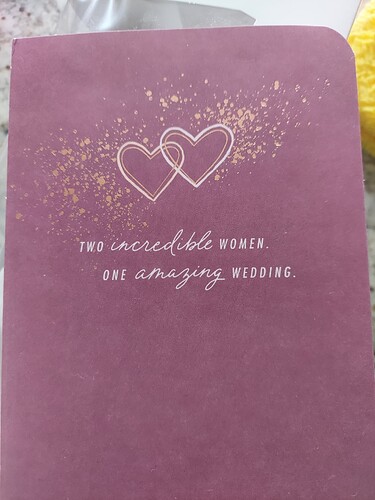 What's happenin' people. Nice to talk to a few fellow vapers I haven't seen in a while; always good for a smile.
Not back as much as sort of passing through, but thanks. How are you these days?
Just busy mixing, mixing, mixing… and growing old - ssdd
Exactly the same here. Running low on DIY supplies finally. Seems it's become more challenging to restock these days.
Ya more shopping over seas , discontinued stuff etc etc…Still a lot out there so not too bad
I started a rewatch of Stranger Things the other night. I had to run to Walmart the next day and there was Stranger Things Ice Cream. Well of course i bought some, the Chocolate Pudding is divine, btw. When i woke up this morning i reached into the freezer for some ice and there were 9 more pints of the Chocolate Pudding, my wonderful wife went back and bought all they had. lol
Unfortunately it is 5$/pint! I wasnt going to buy anymore because of the price but my wife saw it differently than i did. She also got Cinnamon Bun Bytes, its okay and U.S.S. Buttersotch, we havent tried that one yet. There are several other too but we werent interested.
Scoop's Ahoy!
EDIT: Forgot the link: Robot or human?
Outstanding choice @Ken_O_Where.
LOL, I had no idea that existed.
I was having a nice read in my garden yesterday. The sun was out, it was a lovely day and the flies were buzzing around.
All of a sudden there was a very loud, panicked buzz. A fat fly hooked by a string of web from that same puny spider I filmed months ago, torturing this fly for hours.
This fly was bigger than the last one. This was going to take forever.

I wasn't up for that so I freed the fly with a stick. It took a little while.
The spider was running around trying to keep track of it.
It must've been confusing, like featuring on an episode of Punk'd.
At least I could go back to reading in peace.
My daughter will be proud of me. She hates spiders.
8 legged freaks is what she calls them.

It's at least twice as big as the last time I saw it.