Alright, alright, I guess I've got to finally GET the SSA PB now.
It's a good peanut butter. Just a little hard to bend into the sweet creamy taste of the cookie.
@fidalgo_vapes asked if I had yet vaped the mixes I posted above? 555 by Dave80 (ATF) was ready and I can say I enjoyed it. However…the title leads you to believe that 555 Gold (INW) is the major player, it is not. It only tastes peanutty on the lick. The Red Burley overpowers it, which is fine if you're a RB fan. I would suggest to first lower the Red Burley if you want more peanuts and see what happens. I'm doing a couple of remixes, first to lower the RB then I'll try adding an additional peanut flavor. I'm also thinking of replacing the Ry4 Double with Soho just to add a different dimension to the mix.
Having (somehow) not purchased, or tried it, I can see that. The PB Taffy however, I could see doing most of the heavy lifting in that regard, and the FLV Cream finishing it off.
Can you get Peanut Butter Cookie (PUR)?
That's what she said!

(Sry couldn't resist)
I can but only place that sells it is in Canada.
I do have it in VG based Northwest flavors. Now there's a company no one hears about today.
I'm pretty happy with the way it turned out. If I want to chase my tail on this there's so many directions I can go.
No sense chasing your tail if you're happy with what you've got. I'm into keeping it simple if you can

The first recipe I wrote had eight version's. After the first three versions it changed to the point you couldn't recognize it from the OG. It just seemed to change to the point I didn't want to vape it anymore. The lesson I learned from it was trust your instincts. The recipe I released was the third adjustment.
Yes, isn't it a hard lesson to learn? Glad you got it sorted out.
Speaking of flavors, did you hear about the girl scout who dissed the Girl Scout cookies for her own home baked ones?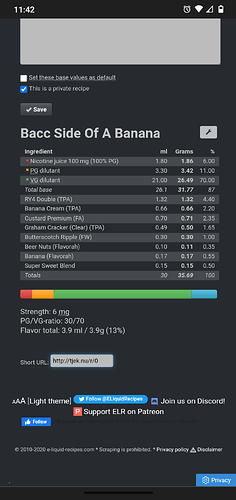 This one got stole from me by the ol' lady off the knuckle test when I made it back in February… Try it out if u like bananas, etc…
Where can u get this? I could never find it… FA's is a stouter flavored meringue, but it does what it should…, I just figured there had to be another maker tht was lighter than the FA version…
No Fn way!, Tysvm brother., I searched for it a while back & couldn't ever find it, TPA's website had some crazy shipping restrictions, so it kept me from ordering there
Since I got the Sonder U pod I thought I'd mix something for it.
Except for the Island Tobacco, go ahead and sub any favorite SB and Watermelon you like. I just happen to have the original SB SCRF (Raw Extract) and it won't last forever.
Thank you @McDuckie. Leave NO S'mores untested !!!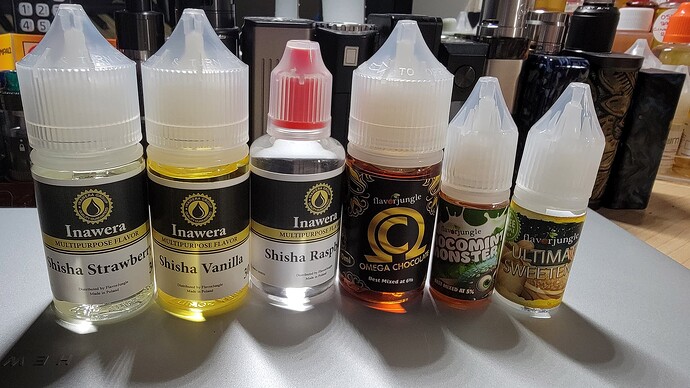 I have the Omega Chocolate but haven't tested it yet. I think it may have been a freebie, dunno. And I was wondering how the Ultimate Sweetener was?
@Ken_O_Where well, well, I bought the LPC (SSA). That stuff is expensive, lol! I never saw a SSA flavor so pricey