Thanks Jim, that means a lot. Hope you enjoy.
Sorry I don't have either one of those flavors but there are a few recipes on the recipe site with them or similar flavors. Here's one … Blueberry Cheesecake
Maybe @Amy2 @JoJo @Pro_Vapes @Joya or one of the other regulaes have one they can share.
The house smells wonderful, smells like coffee

This aught to be enough coffee mix test batches. 5 of my own mixes, 3 of HICs and 1 of @daath
I'll let them age for a bit and start samping.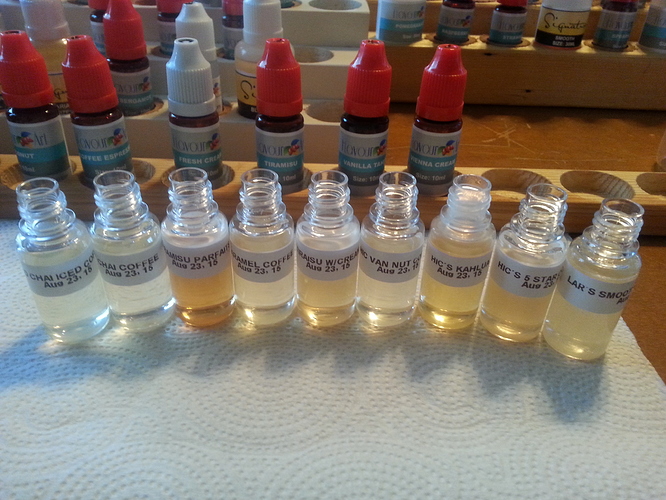 How much to make one and ship to Florida!? Haha I could use a few of those myself but currently do not have the space or facility to make one since I have moved-
Me likey @Shaner!
It's been a couple of days since I made the coffee mixes so I had to try some of them out. My two Chai coffees are still way to strong and are probably gonna need at least two weeks for the flavors to meld together.
Two of HICs mixes (Vanilla-Nut Coffee and Five-Star Fancy Coffee) are pretty yummy but need another day or two of steeping, and the third (HIC's Kahlua) is way strong and definitely needs to age another week.
@daath Smooth Morning Kick is fantastic! I mixed it with the optional caramel and coconut and dis shit is the bomb!!! Thanks Lars for sharing it!
I am vaping an adapted version of Deez Nutz by @nikka that I found on ELR. I was looking for something to do with my new Kiwi Double and that sounded appealing so I made it and I must say that I am enjoying Deez Nutz at the moment!!!
I am looking for a good ADV that I have yet to find. I mostly vape fruity juice, but none of the ones that I have made are satisfying to me all day long. I find myself switching it up every time I fill my tank. Is this normal or am I missing out on the best recipes?
This was my ADV for a long time and was the first recipe I purchased specific flavours to make.
If you're not a coconut fan then knock down the Coconut Extra between to 0.8-1.0%
Great ADV
Thanks @daath for the recipe post.
I still make this recipe today and currently have 100ml of it steeping.
It's changed from clear to yellow, yellow to Amber and I'm trying to hold out for the more red tones to come out in the juice lol.
Simply because I've never seen it get that far with colour. Lol.
CMJ
Thank you, I love coconut! I will definitely pick up some Bavarian Cream on my next order!
I'm a little ashamed to say I haven't sat down in my lab and really mixed in…weeks.
It hasn't been easy but my goal WAS to trim down my ridiculously huge inventory of juices I had made to a little bit more manageable amount and to also free up some bottles for the upcoming flavor reviews.
I caught a bit of a snag though and can't seem to put down my ylang ylang mix…I think I have sucked down 30 mls in the past 24 hours alone! I can't stop! and that's in a daily rotation of 2 other tanks…for those of you that have Ylang give it a try!
Citrus Cananga : http://e-liquid-recipes.com/recipe/217767/Citrus+Cananga
5% Bavarian Cream (TPA)
0.5% Blood Orange (MBV)
1% Lemon Sicily (FA)
5% Orange Cream (TPA)
2% Vanilla Swirl (TPA)
1.5% Ylang Ylang (FA)
Flavor total: 15%
Remember to rate it at: http://e-liquid-recipes.com/r/1J5j
Just got to say. I just put TPA Blueberry in my TPA Cheesecake 50/50. . I'd suggest a little cinnamon and leave out the graham cracker altogether. The key was that my TPA Cheesecake was about 5 months old. It is very yummy. To speed things up, perhaps you could shake, breathe and warm it. Time is the key. I'm getting low on my cheesecake and need to make more so it can age.
DarthVapor, as your friend I can help you cut down on your inventory. After all, what are friends for.
Address to follow. Lol
I've adapted that and it's killer yummy
I'm looking for a pear custard thing I can't really explain it it's like a craving?oh by the way it's a milk and honey I'm killing I made a 90ml 2 weeks ago started it yesterday it's like wow wow I'm gonna re-mix tomorrow so I have more the ti build on my crown is like I'm pigging out in a bakery.




I've been in a fruity mood today so I have been vaping my Peaches and Pear It's one of my wifes ADVs. FA Peach and White Peach are great mixed together and when combined with a touch of FA Pear they are outstanding. The pear makes the peach flavor really pop. Add a little cream for a nice smooth mouth feel … yummmy yummmy.
I have also been vaping my Bubbly Fruit Mix. FA Forrest Fruit with a little bubbly champagne

I'm currently sampling some 30ml test batch flavours I purchased from CUPCAKE WORLD (EU vendor)
Currently in my billow I've got millionaires shortbread.
For those of you that don't know it's Shortbread Biscuit topped with Caramel and Chocolate.
Also waiting to try Vanilla Custard, Vanilla Fudge, Chocolate Orange, Banana Walnut Bread, Raspberry and Banana Bread, Cookie Dough. All from the same Vendor.
All mixed at 15% 3mg 30/70 P/V.
Figured I'd go one after another in my tank to get a good view of them.
CMJ.