Glass or plastic comment below
Glass for steeping - Best results, cleaner taste, reuseable.
Plastic for vaping - Cheap, easy to use / transport, can be reused if it stays in good condition.
Having said the above, I use both for both.
If you have deep pockets go glass all the way.
Just don't heat plastic. I use both!
I started out buying glass but then as my flavor stash grew so did the number of juices I make.I still keep some of my custard mixes in glass but I use mostly plastic.
No doubt glass is best and if you have deep pockets or just planning on making a few mixes then I would go with glass.
Plastic works fine for my needs but everyone is different.
Glass is the safest bet i.e. leaching etc.
But, it also depends on which plastic you use.
I use PET [PETE clear food grade] bottles to age in with no worries for e-juice.
Usually LDPE for dispensing.
I use both, but I think glass is a better investment. I've had plastic bottles totally transfer the flavor of the previous juice to a new batch, completely ruining it. Glass won't do that. So if you're going to use plastic, I'd recommend putting the same flavor, or at the very least, the same flavor profile in the bottle every time. I'm trying to slowly switch over to all glass myself, other than my husband's unicorn bottles because he likes throwing those in his pocket to take to work.
Have you seen the new clear PET Chubby Gorilla unicorns NR is carrying? I should have several getting delivered tomorrow. Just curious if you've tried them yet. They make 30, 60,120, and 200 ml sizes. NR only had up to the 60, but Ecigiity has all the sizes. Thinking of getting some of the larger ones to do flavor bases in. Easy dispensing that way.
glass for everything until i vape the liquid , then i transfer into unicorn bottle
Yes, the 60ml. I would get more from them in an order, but they have been sold out.
@Nicotine_River clear 60ml Chubby Gorilla bottles
Eciggity has all the sizes in stock if you're interested. Not sure if Grant has plans for any of the other sizes. Prefer to pay his bulk prices, but I like availability too.
for the last few months I have been using plastic PETA unicorn bottles for mixing and steeping, I've washed them after and done a different flavour and never noticed any flavour discrepancies, I much prefer them because my 100ml amber glass have narrow tops so I cant fit my mixer in there, also the droppers are a PITA, I just prefer them all round

Thanks, but I'm not planning an order there soon. I really like the 60ml.
People Eating Tasty Animals ? Unicorns ARE REAL then.
I use the PET bullet bottles from NR 60ml 120ml 240ml for almost all of my aging.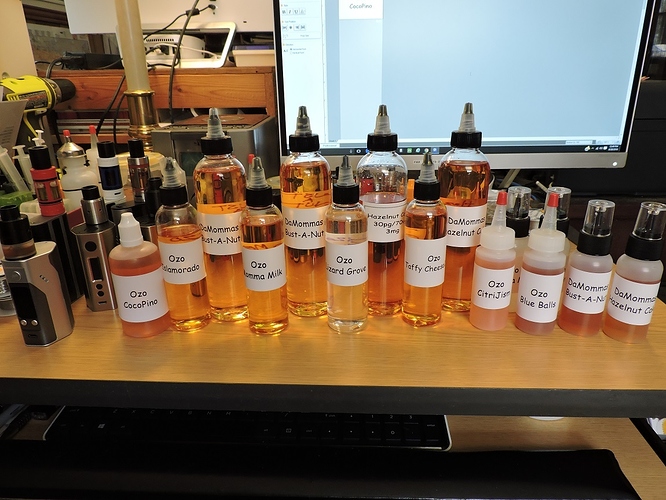 I see two sizes in the pic. Are those the 60 and 120ml?
No, they are the 4oz and the 8oz bullet bottles PET
the 4 bottles on the right are 60ml LDPE, the far left one is a 100ml LDPE
100% plasic for me

I like to let fresh air into my DIYs … With plasic you can squeeze the old air out, you cant squeeze glass
As a e juice bottle
…
GLASS dropper bottles have big tips and gets messy filling my tvf8 top fill tank as the fill hole is quiet small, also the lids get stuck and doesn't engage with the push safety lid and that really annoys me.
PLASIC bottle have thinner tips and you can just squeeze the juice clean and easy straight into my tfv8 and various other tanks … My favorite plasic bottle's are the ones flavour Art uses for consentrates, just slightly squeeze the lid and its open with a very thin tip.
I use only glass for curing and glass dropper bottles for my personal vaping. Some of my people request plastic so i use PET, it isnt as permeable as LDPE so it will keep your flavorings a bit safer from outside contamination and from loosing flavor as quickly as LDPE.
Don't ever use plastic bottles for any liquid with aniseed, eucalyptus and menthol etc. in it!!! Worst idea ever… those flavourings undermine the PE which is totally gross.
Mostly plastic, but that's out of necessity, I have nerve damage in my dominant hand and sometimes it decides to let go of whatever it has ahold of, all by itself. It can be interesting at times to say the least.
I have made the switch to glass and only use plastic when I travel. I bought all my bottles with a dropper but now need some polycone caps for 1/2 oz bottles, I saw them somewhere during a recent order but for the life of me I cant remember where, and I cant find them in my history. I also now have a cool little labeler and my bottles look really professional even tho this is just a hobby. I want to thank the community for all the help I've got from you guys in all aspects of my new little "hobby".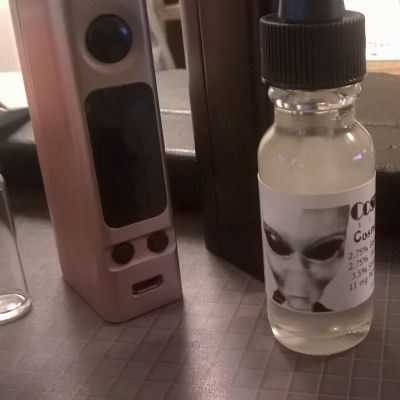 glass all the way at least till done steeping i have learned works best for me plastic kills the flavor use all glass if you can