If you thinking of getting one, Whiterose has like 10 built. Get them while their hot off the presses.
Is there a list somewhere of what types of mods and what their respective prices are?
@Whiterose0818 think you could provide pics of the mods that are hot off the presses for sale?
Yes… and the cost of one built for TC please?
DNA is the only TC mods I build. Hit me for questions!
I don't have a "list" but here's an idea:
Aluminum enclosures:
Dual 18650 NLPWM $125
Dual 20700 NLPWM $135
Lipo:
1300mAh 3s lipo NLPWM $130
2200mAh 3s lipo NLPWM $150
3000mAh 3s lipo NLPWM $200
Stabwood resin enclosures:
Dual 18650 Smart PWM v2.2 $200
Dual 20700 Smart PWM v2.2 $210
Lipo Smart PWM v2.2 $200 plus cost of lipo/install.
DNA mods only available in aluminum enclosures until I reup on stabwood enclosures.
Prices do not include shipping.
Questions? Hit me!
Pix coming up on available mods!
Everyone of those I give you all a challenge. If you buy one, take your favorite atty, your favorite juice, and hit them both. I am serious, it does something molecular to it to make it taste better. I have 4 Whiterose mods and do not look for any other mods. All mods get used daily. I swear by them.
Oh and for the price, it will pay dividends. You will not buy another mod again.
Unless it is another Whiterose mod. Lol. Just my humble opinion.
Smart PWM v3
N1 enclosure with full laser wrap
Mitec 16mm switch
Turnigy Graphene 3000mAh 3s lipo
This is the new Smart PWM board from Voltrove. It doesn't have a potentiometer, it has up/down buttons to adjust voltage output. It will deliver the assigned voltage until the battery can't deliver.
This mod can hold a 40mm atty with no overhang.
$225 for this unit.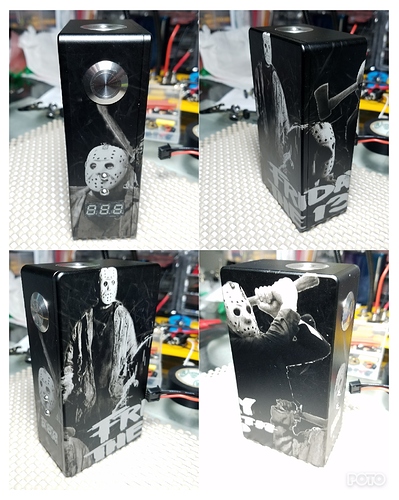 Smart PWM v2.2
Source 40mm 510
Mitec 12mm switch
Maxamps 1800mAh 3s lipo
Stabilized wood resin hybrid enclosure
This mod has a reduced price because of a scratch on the top next to the 510. There's also tool marks around the 510. These are barely noticeable, I might add, but I'm hard on myself.
The lipo alone is $60.
$200 for this piece.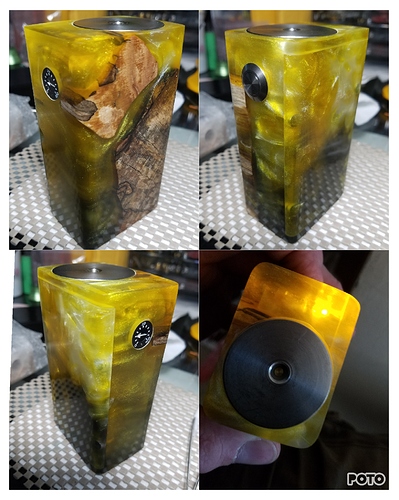 Dual 18650 NLPWM
I have three colors available:
Light green, purple, and gun metal.
FDV v4 UE 510
Mosmax injection molded sled
Full digital controls
Carbon fiber inlays in lids.
$125 each
Smart PWM v2.2
Dual 18650
Blue Mitec 12mm switch
Mosmax injection molded sled
Stabilized wood resin hybrid enclosure
$200 for this one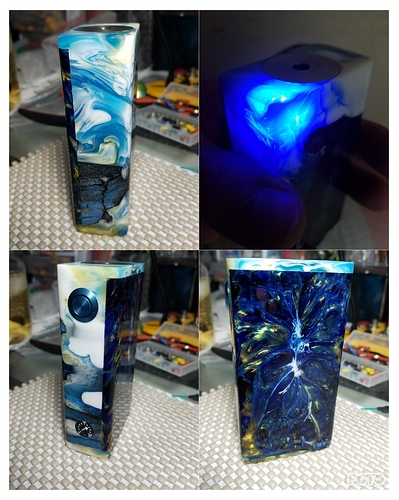 NLPWM
Turnigy 1500mAh 3s lipo
Source 40mm 510
Stabilized wood resin hybrid enclosure
$225 for this unit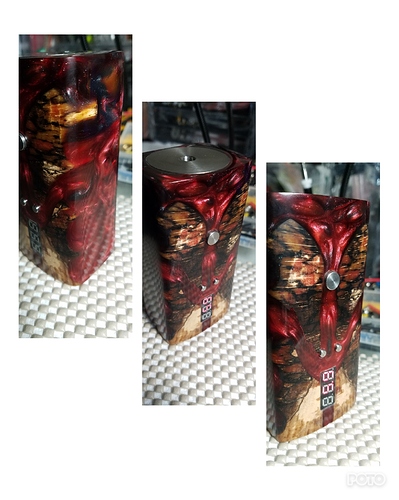 NLPWM
Turnigy 2200mAh 3s lipo
Full laser wrap of Where's Waldo
Yes, Waldo is really in there!
$180 for this unit