Could this be a bad sign that after just pulling in some of the Inawera line he isn't able to move it as quickly as hoped?
Who knows…they could just be running a sale like most vendors do? I would stock up myself, but I'm kinda set on INW flavors at the moment.

Maybe a introductory to get the ball rolling. Sometimes new products need a little help. I found that the product I tell people about is the one that sells. This is a good way to get the word out…
Nice… This always happens when my budget is in the negative! lol
Can't complain too much though. Shipment from BCV should be here by Friday and I have some FA tobaccos finally coming to me… thanks to that son of mine. I'll be shopping for recipes to clone from @Jimk fer shur!!

Ooooo…What'd ya get? What'd ya get?

I hate how WL rebottle INW in those little vials. Everything is rebottled. When ordering from them you may need order extra dripper tip bottles too. They're bottles are perfect if you mix by volume.
WL has the dropper that fits into those vials for sale as well.
I plan on buying in bulk from overseas anyway from here on out. I can save a ton. 1 bulk bottle will save you enough to pay for shipping and get 3 x 10ml bottles for free.
Actually @Jimk, I just got the list and there was only one FA
tobacco, but I'm happy:
Never worked with these…
INW Godfather
INW Gold Ducat
FA Dark Vapure
excellent share, my friend!!
i have always wanted to try their flavors! i just ordered 20 bottles!
thanks so much!
All those are really good for tobacco mixes!

I didn't care for the Godfather stand alone, however, it makes for a splendid addition to things such as coffee or recipes you want to have a little cherry/whiskey cordial note. I use it in my Don's Demitasse:

The Ducat and Vapure make for a mysteriously deep, but super pleasant tobacco note in your mixes. I'm never without them in my stash!

Have a blast with your new flavors!

I just meant in all the time I have used them I have never seen a sale or even coupons, so I thought maybe they had to move it
Yes WL packs in vials but they are also cheaper because of it. I don't mind the vials since I already have my flavorings in drip tips I just fill them back up with the vials

I typically only by 4oz from them anyways
It would be nice if they had larger sizes on the INW though…8mls don't last too long in this house hehe
At that price I'm going to jump on the wagon. Thanks for the info. I hope you all are doing well.
I actually never saw these before! Unfortunately he is out of stock but I may have to snag a few for the handful of vials I have left and use pips on

.44c isn't that bad since you can reuse them, I'm sure you can find them cheaper but it is good to know! Thank you @Amy2! You still are my favorite Amy on ELR!


Too bad they're eye droppers because that's a bit tricky on inw stuff but for TFA's, etc this are what I needed when I first started diy!! Haha I was using nothing but vials and pips when I started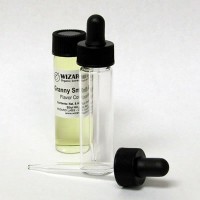 Here it is pictured with a vial of rat poison…
Vapers Tek rebottles INW in the same small glass vials. It doesn't afront me… I just transfer the rebottled flavors into bottles I'm already using for that flavor or dump it into the spare empty bottles I've saved over time. Recycling rules!

Exactly!!
Now if only I can find a good use for the dozens upon dozens of empty vials I have! At the time I thought, "oooo how nice, I'll save these!" Now they just sit there hehe
You would think they would be more $ than the little cheap plastic guys but I guess not?
You could sell them to a crack dealer…just kidding, just kidding, just kidding!
DONT go there! Just put'em in the recycle bin!
But but…they are so nice n cute…have to be a use for them somewhere!

Here ya go…fun for the kids and they make great presents at Xmas time for the Grandparents to enjoy as something their Grandkids did for them personally! Throw some sand and tiny sea shells in the mix!