Just ordered one. Thank you and the others who recommended it.
You bet! I prefer it to all my other rdas even the profile. I'm sure you'll love it! It grows on you lol.
Well it came in today. I'm impressed with the quality of this thing.
First build I'm using is one of the clapton coils that come in the package. I'm thinking for the reason I wanted a good single coil in the first place that the 0.18 ohm build is nice, but it's eating the battery. So I switched to a specialty coil from Geek Vape which came in at 0.53 ohm. Little better on the battery while still provide some great nooks and crannies in the coil for bubbly juices.
Next I decided with the stock drip tip - I'm not a fan. So I swapped out with an 810 I had in my spares drawer. Much better.
This is a good atty no doubt. It's easy to over squonk by I got the feel for it fairly quickly. So far so good, Still, I think there can be a better design out there but for now I'm quite satisfied.
Epic reply and build! I'm glad you're enjoying the atty. I was hoping you would. After my time with it I couldn't see how anyone couldn't like it lol
Well you said it grows on you and I find that to be very true. In fact I have been enjoying this set up as my go-to for many days now. I did switch the drip tip out for the one on the Recurve, and also have a fused clapton build in it now. Suffice it to say I'm very satisfied and not on the hunt anymore. But if something else comes along…

Lol

Yup!
I completely agree…come on mfg's…
this is the fukn 21st century, eh?
P.S. Robert, you know I love you brother…
but I really wish you would quit talking about
WHAT'S IN YOUR DRAWERS !!!
There are ladies here, and youth also.
I really liked my Recurve for flavor but hated how leaky it was… enter Reload S. I've had it for a couple weeks now and I'm loving it.
Just bought a few Citadel clones for flavor testing… so we'll see how she holds up. So far the reload is my go to from my Pixie, Recurve, Profile, and Dead Rabbit.
Reload S, just switched out tips, I hated the one that it came with.
Skyfall RDA. Can't afford the real thing so I bought a clone. Its awesome!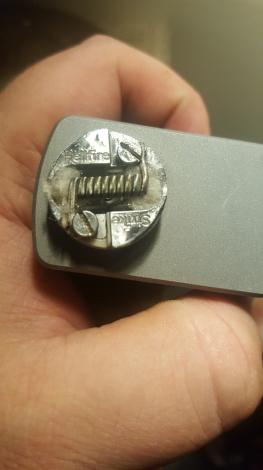 Nice little Atty I picked up, nice restricted DL dealio… Here's the dumbest coil I could get in there…
hell no… that is not cheating…


Vape it if you got it!!

Joel, what the heck ID is that? It looks tiny tiny.

Can't believe the Gorge by Advken is not being mentioned here.
It's a beefed up version of the wasp nano and will stand side by side with most duel coil RDA's with a 5/6 wrap 28g 3 core 38 wrap SS316 3.5mm fused clapton but the flavour is insane.
They have become proper unicorns in the UK but if you are looking for a single that can stand up to duels or just after a banging flavour RDA and can lay your mits on one then snap it up.