I got an email from @River_Supply_Co telling me they had to evacuate. I deeply hope everyone is safe.
I did that drive yesterday. Would NOT recommend it. At. All. We're safe, our cats are with us, but our home(And a whole bunch of others) is gone.
Oh, dude so sorry to hear that, please let your ELR family know if there is anything we can do to help you get back on your feet. My heart goes out to you glad to hear you are all ok.
@paingawd I didn't know you were THERE there (maybe you mentioned it and I missed it). I'm glad that you guys, and your cats are safe, the house(s) is/are a tragedy without question, and I cannot imagine. Glad you guys are ok.
So very sorry to hear that.
Thoughts and prayers are with you, as well as others affected.
Dayam that's too close for comfort. Glad you all made it out.
You take care of yourselves, and wish you guys and everyone a speedy recovery!
I'm verry sorry to hear that you have to go through that. I wish you, your family and your cats the best, and things will be better for you all soon.
Damn @paingawd, that's really bad. I'm glad you and your cats are fine.
And while the shit is burning, bloodsuckers like Nestlé are allowed to continue to pump up the groundwater for pennies

So sorry to hear you lost your home, This is such a tragedy for so many, glad you made it out. I logged on today for the purpose of seeing if you were OK.
Holy shit that's reallly scary. I'm glad you and yours are safe. So sorry to hear you lost your home. My heart goes out to you brother.
Really sorry to hear that you lost your home

Hope you found somewhere comfortable to stay. and also hope your insurance pays out.
Good to hear you and the fam are safe. Stay safe.
So sorry to hear that you have lost your home, but also glad to hear that you made it out safely.
We've never met, but I can't comprehend what your going thru. If there is ANYTHING you need , and I have it, just PM me, it's yours. Don't hesitate. Our prayers are with you.
Oh my… I'm praying ya'll are all ok. This is horrific.
Sadly, looking at the map information and the ELR users map, his home was located in the center of the "Camp Fire". I'm just hoping he circles around goes back to his home and it is all still there unscathed.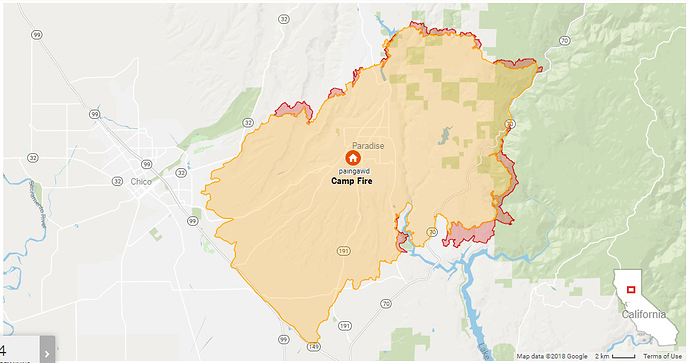 The Camp Fire began Thursday morning and quickly wiped out the entire town of Paradise. It has spread to 109,000 acres, leaving at least 23 people dead and more than 6,400 homes destroyed so far. Firefighters reported that it was 25 percent contained as of Sunday morning as they braced for strong, dry winds from the northeast through the rest of the day.