Uh, I honestly have no idea - The only aloe I have is just 99% pure gel

LOL okay, then I'll give it a try and let you know how it works…
Of course, I don't have a microscope to verify my disinfectant/antibacterial findings but I can validate the adjustment to the viscosity factors!


Ok, I used aloe aftersun stuff in place of the distilled water and hydrogen peroxide.
Unfortunately
It's still very watery. But it's a little better.
I guess

I'll use it… I'm avoiding the brawls at Oklahoma City Walmarts at the moment

…

them folks just get nuts, let me tell you…
Awesome I have two bottles of 50% lol that's all I could get
I made it after WHO recipe and yes it really watery, But it's very, very good in my opinion it's moisturizes and softens the skin.
I made 5 ½ liter and put it on small 100ml dropper bottles.
And for sure I will make another batch again in a few days, my family and friends love it !
To be honest, it's really not a problem when u know about it.
Or then u guys can buy some small spray bottles if this feels better

Right now i ordered 500ml 99,5% Aloe Vera Gel.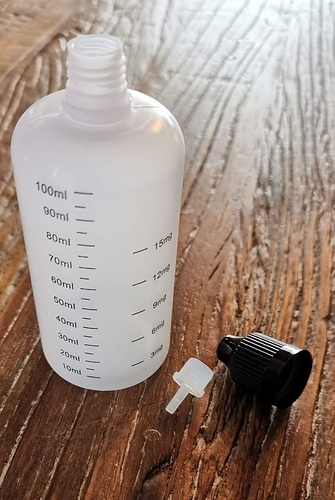 Not trying to pop in a dumb question, but what about gelatin or corn starch as a thickening agent? (Not a chef here)…
Thank you @daath. Nicely done!
We cant find any alcohol locally. Used Everclear (151 proof 75 % alcohol).
Yes, it is a bit watery, small spray/spritz bottles work like a champ.
This is a recipe from WHO so that people who don't have access to fancy hand sanitizer can make their own using regular "household items" that anyone has access to. The only intention is to keep it cheap, make it effective and yet protect your skin from frequent use of alcohol.
If you want a hand sanitizer that has a more gel-like viscosity, I recommend just buying commercial hand sanitizer or look for other recipes. Be sure though that the alcohol content is well above 60% so that it's effective killing viruses and bacteria.
That's better than nothing, but even when you use it pure, your hands wouldn't be properly disinfected. Any pharmacist should be able to provide you with higher strength alcohol. I'm get 99.9% pure alcohol from them and it's pretty cheap stuff. It does smell like hospitals though.
I agree - I would add 0.5% VG though, to protect the skin

Or you can have some VG on the side to rub on your hands afterwards but yeah, that 0.5% isn't going to make a huge difference

It is actually making a big difference compared to if it wasn't there - I can clearly feel that it's there when I apply my hand sanitizer


Besides VG should be diluted before applied to skin, especially in dry conditions since it is a humectant and will draw water out of air - if there is no water in the air, it will draw water from the lower levels of the skin, which can be bad

Oh I know what you mean, your hands definitely feel better with it. I meant that the 0.5% VG won't dilute the 50% alcohol much.
Ah, of course - yes

Ya I really can feel my hands getting nice and softly, It's amazing 15ml in 1000ml can be that effective

I have alcohol pads so I can do blood sugar checks so that is at least a positive right?
Not a dumb question at all!! Unfortunately, cornstarch would leave a powdery residue and gelatin would leave a sticky film…
But thank you for the suggestions!
I wasn't trying to diss- it, I just was wondering if I could thicken it a bit more so it was a little less watery and at least a little more gel-like bit not completely, you know? It's great to have an alternative and the recipe is appreciated.
If you want to turn it to a gel you can use products called Sepimax, Carbopol, Carbomer they are thickening polymers that they use in gel like skin creams. It is pretty expensive but you do not need much.
FIY: You can buy cheap carburetor fluid - that is usually 99.7% isopropyl alcohol (at least in Denmark)


I just bought a batch to do a 70% mix with just distilled water for disinfecting surfaces and handles.
Are you talking Starter Fluid or Carb Cleaner like Gumout?