Thanks for that @Laberythm. Now I have to revisit SB recipes

I'm a bit "strawberry challenged" and after reading this I think I'll just have to mix up another SB recipe (or 3) and put them away in the cupboard for 9-12 months. Might make up 2 batches of each and try some at 6 months just so I can compare. And yes, I'll store them in glass bottles this time

No problem with waiting as I'm currently sitting on 50mls of a Custard Base I mixed up Sep '18

Cheers.
Υes 2 batches of each and try some every so. I believe after 2months you can do the first test and you will start to taste the strawberry if not go to 4 months and then at 6m.
You can make the mix with just the flavours (with out diluting them) and let them steep for 2 weeks. Then dilute them with pg/vg/nic and let them steep for an other month and you are ready.
Hard plastic bottles like PET works too as well.
Cheers. And please come and update with your findings so other people can helped.
(Sorry for my English)
I just set up a new device I purchased and wanted to use a juice a bit different from what I have in my other devices… rummaged around and seen I had this mix just sitting around gathering dust… I recalled this topic and thought I would peek in and lo and behold ya'll are talking a strawberry mix… this is nice and smooth, I liked it a year ago but it really seems to have come it's prime: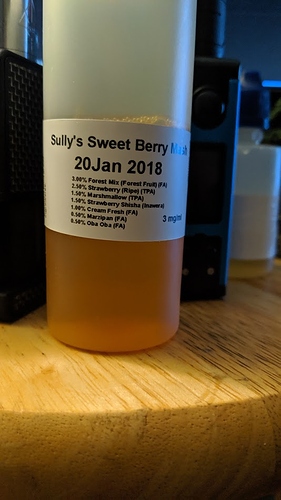 I would be interested in this one. Is the recipe posted?
I can't tell if you are joking or not. It isn't a myth though. I have several (2) that can be vaped right after the shake. For reals and for sure. Do you really steep everything for 5 weeks? I mean, most recipes will be better after 5 weeks but quite a few are ready at 2 weeks.
Oh well, I feel like I am being punked…
I'm sure by now that vaping and mixing is a personal thing. If it works for you as a SNV than thats great!
The only reason I started this thread is that I was very happy surprised at how good things taste after several months. There were some recipes that worked for me too as a SNV, but became heavenly after several months. All I can say is mix something up and toss it in a dark place somewhere and forget about it. One day you will be happily surprized I guarantee.
Oh ya, I feel ya. I have a MTL recipe that is just gooooddd after a 3 month steep but it's ready at 4weeks. I like to start vaping it at 3 weeks then the next week the flavors have deepened and others have come to the front. Then the next week other flavors come the front. After that each week it just gets smoother and… I hesitate to say better its just more robust? I keep thinking of wine terms which I guess fit in here just fine.
I had a bottle of this sit for 6 months out of neglect and I was blown away by the flavor. It made me start mixing it again on a regular basis.
Apologies for getting back so late @Dan_the_Man but RL has been getting in the way. Especially this time of year down here in Oz. It's winter (sort of) and the footy (football) season has just started and I'm heavily invested/involved in a few NRL (rugby league) blogs here and well, it takes up a fair amount of my time. Anyways, not here to talk footy so in answer to your question…
Nah, this Custard Base is not posted. Can't remember exactly where I got it from or whether I "tweaked" someone else's recipe or even if it is actually someone else's recipe. If it is someone else's, no claim to it whatsoever. May seem a little simple to some and no, haven't tested it yet (don't wanna jinx it

). My notes tell me it's as follows if you're interested:
TPA Cheesecake (GC) @ 2%
CAP Vanilla Custard @ 6%
INW Shisha Vanilla @ 0.5%
Hope this helps. Cheers. Or as you always sign off in your YT vids … "Peace!"

i think @Plunderdrum might have been getting it confused with the RFSC strawberry. Loads of people have complained that one fades.
Me, i just didn't like the SM . i never tried it at those % though.
Often, both deliberately and accidentallyy. and most recently due to falling off the wagon like yourself,
All we MF mixers know that Medicine Flower only improves with extreme steeping, though some of us found a temprary fade-off with some of the flavours around the 4-6 week mark. (Most MF flvours need at least 4 weeks, so if you wanna know about extreme steeping , read the MF threads)
The really curious thing is that more and more people, including myself, have observed the exact same behaviour with some of the other flavours . It;s not just a feature of organic extracts , it would seem.
I'd like to echo what somebedy else said about glass bottles. I do think they're a must and always use amber glass bottles for steeping. And maybe it goes without saying but they definitely need a closed cap. Any juices that I've made , tasted, then lazily left the pipette cap in, have faded fast

I do not know if I derail … All the mixes I made with chocolate (Chocolate (FA), Cocoa (cocoa) (FA), Double Chocolate (Clear) (TPA), Double Chocolate v2 (Cap), in 4-6 weeks of macerated, I did not like them, all with an earthy flavor, rough and chemical, they were left in the drawer for 4-5 months … After this time, I gave them another opportunity and surprise, they have improved a lot, soft, velvety and a good chocolate flavor, sorry for my bad english …
I clearly understand you!
You speak for single flavours or in a mix?
I only use amber glass bottles but I only have pipette caps. So I can't compare but they seal completely and the rubber doesn't let any air through. So closed or pipetted caps don't make much difference IMHO.
Other threads mention different ways of steeping using warm baths and whatever…My method is shake it everytime I pick up a bottle for 30 seconds and store them in a dark place (which in my case isn't even cooled). To me it seems waiting, glass bottles, and air sealed are the most important but as always, YMMV.
Hmm. Maybe the difference between your experience and mine is due to me using a lot of genuinely natural flavor extracts? I have no idea if this is true, but it strikes me the maybe the respective flavour molecules might be smaller and more volatile? In any case, that's not my observation alone. Also i notice that MF sell a number of their flavours (the most volatile ones) in closed cap bottles, rather than the usual pipette bottles, so I guess they're aware of that issue, too.
If you want to steep in closed cap bottles, the amber bottles are very much standardised, and it's cheap and easy to order a shedload of closed caps for them . They're not nearly so expensive as pipette caps.
I speak of recipes, of these:




Y esta mia…
http://tjek.nu/r/tr1Z
None seemed good at 4 weeks, but at 4 months all excellent, according to my poor criteria, keep in mind that I am a novice amateur
Well, mine, which I keep in private so as not to fill the base with "shits" I can not copy it … But hey, he does not have much interest either …
No, I'm sure it was the SM, but not sure who said it now. Maybe @SessionDrummer?