I did pick it up and because work has been driving me insane I haven't mixed it yet LOL
So I made a vanilla custard cookie using Vanilla Cookie.
Vanilla cookie 2%
Marshmallow (gooey) WF 1%
Vanilla cream Delosi 1.5%
Vanilla Custard CAP-3%
Vanillian 10% - .50 % TPA
It's delicious to me. Vanilla cookie seems a little light but it probably probably needs to steep. I know I'll have go place an order at Chefs for it. I have not tried the Custard Extra yet. The recipe tastes familiar, like something I've vaped before but I can't put my finger on it.
I'm curious as to what the difference is between Custard 1 and Custard 2? I'm ordering from Fa.uk for custard 1 and waffle, raspberry candy because they are on sale for now on 50&100 mls. Maybe I should order it. Ya can't go wrong with custard

Also custard premium

always!
I quickly tested these before work this morning and my initial thoughts are Custard 1 was my favourite. It seemed to be a bit fuller and a tad sweeter. Nice mouthfeel.
Custard 2 seemed more milky compared to 1.
If pushed came to shove I would say similar but not, but each could have their own uses.
I will test them further after work today.
Hey D-man, I was looking for your notes on the original older FA line. Do you have them posted somewhere?
@KC111 despite using FA flavors since I STARTED DIY'ing, I really wasn't doing public reviews until later. I should actually look into doing some reviews of the older, but mainstream flavors that everyone has on there racks. I thought initially, that since they are so old and so widely used, but maybe people didn't NEED any more notes on them. Not sure yet. I have lots of private notes on them, but they're not really for public consumption, and would have to be re-written, or just re-tested, to keep them up with what everyone has become used to IMO.
If you are EVER in doubt, ESPECIALLY during this time of "Merging" and what not, never hesitate to check out my mixing mentors Base Camp …
I am afraid I have no clue what you are talking about, sorry Mafia Man!
Are you perhaps referring to what others say about a particular flavor in your threads?
@KC111 @Mikser was kind enough to create a MASTER THREAD, i.e. the Base Camp, where he lists, and links ALL of my reviews. You can navigate to each MFG, and scroll. Linked above, or you can search for "Base Camp".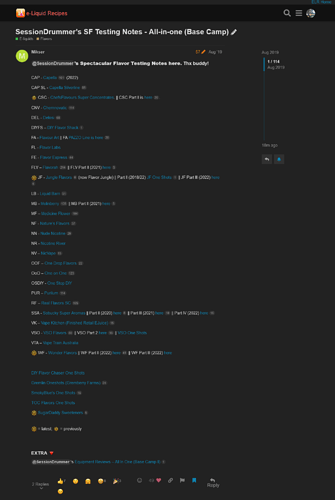 Bless you D-man, I will check it out very shortly!
@Mikser, can you please move in next door?
Yes, I have the Base Camp/Master Thread bookmarked already. It is/was extremely helpful! Thank you and Mikser for all the work you do!! There are so many more flavors and flavor companies I keep looking through your notes for that you haven't done, but we need to clone you by 100 first. Good Gawd, what would your wife think of 100 of mini you's running around???
@KC111, NOW you are talking. IMO, @Plunderdrum IS, the Nature's Flavors Expert. Hands down. Full stop.
Thanks for the nod, you two! I can only imagine the dedication it would take to tackle the 90ish NF flavors i have! I smell a new years resolution coming! Maybe i can tackle 10 a month and present all by next September! Haha!
@SessionDrummer, I'll be picking your brain to get tips on process. I know you "have a life" outside of SF testing and still manage mountains of note fountains. So, i should have no excuses!
I always love when FA releases new flaves. They were my fave company for a long time
I always love (and hate at the same time) when any company releases new flavors. lol.
I checked it once again now and i was wrong; they are new to Nomnomz and Chefs didn't have them and some are not added to the db and there are zero recipes for these, so i thought i have the news… I was wrong. Lynda Marie was talking about these flavors 28 months ago. lol. Here