So I always struggle with ordering bottles… I like glass; but dang man, the struggle is real on numerous fronts, and until I build up a good stock (anyone got a cheap connect on 4oz glass bottles?) I'm always eyes-out for juice containment devices.
Dollar General sells these in their "Value Valley" section, believe it or not, DG isn't much of a dollar store nowadays, they've kinda become what I remember Walgreens used to be while growing up… really a great place if you can find a nice one. Go on a Saturday with the DG app, get some other essentials and get $5 off on a $25 purchase (wow… shameless shill, much?


)
Might not really be a "deal" per se… but Bull City sells the "yorker cap" for $0.25 so that on it's own says it's at least the same as online, in my mind (especially given the absence of shipping and handling fees).
…that is unless a manager at your's is a DIY vaper and bought them all after opening the box




I took two full 60's on a plane recently and no leaking even after 4 flights (kinda found that shocking honestly)… I've also not had a single problem with the tip (like splooging out on itself all the time, nor difficulty filling tanks with it)
Ultimately, pretty convenient… and if all else, just goes to show what obscure items you can find that might fit your DIY list while wandering down the different isles wherever you might be.
Over charging on caps eh?
I picked these up at a GFS (Gordon Food Service) store, locally, 5+ years ago, when I started my DIY journey. 24 oz & 8 oz. They came in six packs. I don't even remember what they charged. I use the 24 oz for PG & VG, and the 8 oz for pre mixed base. I like the wide mouth. No funnels or mess, when filling from gallon jugs.
They didn't come with caps, so I stopped at an auto parts store on the way home and picked up some rubber caps, used for sealing unused vacuum ports, on engines. They fit & worked perfectly. The ones in the pic have been in use for 5+ years, and no signs of degradation.
Happy New Year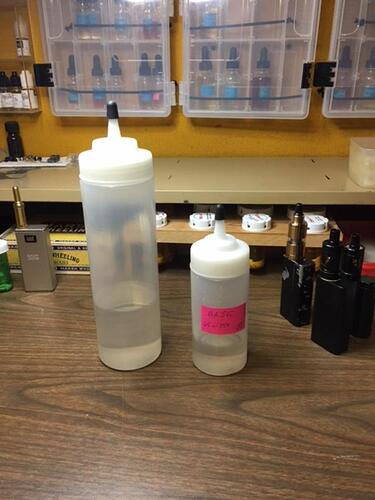 Glass Bottle Outlet has an Amazon store that you can get free shipping from Amazon over 25.00. Good bottles w/ poly-cone caps.
I use & love GlassBottleOutlet too!! Their Amazon store seems to have better pricing than their website most times as well. Quality is perfect, I've gotten dropper tops & polycone caps from them (disclaimer, I've only been mixing ~6 months, using my GBO bottles ~3-4 months). everything arrived in tact, albeit a bit dusty. I run bottles dishwasher to sanitize & rinse the caps off before use anyway tho so I didn't mind
Huzzah!!!
I can't tell you how many times I've intentionally sat down at my computer… with the sole purpose of finding a good deal on glass, and then get up a little while later asking myself "why I did I do that?", after re-finding [bulk only] wholesalers, and the shops out of places like Sedona, AZ who are just buying those same wholesale bottles and charging three times the price…
"Do you wanna know how I make $95,000 a month from home, working 10 hrs a week?"


Or maybe I just really suck that bad at searching for things

Thanks so much for the intel

I forgot what an amazing resource this forum is


Asmodus Amighty single 21700 touch screen mod $23.30 at 3AVape:
Use code FREESHIP10 for free shipping over 10 dollars this weekend at vaporider.deals
Have a look around Wet Vapes rebuildables section… Lots of 5 dollar atomizers there. Some of them are really good. I ordered late last night and once again this morning. I love older atomizer bargains.
Baby Prince tanks are only $6 there. They're 22mm subohm tanks, like the Baby Beast. They come with 3 coils. Throw away tanks cost more and you can't even change the coil in most of those. Big Baby Light Edition tanks are there for not much more.
I've been waiting for the Wismec Luxotic DF to come down in price for a long time. Vapesourcing finally gave a code: LDFSM for it to be $20.
It was $57 total to get two of them. I picked black and white versions. They always charge a lot for shipping but I thought that was a decent enough price. A Topside dual costs more for one. When it comes to mods that do the same thing, I'm all about getting two vs one.
I had a white one which I traded away. I liked that it run with ArcticFox as firmware and you make me think of getting one again.
It came out around the time the Pulse Dual did right? They look similar in ways. I've read lots of complaints about the Pulse Dual. Auto firing and leaking ect. I haven't heard much of anything about the DF.
There is a 20% sitewide discount at [nomnomz.co.uk] till the end of January. They have great prices anyway but now they are probably the best deal around by far. Hurry!
If size really does matter to you

https://vapingcheap.com/vaperz-cloud-valhalla-v2-40mm-rda/
I almost want it because of the badass name!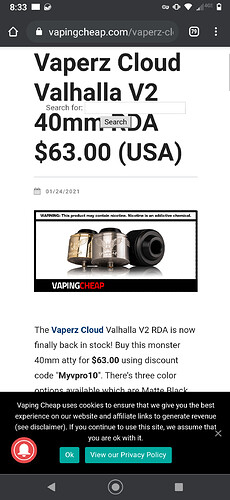 Dollar tree in my area has a nice collection of fancy glass bottles with corks… Different sizes too… and they are… A buc! Lol



Priceless.