Good deal !
Never had one of those mods.
Looks like it had some use.
Getting your money's worth.
I had the complete opposite.
I had two of those and two of the smaller 40w ones. One of the 70w ones was completely cactus and the other worked for a couple of weeks and then completely died. Similarly one of the 40w ones was completely cactus but the other one worked but the screen is almost nonexistent. I can sort of read it when it's pitch black and by cupping my hand over it.
My fault for stashing them.
Trying out @Rocky02852 Blue Cream Dream on the Rulebreaker and Valhalla 2. Even turns the cotton a faint blue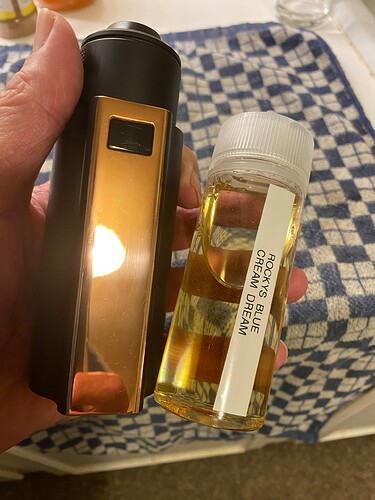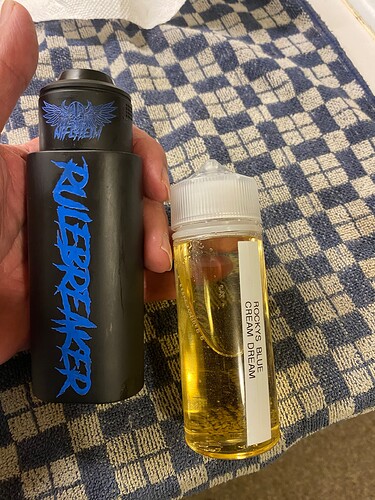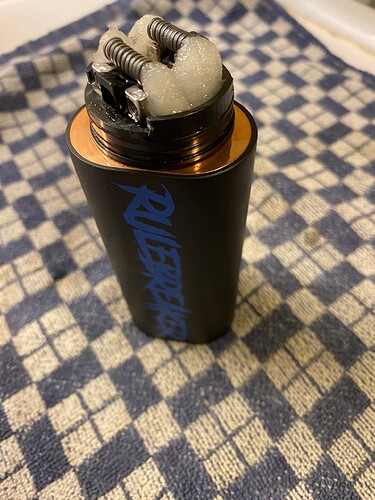 Good shit Rock !
Had it Cerracoted by a guy in CT
He does good work
And @Rocky02852 , don't be bummed but I added 2% FW Sweet Cream to your recipe.
For some reason I can hardly feel the FLV Cream.
Not just this recipe but with others I used it in also.
Maybe I got a bum bottle of it I don't know.
Could be one of the few flavors out there that I can't taste
Nice !
Berry Cheesecake sounds good too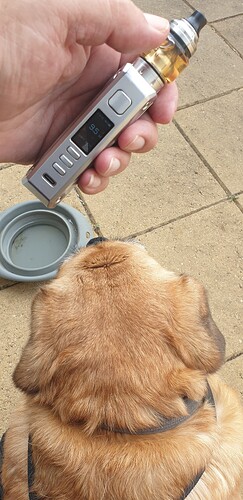 Lost Vape Thelema Solo and OG Berserker MTL RTA with 7ml bubble glass. 1.0 0hm SS316L spaced 3.0 mm ID coil at 9.5 watts. A single flavour INW Custard at 3.5% and 1 mg Nic in a 80VG base.
That's all good but the dog looks bored and we need to know he/she's name looks a good set up though or is it thinking you got ya vape where's me dinner
She was not bored, just hot as we were waiting for her mum (my wife) outside the gym. The bowl had water in it and she is ALWAYS thinking "where's my dinner!".

Her name is Roxy, she is a 12 year old Pugalier.
Roxy looks like a cutie. Is she related to my pooch, cuz the look on his face frequently says "where's my dinner/breakfast?" I tried teaching him to tell time on the clock so he would know when it was dinner or breakfast time, but after 9 months he still can't tell time.

Ahhhh, yes. Roxy has that down pat. She has breakfast when I get up, only me though. If my wife gets up first (not common at all) Roxy will still wait for me.
Her dinner is at 6pm most nights. She starts to remind us around 5:30 and gets quite insistent by 6pm. If we are not at home, she will go and sit by the car to let us know it's time to go home for her dinner. Some nights we are quite late getting home and she will sulk until she gets her dinner.
Oh yes, she knows daylight savings time too and adjusts her demands accordingly. 6pm regardless of daylight savings or not. She is a clever little miss.

Bring her over. My peaches is great at telling time. At 9:00 AM she knows it's time for her walk and at 3:30 PM she bugs me till she is fed. I keep looking for her watch but haven't found it yet.