Measuring in grams not ml, recipes have ml can i change that. Thanks
Should have a column for both on all recipes on elr. Welcome to the forum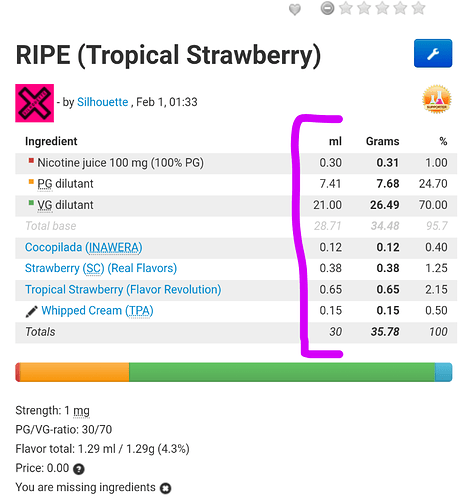 Left hand column when you've saved your recipe (or scrolled down after inputting all values) is ml.
Middle column is grams.

Great, thank you everyone i have it now. Great forum.
No problem @brian41

btw… ml = gm… is why both numbers are the same

welcome to the forum @brian41
Welcome and glad you joined.
Welcome, this is a great forum!
Hi @brian41
Welcome to the forum

I have all those flavors except the Inawera one. What can I sub that one with?
That's a tough one. It's kind of similar to the flavor of INW Pina Colada, but the Coconut is much more pronounced in Cocopilada, even the overall strength is increased. If you have a hearty coconut flavor, maybe FLV Sweet Coconut, and a favorite Pineapple flavor that would work well. You could nix the pineapple if you want though, as it's pretty present in the Tropical Strawberry.
Not always especially with VG based ingredients
better go correct all of the calculators for units of math then…
Have fun!

Look at the example above grams are a measurement of weight, Millimeters are a measurement of volume, but I guess you know more than I do
David…its how ever you wish to do it… I wont argue, and yes I have been around forever…
Go make you happy… I got me!

Not an argument, just a fact, if I am wrong I am sure someone here can prove it.
from you calculator " How many milliliters in 1 grams? The answer is 1.
We assume you are converting between milliliter and gram [water] .
That is a bit condescending, I am not new!