What's crack-a-lackin my peeps!!
So if being a chef and working 80+ hours a week, working for an ejuice company and testing/reviewing products for various flavor companies on my already over flowing plate wasn't enough, I have been asked to take on another…
I haven't heard of these guys until they sent me a very generous package this morning and I have yet to mix with them.
They claim that all of their flavorings go through rigid testing standards to ensure purity of raw materials and a finished product.
They are a USA company based in Greenville, NC (@Kinnikinnick?)
The flavors that I have been given, are as follows…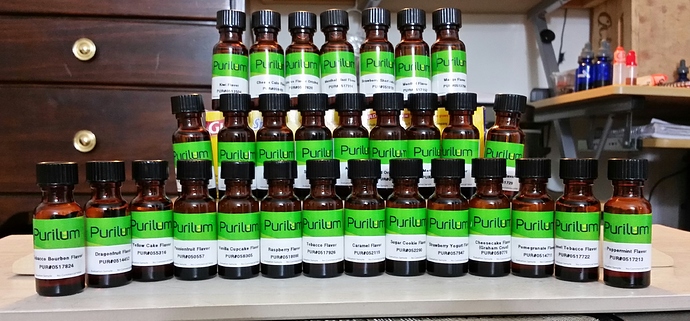 Dragonfruit - For those who know me, know how excited I was to find this one! It was the very first flavor out of the box too, so I was already very hopeful

Guava
Kiwi
Pomelo - This is the first of it's kind that I know of and interested to give it a try!
Apple Pie
Cheesecake
Cheesecake w/ graham cracker crust
Lemon Meringue Pie
Yellow Cake
Mango
Cantaloupe
Blood Orange
Passion Fruit
Raspberry
Pomegranate
Vanilla Cupcake
Sugar Cookie
Strawberry Yogurt
Caramel
Strawberry Shortcake
Mints/Menthols
Menthol Blast
Arctic Mint
Menthol
Peppermint
Spearmint
Tobaccos
Tobacco
Sweet Tobacco
Tobacco Bourbon
Tobacco Original
Red Type Tobacco
So as you can see, I have my work cut out for me

I will log these into our resource page under (Purilum) for those of you who are interested in my tasting notes. I will also do a more thorough review soon.
For what it's worth, my smell tests were great! The dragon fruit smells on point and I am glad I may actually have a company worth mixing for! (The last 2 left nothing to be desired)
If anyone has any questions, I will do my best to answer them! I thought I would share my new project with you guys, since no one here has used or even talked about these guys.
May the Ohms be with you

DV