About a week ago I was lucky to have won the IJOY Tornado 150 Sub Ohm tank thanks to another of @Heaven_Gifts awesome giveaway contests. Aside from winning this tank… @Heaven_Gifts is an absolute wonderful vendor. I have ordered from them many times and will continue to do so. There are a bunch of members here who can attest to the great customer service, communication, selection and prices.
I wanted to review the tank as soon as I got it but was in the middle of getting my new place unpacked and organized…some pics of my new, almost done, office/lab setup are up here http://forum.e-liquid-recipes.com/t/what-has-made-you-smile-today/82607/201?u=mistersinner
So anyway…moving forward…this is my first review on ELR…or anywhere for that matter…so be gentle with me

.
First things first… this prize/tank made it from China to NYC in 2 days…yeah…exactly.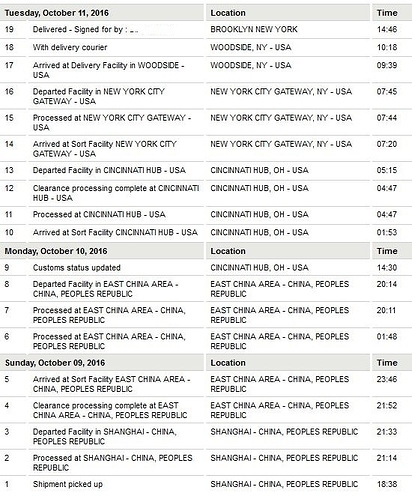 The packaging is sturdy and most of the details for the tank and included parts are on the back of the packaging as usual.
We have a nice little chunky 25mm. diameter tank with a .3Ω pre-installed SS 316L coil that runs "best" from 80w-150w range. Well…unfortunately I can't confirm that because I don't vape anywhere near that high yet. I am usually in the 40 to 50w areas. However, even below the minimum 80w watt recommendation for this coil, it hits pretty nice (55w 70/30 juice no nic). The other included coil is SS316L as well that has the recommended range of 40-80w. I will try that guy next and then onto the rebuildable RTA.

The pre made coils and the RTA deck (which says sold separately on the packaging for some reason) consist of the actual chimneys as well. Pretty cool design except that I noticed the O-rings on the pre made coils and the RTA deck are a little loose for my liking. They can be easily moved or removed with a little play so be careful and make sure you tighten everything nice and snug.
Onto the RTA deck itself…2 Phillips head screws for the posts that have nice sized open slots for builds which I haven't built on yet…please forgive me…I just want to run the pre mades for a while to test for leaking and performance first.
The air flow control section is pretty smooth. Not clicky but easy to adjust. I must say…the 2 O-rings are great on the AFC section. Taking off or putting the glass tank on feels like a vacuum. Very nice.
Here is the little guy with the pre installed SS316L .3Ω coil. Smooth threading all around. Super nice open kidney shaped holes for filling the tank. (Apologies for not taking a pic). One thing I have to say…the Delrin chuff cap shape on this tank is a nice surprise, for me at least. I do not have any tanks or rda's with this style cap and so far so good with heat.
It does look and feel ridiculous with the included 510 tip attached though…nope, no thanks. Just awkward.
The spare parts/goodie bag comes with extra O-rings in red (at least for the black tank), 2 spare Phillips head screws for the RTA deck, a nice screwdriver, spare glass, 510 delrin drip tip, 2 pre fab fused claptons (no idea what material wire so I will never use them to be safe) and a sliver of cotton…seriously…no need for this but thanks…I guess lol.
I appreciate the time if you read all this and I hope it helps anyone looking to buy this tank.
http://www.heavengifts.com/IJOY-Tornado-150-Sub-Ohm-RTA-Tank.html
Salud!