Thought we should have a place to aggregate all the deals we find for labor day.

USE COUPON CODE 10% off =
NOLABOR10
Not a huge sale but in case someone needs something from there.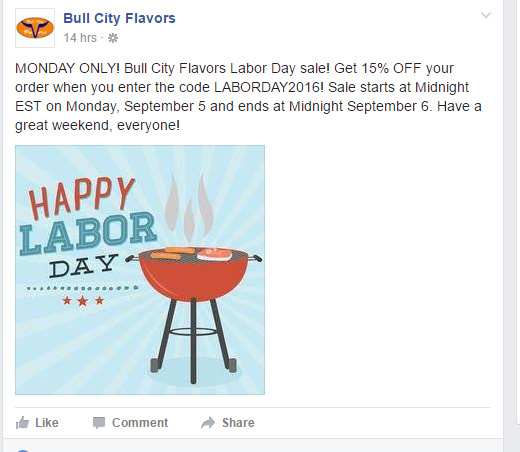 smok g2 and sigelei moonshot are both $9.95 and free shipping from California. Check it out there also a bunch of other good deals in there. They have the Atom Coils for the Kanger for $6.95 4 pack @ozo
I was just looking on ecig.com to see if they have anything new and noticed that they have they're labor day sale on there. 20% off use code LABORDAY2016!
DEAL thru LABOR DAY VapeNW:
I just ordered 2 of the SMOK RDTA (s). I have one and I'm getting 2 more!
I prefer them over an Aromamizer. I'm a flavor chaser and the SMOK has a larger build deck, juice flow control and all of the other features of a SMOK (as the TFV4) like the hinged top fill and quality A+. I did read where some people had some issues with theirs, but it is a fixable problem so I'm willing to take the chance on such a great tank at an unbelievable low price. 20% off $19.99 which makes it $15.99. Coupon Code : 20%offLaborday.
Here's the page at VapeNW (A very good dealer): http://vapenw.com/tf-rdta-by-smok
Forgot to say… It's 20% off storewide today and they offer free shipping on orders over $75.
20% off everything LABORDAY16 now till Monday at midnight. (I assume EST)
Happy Labor Day weekend!
While you're having fun and relaxing, SAVE on your favorite
and popular new vape items today at 101 Vape.
10% OFF ENTIRE ORDER
starts NOW. every brand. any item.
enter code: LABORDAY10 during checkout
(coupon expires 9/5/16 11:59pm PST)
https://101vape.com/
---
Save 20% on NEARLY everything!
Use Code LABORDAY20
http://www.ecigexpress.com/
Labor Day Sales Megathread
Ah, why don't they sell this stuff in Europe? Maybe they do but I haven't found it yet. I just looked what it would cost me in shipping, $21.95 to ship a 30ml bottle

Vapor Skinz had 40% off all mod wraps with code LABORVS
Thanks, I'll check them out while I'm waiting for the money ship to arrive. They sell NET essence too

so far ecx is 20 percent off they will be getti g a little bit of money fro. me
GremlinDIY.com - 15% off using code ELR
Now through Monday the 5th
THANK YOU EVERYONE!
From an email:
"Let Bull City Flavors help you get those creative juices flowing with our Labor Day Sale! Shop our website on Monday, September 5th and receive 15% off your order with the code LABORDAY2016. Sale starts at midnight EST on September 5 and ends at midnight September 6.
Don't forget…FREE SHIPPING for orders over $75!"
I had a shopping cart going for a few days and everything disappeared this morning. I HATE when that happens!!
Make sure you are logged in, sometimes it turns off your cookie and then when you log in, pow, cart is back