Now here's the WEIRD thing, look at the suggested usage rates …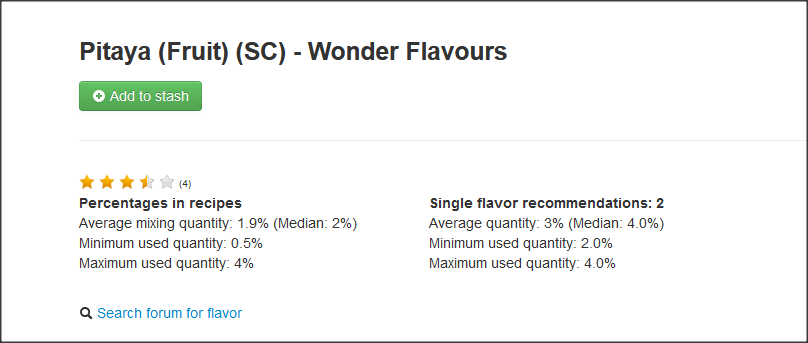 Many of us were having to go sky high, just to get it to open up.
Yeah the 5% SFT was better than the 10% for me and I initially did the Pitaya at 4…
I started at 5% and got nothing. At 10% after the steep it tasted like a flavor. So much for the notes. Remember that's a SC flavor on top of it.
At 10% I did get more of the Cherry note and more sweetness but the rest was muttled …
I have it in a RTA now almost a week old. Made sure it didn't get mixed up with my RDA's for comparison. If notes say 3/4% and it's fine in my RTA at 10% something is wrong. It should be totally muted not muddled. I don't have super taste probably not even average taste buds but 2.5/3.5 times suggested something is a miss.
It's a WEIRD one @Rocky02852, I did ALL orders of testing when I FIRST received it, and saw your post(s), but I got NO Cherry from it at all. Literally SB, and muted Banana. Suddenly, as if by MAGIC, once the bottle got to HALF FULL, now it seems to have changed. LOL. Of course it did.
Yeah it certainly had me stumped and thinking "gummy bears"…
Maybe after 27 Beers it may be close

Damn the smell is there for sure…The smell is right on and the initial "Red" i spoke about makes sense…Light Flavor as well …
Wow
Good stuff guys! I'm getting in on this next time for sure!!
The Mystery has just a bit more alcohol bite to it…
but it's a fresher batch

Yea, I mixed up pitaya at 6% tonight, & tried it right next to the mystery flavor. Even though the mystery was steeping for a day or 2, they're definitely the same flavorings. Just like Rocky said, the mystery is a fresher batch, & you can tell. Awesome job Rocky!
I will send you that exact setup if you want. I don't do SFT anymore and I don't use that RDA anymore either and I will make a new set of coils. I recommend fused clapton because it takes longer to heat and won't burn the cotton.
Truly, I would like to do that for you. I know it's old and beat up but it's actually difficult to find a velocity-style deck with side airflow nowadays.
IRL… I love dragon fruit, when eating it, it is very light in flavor.
Pitaya = dragon fruit IRL.
I've had WF Pitaya for quite a while. I like it. It's a decent representation of dragon fruit. And, IMHO, vastly superior to TPA's.
I've never felt the need to take WF's over 3%.
I truly truly do appreciate your offer!! Please don't feel pity for me, I hate self pity, but I have a progressive nerve disease so I am becoming more immobile and extremely fatigued. I am afraid that your set up will just be sitting somewhere collecting dust, so I would rather you pass that gift on to someone else that wants to learn SFT'ing one handed. I am blown away by your generosity. God Bless you for your incredible act of kindness!
I don't do pity either but compassion is a thing I aspire to.

Hey D-Man, it's the Mango Mafia gal here :). No sorries please, I am content. You are so right, the folks on this forum here are truly incredible and I am so grateful for the support from Dan the Man.
Yeah I fell into that trap at first, just tested one of my first mixes at 10 day steep with Mystery at 8% in the mix, although still very tasty on the knuckle (never trust the knuckle) it's way over flavored !