Are you kidding? A DJ has the best job in the world! I know, cause I used to be one

I miss being a DJ! Not a radio DJ a club DJ…techno was my life! Then I grew up and had kids and my life was over haha. I still have my Technics…buried…in a box…in my closet…sob sob
SL-1210?

MK5s baby!! =-) with crates and crates of vinyl still, which I find myself having to explain what vinyl is to kids these days…
These things are still mint! I'm wondering if since Technics went out of biz if they will be worth anything down the road
I had an MK3 - I so regret selling that now

I've got some SL1210 mkII's in my attic.
Along with a PIONEER CDJ500, ALLEN and HEATH ZONE 64 mixer and around 700 vinyl ranging from funky house, progressive house, euphoric trance, hard trance, techno and Gabba. Lol.
Oh the young free and single days lol.
Cmj
That mixer looks similar to a Gemini FX7000 I had once.
Cmj
My BIGGEST regret was selling my Technics SL-1200LTD…GOLDS!!! I'm an IDIOT for that shit…like seriously
I never got into the cd-j era…all vinyl 3 tables, mixers and my 909s and 303s haha…Those were the days man. Hanging out with Frankie Bones, Joe "hyperactive" and crew…good times for sure…from what I can remember

This is all I have left (old pic) but the top table was my very first POS as well is the wax atop of it lol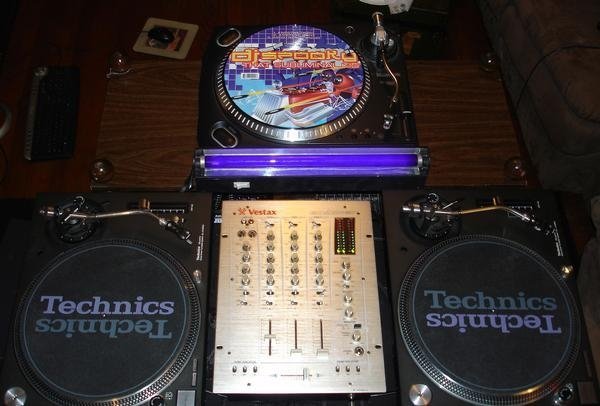 To make matters worse I bought them in London so when I used them in the states I always had to carry around a step up/down converter for the euro plugs…PITA!
Ahhh I remember those days!! I got into final scratch for a minute there…damn @Damondo just when I thought I couldn't gain any more respect for ya

Your pc tower looks sharp btw
Kindred spirits us deejays. From mixing music to mixing juice. Ahh the irony.
Awww and even the fishing rod wich i have not used this year i'm gonna cry!
Sorry, but we were getting a bit off topic there

you should make some time. That is awesome!
Man we can REALLY do some damage on this thread!!
I really, really miss my turntable

And my vinyls!
I'm with you on that one! The sad thing is they are all 10 steps away from me!! All packed up in storage

I keep saying when we move to a bigger place I'm going to set them up!! 10 years later…"when we move to a bigger place I'm going to set them up!"

Even if I don't spin they look SEXY all set up in a room hehe
No DJ experience here, but I miss my TT and vinyls as well. There was a richness to them that you can't get on digital. I miss the hiss and pops just before the music starts. I also miss hearing full record sides on late night radio.