Now chef's has on sale the brand "Pure Flavor" which I never heard of…
Are they rebottling? What?
Thank you.
If you've never heard of it what makes you think re-bottled?

Because they rebottle other flavors and use different names so they don't have to comply with pricing structures…like fa. To the best of my knowledge.
They are a different company. I have their ginger. Did not manage to get something out of it but then neither did I of other gingers.
Anyone know if these are PG or Alcohol based? I checked the English version of their homepage and Chef's, hoping to avoid sending an inquiry if someone knows already. TIA!
Thanks for taking the time. That helps a lot.
They used to be 4.50 a bottle, can't say the ginger is worth this to me. Also they have very annoying droppers.
At 1.5 and for PG sensitive peiople, assuming the other flavours are the same, I'd say worth a shot.
We are (mostly) all there for that

Because when I googled it didn't find anything, here didn't find anything, looking around nothing… next step is… rebottling and rebranding… and then… ask ELR mates…

Check out this thread. You could pm the OP and ask him what he knows.
This is a other one
And I remember we got a couple more topics about it, something like Amazon sells em…
I can't remember, I'll look into it tonight after work.
Thank you all! Keep them coming, it'll help everybody @ELR
just noticed "Ethanol" is one of the ingredients in the picture.
is Ethanol considered "OK" for vaping flavors?
Oops maybe not, but quite a few flavours had it inside and some of them had to take it off completely… remember RF?? That was to Reduce the Flashpoint for air freight…
Just don't vape right before a breathalyzer test.

Went rabid on the chefs flavour sale and got 21 of them. Have also been searching around, and to my knowledge, the only basic "guideance" I've found is chefs own text saying 1-8% mixing range.
Time to do some 2% SFT's, ill line em up and attempt something close to a worthy note on the ones I've got.
I've got these flavors:
Apricot
Banana
Caramel (Toffee)
Cookie
Cotton Candy
Cream
Dragonfruit
Honeydew Melon
Kiwi
Mandarine
Marshmallow
Orange
Passion Fruit
Peach
Pear
Pineapple
Pomegranate
Red Grape
Sweet Plum
Vanilla
Vanilla Cream
Will let em sit for about a week and use a hadaly single coil for testing each of them. Will be back with more

Edit:
And yes, theres no dropper on the bottles, so its a measured pour. Some ended up at 0.25g instead of 0.2 etc, but adjusted the base there after.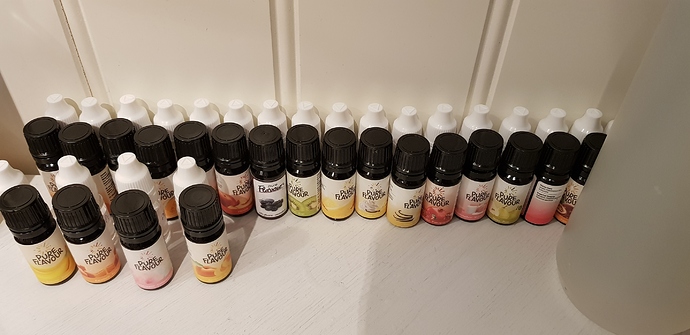 Yes, it's really just Alcohol. It's commonly used as a flavor carrier, especially in place of VG or PG as a carrier base in more highly concentrated flavors or extracts.
You'll find it in some MF, NF and RFSC flavors.
Some ppl notice the taste of it more than others. It does steep out over time, but I only notice it in a small % of my recipes. Some ppl use a little heat, maybe with a hotplate mag mixer to help evaporate it if it bothers them. But watch out for flavor loss with heat, lots of flavors are highly volatile, so they will escape more rapidly when the liquid is warm. All NF extracts are PG free, and use "Cane Alcohol" which is ethanol made from sugar cane. I believe some ethanol is made from Corn, too.
Hope this helps!
(If there are any smart folks with more knowledge, please correct me if I got anything wrong!)