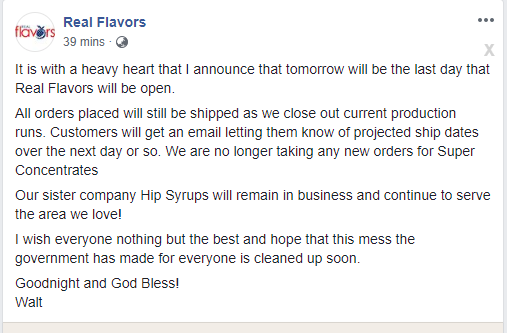 @Walt_RealFlavors so sad - is this a forever thing?
Sadly it is…
I still have other companies including Corvexo.com and Beary Farms but the beast that was Real Flavors has died.
It was just getting to crazy to keep going any I decided to pull.
I love you all and hope to come back here under Corvexo. I have not given up on vape shops and really hope to keep them going.
I am so sorry to see it go mate this is a shit situation for sure
Just a quick question are Corvexo the same flavours - if that is so then I will start turning people onto them?
Will the same super concentrates still be available from Corvexo or Hip Syrups? So many of my ADVs use RF. This has to be so heartbreaking for you but I'd still buy your stuff no matter what you name it.

@Walt_RealFlavors as others have said, VERY saddened to hear that. It was a REAL blast using all of the RF SC's, and the wild ride that followed. I wish you the best of luck. I checked out the corvexo.com site and it seems like many of the RF flavors are still there, but in shot versions. If so, that would be great.
I guess if the flavors are still available under a different name, not that much will change (at least for DIY people)? Behind the business curtains it'll probably be a good shake-up.
@Sprkslfly is going to be so happy to rename a whole bunch of flavors…
Maybe they're still working on it. The strawberry and blackberry on toast are there and those are just a combination of strawberries or blackberries and their toast.
Sigh … so tired of all these changes. Those flavor bans aren't helping the situation much either.
Seems like his newest site could say how much the shots make or how much to add.
I think 10.00 is rather expensive for an almost 60m l(his are 50ml) when I see ejuice going for 4oz and 8.99 not including a coupon… could just be me too… who knows, the market is crap compared to 6 yrs ago. Just my notices…
tired of it too…
@Walt_RealFlavors, man… I am so sorry to see this. You put in a whole lotta love and work in on that Flavorship. I was still finding new flavors to try, dang it! I have faith that you'll be all up in my vapes for many years to come, regardless of the name…
I do need to know if the Corvexo flaves are PG-Free, though. I'll start buying them up, as well as any RFSC I can get from the resellers. Your SCs made it possible to mix all sorts of things in the limited realm of Non-PG mixing.
Making a run on some can't-do-withouts right now, as a matter of fact!
LMFAO! There's no way in hell pal!


Different company, different entries! =P
(Oh joy. All new f'ed up entries soon to come…! :sigh:)
Consider ALL RF officially retired!
@Walt_RealFlavors
Where does this leave One Drop?
I got quite a few haven't-tried-yets, too! 20 30ml bottles heading my way… That, added to what I already have, should keep me running for a while.
From the bottom of my heart I'm sorry, Walt.
Thank you everyone!
The Corvexo shots are the same recipes but different concentrations. They are designed to be added to the flavorless vapor base sold on the site. We are trying help vape shops stay in business with that platform.
That's not awesome. At all. One of my favorite juices relies heavily on RF SC flavors. Dammit.
Anyone got a good alternative to Real Flavors Pomegranate?
Will the Hip Syrup site still sell the Super Concentrated versions?
No sadly not at his time. It was a bit to rough to stock so much.