I use other. I also dont use specific gravity, i dont know why but i dont mix that way.
The scale made me not ever want to measure again. I guess I could pull out a new syringe and do some that way but that just seems like a lot to go thru.
Have you tried this in any mixes yet or just SF? I'm looking to make a good root beer vape for a friend. I picked up both RF SC root beers. Just playing with SF for the moment. Just curious what your thoughts are on complimentary flavors and sweetness if you've done some mixing with them.
do you measure with syringes ?
Ok, Please forgive my naivete here, but I need to wrap my head around this. Using concentrate food flavor extracts is ok for vaping? Is that what I am gathering here? Like I can go to Krogers and get lemon extract and use that as a flavor and not trash my lungs? Please advise. I really thought there would be more "voodoo" to vaping flavors.
No, not extracts like from the grocery store, they are mostly alcohol. Concentrated flavoring like TFA, Capella, FA, RF. Some Lorann's is safe for vaping and available at Walmarts, but not all. You'll have to research. A lot of info on the forum here

EDIT:
http://forum.e-liquid-recipes.com/t/a-beginners-guide-to-making-the-most-highly-rated-recipes/83612
Well I was able to get 2 of the beta's in… @Walt_RealFlavors I don't know if your people noticed it but the bottles for the beta flavors don't have the volume (i.e. 1 oz) listed on the label…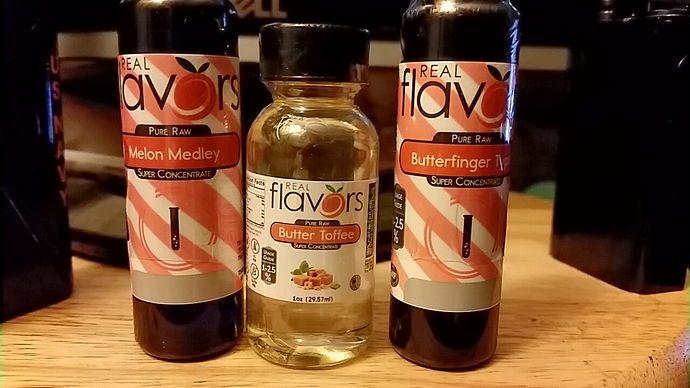 I use a scale, i just dont use the specific gravity setting.
Ok so you are just going by what the database has as the default
I believe he means he uses 1gram = 1ml… which is what I also do, but I might be mistaken.
I always bolster a mix with supporting flavors. I only have RF fountain style and have found it is essential to both my rootbeer and rootbeer float juices. As far a sweetness i always add sweetener just never sucralose. I use erythritol solution 1-3% (5%VG) and pyure to both sweetness and soften at 0.25%. Supporting rootbeer flavors i use are NicVape rootbeer and tasty puff rasta rootbeer. These are the best three rootbeers IMO
Rootbeer float might look something like this

3% RF SC rootbeer (fountain)
1.5% Nic Vape Rootbeer
1.5% tasty puff Rasta rootbeer
1% LB cream
1% LB fresh cream
0.5% FA vienna cream
3% ooo vanilla icecream
This here is rather interesting, the first smell you get is fresh baked bread, nothing else. I mixed this up at 1.5% and finger tasted it, it is much much more complex than just baked bread, lightly sweet, creams, some kind of light fruit? At this point it seems a very good and much more basic BP than the original, i think im going to like this as it leaves room to add to it and the baked bread is persistent enough to do so. I think, without vaping it, that 1.5% is a good SF starting point, ill see in a couple weeks.
I mixed this at 1.5% as well, finger taste is a dead ringer for Now&Later Apple flavor. I think going a bit lower will help to bring out the other apples in this as you can smell them but not really taste them at this %.
@Walt_RealFlavors i havent vaped this yet but i think it is a winner. @ 1.5% is seems perfect for SF with a finger tasting. I would love to have some of the other fruits with this heavy jammy note. I made up a PB&J with it that ill be testing around the same time i test the SF.
This one is going to need some help, i like the flavor of many of the RF creams but most need some support as this one does. @LordVapor suggested Cream Cheese Icing (LA) and it seems to be a good fit tho the WC hasnt developed in the mix CCI seems to be a great booster, i also did one with WC and Butter Cream (CAP) and this seems to work as well. Time will tell…
I do wish this was the beta VG we tested, Sweetened Condensed Milk, it is missing more than just the sweetness from the original tho i cant put my finger on it. I like the flavor of the RF creams but they need help, diketones.

Maybe I should just keep the VG version of this one and not try the SC. Thank you for the feedback…I love the VG version.
I was thinking about grabbing the VG again, it is still pretty potent and seems quite different to me. If there is anything you want to try out, just holler and i can send it.
I do use the SC quite a bit and have several recipes with it, works well in those mixes.
Yes, I still have an unopened 60ml of the VG version. It's one of my favorites, but I only use 1-2.5%. It steeps very very strong and has fantastic body to me. Same with the cream cheese, the VG version is so potent it's like a .25-1% range. There are a few so potent I can't imagine getting the SC.
Did you get the Coconut Spiced Rum and if so have you mixed it yet? It smells like real rum, definitely alcohol smell and fumes…lol. I think I'm starting at 1% on that one. Maybe .7%
Is there any you want me to send you? I got the beta Butterfinger, Fried Twinkie, Coconut Spiced Rum, and Bread Pudding 2 I think you have?
I have an extra sealed 1oz of the Cream and Marshmallow SC versions. And I can send you 30ml of the VG Condensed Milk. I would love to try just a small amount of the Cream Soda SC if you have any? To see if it's any better than this VG one before buying another bottle.
I didnt, wasnt sure i would like a rum vape, i used to hate rum when i drank tho i dont remember why.
I think the only one i regret not getting is the Butterfinger, i just wasnt sure as i have not really found anything chocolate that i like to vape. I think it is because vaping chocolates really makes me want to eat chocolate and once i get started! hehe.
I do have the Cream Soda SC, love it but i never compared it to the VG and i should.
So,
Yumberry
Cream Soda
Condensed Milk
Pacski (you gotta try this)
Any others? BTW, that BP is going to be interesting to work with, i was turned off by the smell and then i tasted it.
I don't use the calculator here, I just use the stash for finding recipes. In the DIY Juice Calc I use by @Hotrod75 I set them to Flavor (not Other) with pg and vg set to 0 and SG to 1.000 for measuring by weight. Not sure how the calculator here compares to the one I use but if I set a flavor to 'Other' in my calc I cant find/use them when trying to add ingredients.
While I also smell and finger test all my testers I have found with RF SC the actual taste of the vape can be quite different than the smell/taste, especially after a good steep.
oh boy can't wait to taste this, but kicking myself for not getting the v1 also. will need to add it to my cart for my next order.
I have only SF tested apple so far at 1.5% and liked it a lot. I already have 14 recipes in my calc for future testing that use the sc apple with an avg % of 1.17%.
yummy, I will be mixing this and the other 6 betas I got today or tomorrow.
added to my favorites for when I get some RF SC PB. All I have right now for PB is TFA DX.
Yes, It is a subtle flavor. The notes on the recipe side say avg 0.7%, median 0.4% in recipes.
I have it in 11 recipes to test in the future at avg % of 0.93%. I SF tested it at 1.5% and have used it in one recipe tester so far (an adaptation of White Mice Rice by @Pugs1970) at 0.9%.
Some of them do have small trace amounts of acetyl propionyl if it makes you feel better