EXCEED Edge POD system with changeable EX series coil heads.

This is the new POD MOD system by Joyetech: It has a sleek design fashioned after a sports car or futuristic spacecraft, and it does look fast. It even has stylish LED running lights to indicate power status and low battery. It has a TPD compliant 2ml removable semitransparent POD cartridge that holds the e-liquid and coil in a comfortable mouthpiece. It comes in 6 attractive body colors: Black, Orange, Yellow Gold, Red, Brushed Silver and Dazzling Rainbow. The kit comes in an attractive 1.7" diameter X 4.7" long Plastic tube container which makes the package attractive for resale. The painted body is made of Zinc Alloy, and the POD itself is made of PETG (Polyethylene terephthalate glycol-modified) plastic.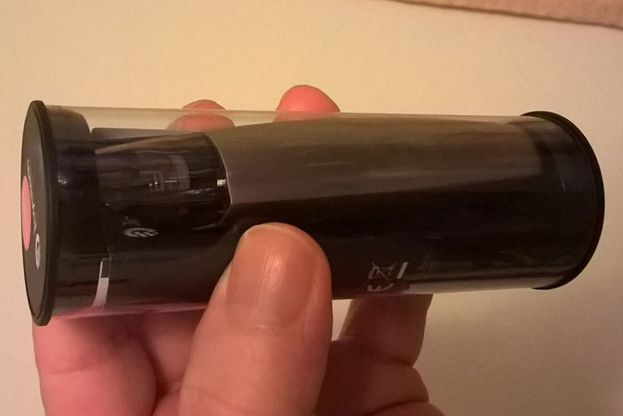 Marketplace: I think these new low power high nicotine devices will do well in the stores over time. We should know that tobacco smoke contains over 4,000 chemicals, of which more than 70 are known to be "carcinogens" or known cancer causing substance. Vaping in my opinion greatly reduces the level of consumed toxins, but does not eliminate them %100. These low power high nicotine devices allows those who choose to do so to consume less toxins, and still feel the full effect of the most important ingredient nicotine. Furthermore those who use them have the benefit of the device running longer between charges.

The Edge is a nice compact and highly portable device; my impression is that it is more of a starter device that would be great for a first time vaporizer user. It does not make a huge cloud and I found myself hitting it excessively with my normal 9mg e-liquid to get the desired nicotine effect. The device had good taste and great effect Mouth to Lung (MTL) vaping while using 28mg e-liquid. So I would recommend (for this device) using the higher nicotine e-liquid made with nicotine salt base. I found the POD difficult to fill with e-liquid because of the small round fill hole. It would be nice if Joyetech sold a deluxe kit that included an extra POD, and a needle point e-juice bottle like is used to fill ink cartridges. The mod is very ergonomic and has a good solid feel and heft, and it has a large comfortable fire button. The button is so large you should be sure to turn it off to avoid firing it in your pocket. Although this device has a changeable coil, it is suggested to only use the Joyetech EX 1.2ohm MTL coil in the EXCEED Edge.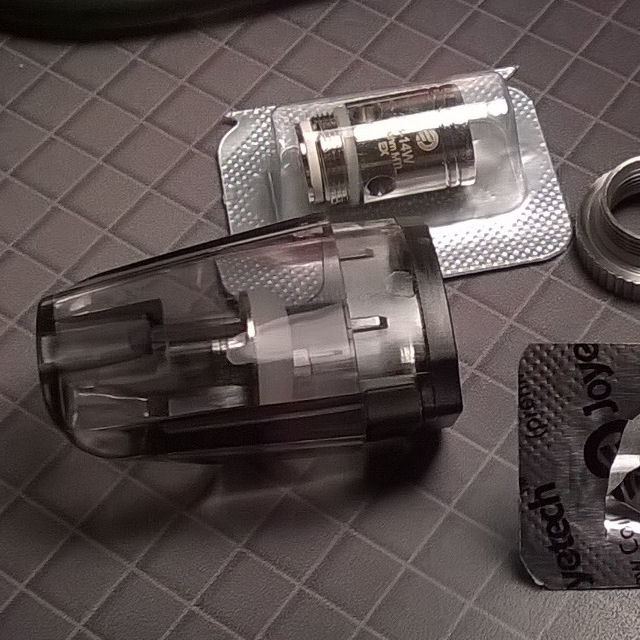 EXCEED Edge Kit Contents:
1 X EXCEED Edge Battery

1 X EXCEED Edge POD

2 X EX 1.2ohm MTL Coil Heads

1 X Quick Start Instruction Sheet.

1 X Warranty card

1 X Prime and filling instruction card

1 X Package of spare parts (containing 1 spare O-ring seal and 1 spare Juice fill port cover)

1 X USB to Micro USB charging cable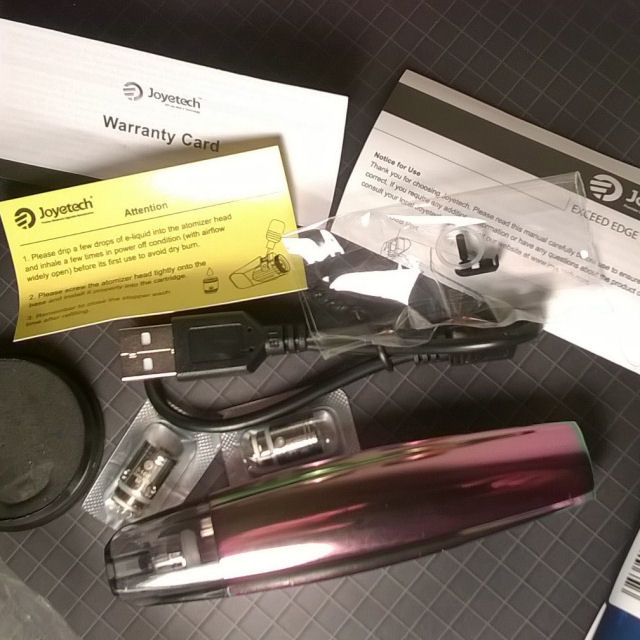 Device Specification:
Size: 26.5mm X 110.0mm X 20.0mm or 1.0" X 4.3" X 0.8"

Weight: 74.0g (2.6oz) for the mod or 119.4g (4.2oz) for the retail packaged mod

Colors: Black, Orange, Yellow, Red, Silver, Dazzling

Output mode: Direct output

Cartridge capacity: 2.0ml

Battery capacity: 650mAh

Atomizer coil head: EX 1.2ohm 8-14W MTL coil
POD Specifications:
Size: 16.5 X 23.0 X 36.5mm

Weight: 7.0g (empty with coil)

Color: transparent smoky black

POD cartridge capacity: 2.0ml

Atomizer coil head: EX 1.2ohm 8-14W MTL coil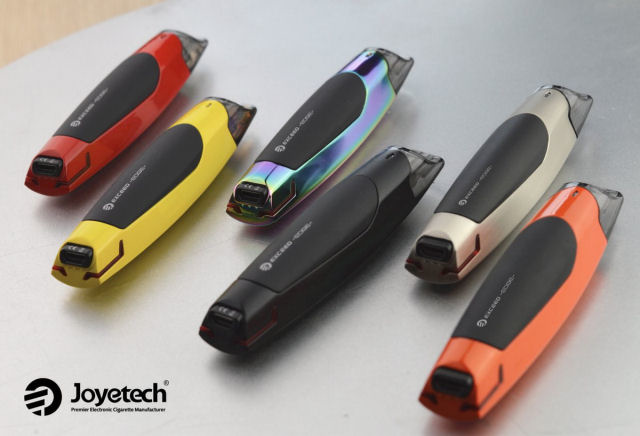 Key Features:
Ergonomically designed POD mod system

Attractive modern design

Small stealthy size

Comfortable mouthpiece

Cool quiet operation

Change the POD's coil head

Removable POD

Refillable POD

6 attractive colors available

Sturdy Eco-friendly material

2ml capacity and TPD compliant

No complicated controls, one button operation

Low battery and operational indicator light

Easy to recharge with the included micro USB cable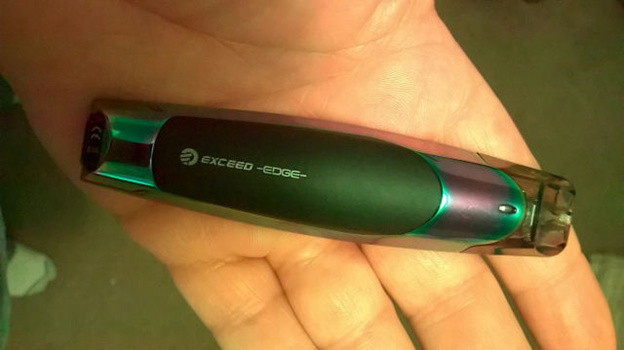 Wish list:
wish it came with an extra POD.

wish it came with a needle tip e-liquid injector bottle.

wish it came with an attachable pocket clip.

wish all the smokers in the world would buy this kit and quit smoking.
---
Review Contest
Rules:
Read (and hopefully Like) my Review, give me some constructive critisizim.
Tell us your thoughts on Joyetech. If you have never had a Joyetech device let us know that.
Tell us your best April Fools Joke, It can be something that has been played on you, or by you, or just one you have heard about or made up.
Rules/Prizes:
only 1 chance per participant.
I Will pick winner(s) based on rules adherence and/or random selection.
Prize(s) To Be Announced (but I have [at least 1] Edge by Joyetech)
Time limit: The winner(s) will be selected on April 11, 2018.
Winner(s) will be responsible to pay shipping and handling and applicable fees in advance using paypal.