I have waiting for mail delays!!!
I hate that I basically bought 1600+ dollars worth of flavourings and ended up tossing them all because I didn't store them properly when I moved. So I have to start fresh, unemployed and awaiting disability…

Yes, waiting.
The only thing you missed was waiting for my next paycheck that has spendable cash on it so I can order more sh*t I don't need.
Also, I now carry a man purse for my phone, keys, sharpie, meds, and of course 3 mods because who wants to go anywhere without their three favorite flavors?
Everybody laughs at me for having one but I love it

Well, yeah.
It's a scuffed up dark khaki over the shoulder sling that is trying to look all Indiana Jones, but its a purse.
Im 58. If I wanna wear a tutu I will.
I got nothin' to prove that I haven't already.
One thing I didn't see yet (many of these I agree with but no need to repeat them)- Having a concentrate on the shelf that's only used in one recipe that isn't mixed all that regularly. Regardless of the size, it invariably sits there largely unused , wondering what it did wrong to deserve the desertion.
Of the ones I've read here, I'd say cleanup irks me. Takes longer to clean up than to mix. Especially because I use the SV and USC along with the actual mix gear. So I try to mix a lot at once, which means even more cleanup. Yes I knock 80% off the steep time, but for that day when I mix, it's a bother. Worth it, but a bother.
Scales could help with that, maybe?
I use a scale. But I still have to put it away.
I hate putting mine up too… but I get so carried away when I pull it out… fun times!

I've said that many times. Not about mixing though.
Are you talking about spare change for the bubble gum dispenser?
The first 2 juices I made rocked, but now, everything I mix up tastes like crap, even after steeping. I am seriously considering throwing all my flavours/base in the garbage.
That would be a shame. I can't see which flavors you have, but I'm sure something good can be made of them. It just sounds like you need a helping hand to get you on the right track…
I'd suggest you create a new thread, make your flavors visible and explain a bit what you've tried, which recipes you liked and what the flavor profile is you're after.
Too funny! You all mentioned everything so ya all the above lol! If I did bring up one thing it would be. I hate using old flavorings cuz I'm too cheap to buy fresh ones.
Ugh … "steeping" … what's up with that ?

dunno… the most I normally wait is 3-5 days… not many for me beyond that point

The other thing I hate about mixing, is keeping up my list of soon to be empty bottles of flavor!!!
Here's something I hate.
My Nephew went gangbusters making e-liquid and selling it online with a business license and all, and purchased the majority of his flavorings in 2015.
After much trial and error flavor development, he developed many best sellers that provided him personal gain, and many of his flavors were relegated to the "I don't need this" closet.
So yesterday he cleans out that closet and gifts me with approximately 9000 ml of flavorings.
About 50-60 flavors in all.
But they're all about 50 months old.
So were I to use them I would be concerned that I'm wasting time and effort by mixing dud flavors.
If only I had a time machine, I could go back to when these flavors were new. The only problem is, the earth is hurdling through space at 67,000 miles per hour, so the chances of me ending up on earth 4 years ago is literally nil. So I would have all these flavors new, but I'd be floating in outer space and couldn't breathe.
Dammit!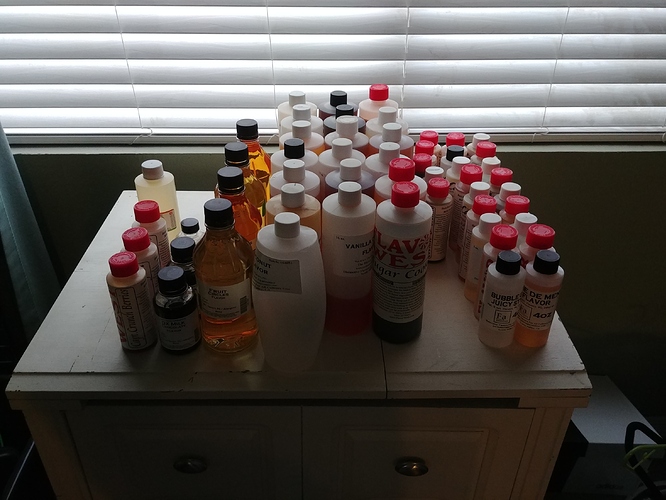 But, don't you want to wait for the "magic" to take hold, thus manifesting "golden bathtub unicorn tears" ?

PS - Smoky, your forum avatar has plum disappeared from view today. Rolling out a brand new model ?
Yeps back in the day all those would have been a beast of a load… mmm almost 5 yrs old…
I'd be real skeered to even try… but you can if youd like…