For those that use the GC homogenizer I thought I would post some parts I made for @Zippy at Flavor Chaser. Most are intended to DIY to assist with either handheld or use with a stand. Zippy purchased an inexpensive stand from Amazon and I made these parts that fit the upright rod.
This is a nylon ring with a nylon thumbscrew that slips over the tube where you can rest the generator on the bottle at a preset depth for handheld use.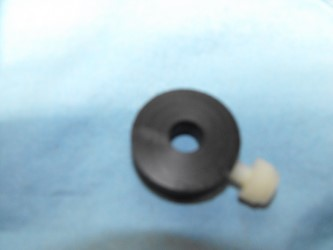 I also made a cross support pictured on the right that fits the upright rod and is used as a stand.
The disk on the support allows the user to insert the homogenizer tube at a preset height and lift up to place your bottle under or lift out to remove/clean etc. It works very well. By having a ring to set the height you can leave the cross support loose and just swing everything out of your way.
As time allows I will make set rings for everyone.
Something like this can be used to hold the GC or bottle, flask etc.