So. A positive affirmation of a definite maybe?
That's just it! Nothing!! I seriously sat down and pretended like money wasn't an issue and there wasn't 1 thing I wanted or needed! The only thing I wanted was the wismec dna200 but I just got one and couldn't be happier!
My list is never ending at the moment, I'm getting there though

But DUDE! You really need to try the OBS Crius. It's a BOMB RTA that chucks like The General and delivers flavor like Baskin Freaking Robbin's!
I second that.





10 to 1 he's looking it up on google rtm. LOL
who sells those size bottles?
I got a nice little package today…most excited about this one!
I love these little free sample bottles they sent me!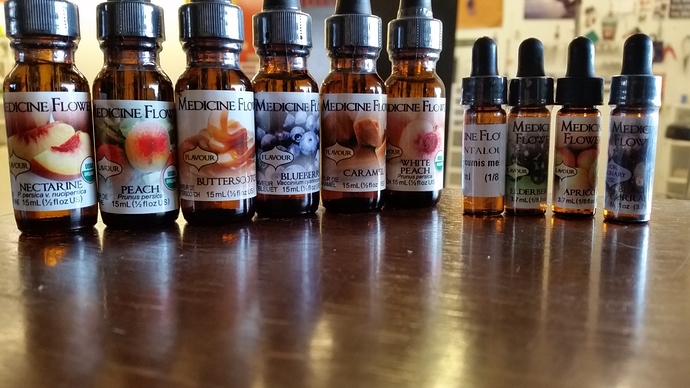 those medicine flower bottles…i havent seen those sizes anywhere…
Man, are you vaping something besides Nicotine?

They're the same size as 4 in your photo above. They're samples. And I'm pissed off too because I had to pay almost $80 for the 12 samples I received. Of course I was also applying for a wholesale acct at the time so maybe that's it. Still chaps my ass

Yeah, I saw they were the same size, but I didn't buy those, that's why I was confused…
Yeah, I'd be upset also…I am somewhat obsessed with fairness and I hate the fact that those who are more lingual and smooth with words get better treatment, or, in this case, get free samples… I've put it to the test more than once and in this case, I was right…
BTW, did you get my private message?
I did. Thanks for that. I like that dude.
Been a hectic day in the expedited freight world. Toyota is trying to kill me. About every 10 minutes today they've needed a truck to pick up in 30 minutes. They think there's an endless supply of expedite equipment within 30 minutes of all their suppliers. Oh well, if it was easy everyone would do it

I agree 100%
That tank is a steam boat. I am getting one in white for the Mrs, and might get myself a black one (already got the steel one)
Not happy at the moment with ECX there shipping is almost as good as Fastech. Ordered some flavors on the 27th and my order is still in Seattle on the 4th.
That's weird, they are usually fairly quick to ship. I would click on their "Live Help Chat" button at the bottom of their site and find out what's going on. I placed a fairly large order on the 28th and got it on the 2nd.
Yeah everytime my orders end up in Seattle I add 3-4 days.
Shaner I did chat with them and they said my order was in the correct shipping time line. So I said thank you and logged off. It will be here when it gets here.

hell, you can add FLV to that list right about now…i made a rather large order on Monday and as of last night, that order was still in there home post office!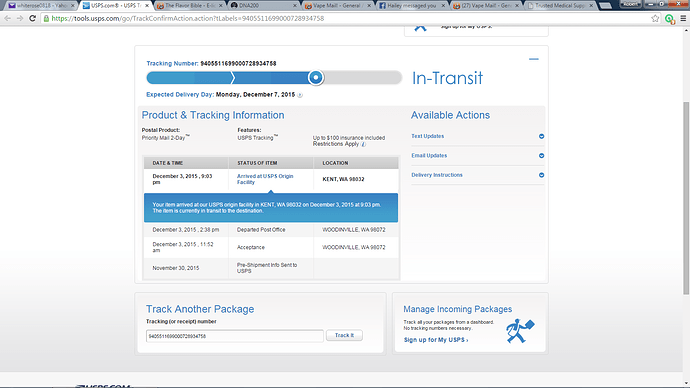 they wanna charge me $20 for shipping, plus i dont get any discounts because i ordered all big bottles…FLV is really sticking it to me hard…says my order wont see my office til Dec 7…WTF???
thanks FLV!
Well thats bullshit right there. I can see it taking a while when its free shipping. But when you pay 20 for shipping alone. It should be no more then 3 days.