yeah…and NO RESOURCE CODE!! fuckin assholes!
Oh ok , Capella took forever to send my stuff. It was like 5 days to process and 3 days shipping. It shouldn't take that long to put a order together. But if its showing at the post office. Then we all know how they can be. Some times they show every move. Other times they don't update nothing. Then all the sudden its at the house.
Shipping from anywhere, these days, is a crap shoot; win some, lose some. I ordered from ECX a few days ago and it was on my door step in three days!?! They are on the west coast…I'm on the east coast…go figure?
I ordered from BCV (45 minutes from my house) on November 29th and the package is still in the possession of USPS. Does it make me a little irritated? Yup! But, I have to stop and remember exactly what USPS goes through on a daily basis:
Would I want to work for the USPS? Nope! Bless their hearts!

Tell ya what pisses me off. That's when the company prints a label the minute they get the order and then take another day or even more to give the package to the post office. Guess they think we are stupid and will believe they are shipping in a timely fashion. Now that pisses me off !!!
Oh yeah i have a friend that works for them. They have one hell of a job that i wouldn't want. Anymore im just happy when my stuff shows up. I had stuff that shipped 3 weeks ago today from China, gearbest. And its still not here lol.
My postman is pissing me off. I ordered my son a tablet and instead of placing it on my front porch he stuffed it into my mailbox. He shoved in so hard that he disfigured the aluminum on the mailbox. I reported it to the post office and they called me back and will investigate. They said the mailman was afraid of my dogs even though they are behind a locked cast iron meshed gate 25 feet away from the front door. This guy is just plain lazy. I've actually seen him making multiple u-turns in the middle of my street because he forgot to deliver at some of the other houses. Bless his heart (ever notice how that phrase is reserved for the dim-witted?).
Gimme 10 mins and I'll tell ya. Need to re-wick a RDA. I just finished mixing up 20 ml of unflavored 30/70 at 6mg/ml. Took a whopping .25 mg of 500 mg/ml in 100% PG nicotine solution. Yea, my curiosity was getting the best of me.
A few days ago I made a post about wishing to get a new mod for my step daughter and had decided upon the Evic VTC mini, and went on and ordered it. Well I don't know much about the company I ordered it from but I wanted to tell everyone that at the very least they have very fast shipping. I placed the order sometime on the 1st I believe and received the device today. The company: https://www.worldofvape.com
Just thought I would throw that out there… and as a side note since I gave her the device already… she loves the small size and is very happy with the device so far.
There is a firmware update for that mod that will make it a 75w mod from a 60w mod. If it came as a 75w, it is probably already updated. You can get the firmware from joytech.
I believe when I placed batteries in that it showed up as 75W, also since she only vapes under 20W I wasn't that worried about it. I do like the ability to charge via the usb that this thing can do. always a nice feature if you low on power and in the car (with the car charger), your not totally stuck.
A nice scale sure makes mixing a snap.

In addition to the 75w, the 2.0 firmware gives you a much nicer screen (IMO).

It's a great little mod. I bought the 60w model for the wife for xmas and updated it before reboxing it. Took all of 45 seconds. I'm thinking of getting one for myself.
I remember your initial post. If I remember correctly I didn't respond but that's the very mod I would have recommended. I also seem to remember you saying she doesn't do temp control. Now you have something new to get her for Christmas or a birthday or something. A good topper where they have Ti or SS coils heads available so she can tap into that

But if she never uses it she still has an excellent little mod. I mean, it's just like my wife and her Mustang. It came with Sirius satellite radio but she didn't get a subscription.
Probably not the most appropriate thread to post this on but I'm not that important to start a whole new thread over

You guys probably won't see me for a while, so I want to wish you all a merry and happy holiday season and a safe entry into next year!
You guys have been nothing short of amazing this whole time and I have never seen such selflessness and generosity in high concentration, as I have since being honored to be amongst you.
Mad respect!
I will leave you with this, my vape mail has been plentiful and will continue on until Monday…
But for now…
PIG—IN—SHIT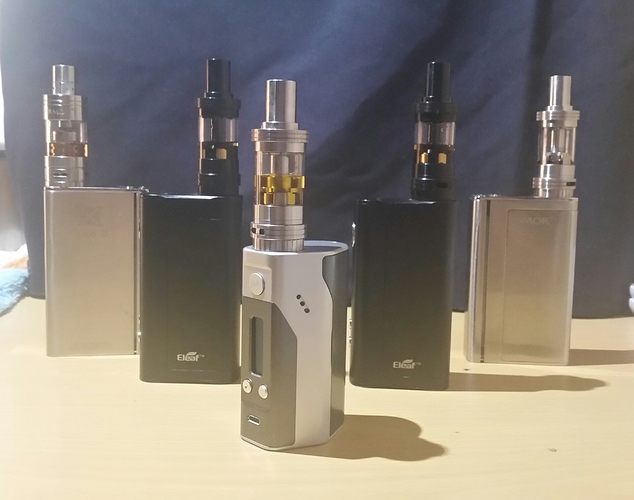 Happy Holidays to you and yours brother. Be safe.