so the heating element could be off if you want ??
I haven't been using the heating element much. My thought process was to turn it on for the first 5 mins on the lowest setting to make the viscosity more equal between the PG/VG and then just mix it for 30min.
It seems to be working???
I wasn't sure what effect heat would have on the nic and I only have a meat thermometer.
add the nicotine after you turn the heat off
Hadn't thought that simple.

marsh855, really like your new label maker, I went to Amazon and checked on the price and about had a heart attack, I'm on Disability, would love to have one, but this old 65 year old just can't shell out that much money, but glad to see that you have one. It really does look like it can do labels that a person can't even imagine !!
They are nice and fast but i feel your pain. I use Gimp,free software, print in black and white and "laminate" w/ clear packing tape. They still look great but have money to splurge on other things. You can get some ideas here :
Share your custom label designs, I'll start!
Just arrived today! Half to hand it to @Walt_RealFlavors for the choice of bottles, these 30ml gorrillas' are awesome andThank you for the sale price as well. Fyi for everyone bottles say 2-3ml per ounce of eliquid so 6-9% seems to be recommened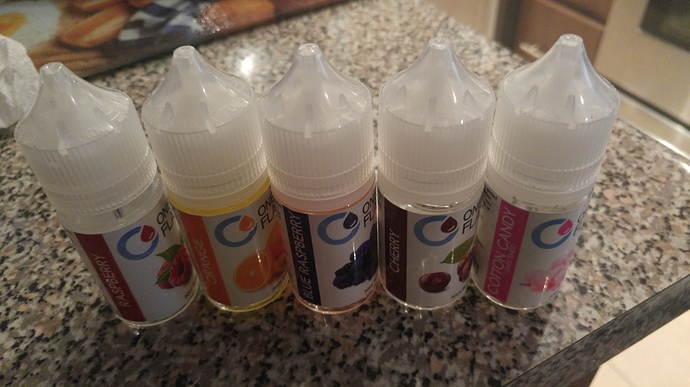 Some good lookin tanks you got on there😉
Was on the right web page at the right time. Couldn't pass it up.
2 Loch Ness Mods 1 red 1 blue in 8/10 finally getting some back ups just in case.
2 unopened Herkales RTAs (needed badly)
1 Unopened Mag Mod Kit
3 more tanks rdta & RTA's
1 Crown 3,
4 batteries
And both of these. Oh and some 120 ml juices. DIYr/retail sales. Paid $150 shipping included.All packed up and going out in Monday Mail, it'll be here (as long as USPS cooperates) this Thursday. Now I'll be able to really hook my son up when they come down in May.


can't wait to hear what you got to say.
@SessionDrummer where did you get those plastic step trays, for your concentrates?
I am not @SessionDrummer but try to search amazon for nail polish trays, that is where I got mine at
My wife's a beauty advisor in her depart and those nail polish racks are everywhere in there warehouse. They seem to be perfect for steeping. @SessionDrummer are they set up in a closet ? I've got a steeping shelve in my closet. Nice and dark and cool. I need one of those to set-up in the closet. Do you keep your nail polish holder in a drawer or closet ? It's a nice looking setup.
Got the rest of the Priests in to keep the copper one company…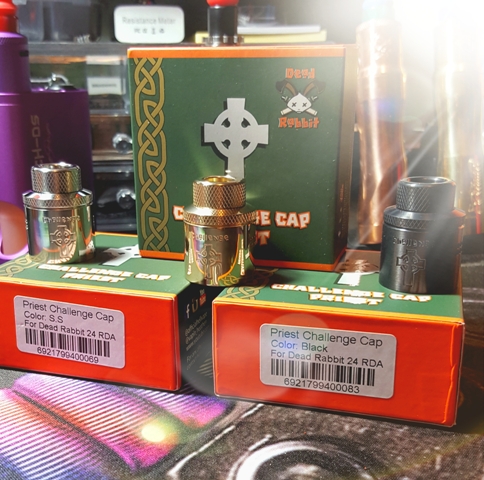 Back to work, will play with this beast later… and ask @Cutlass92 a few questions in discord. But had to check out the 20ml option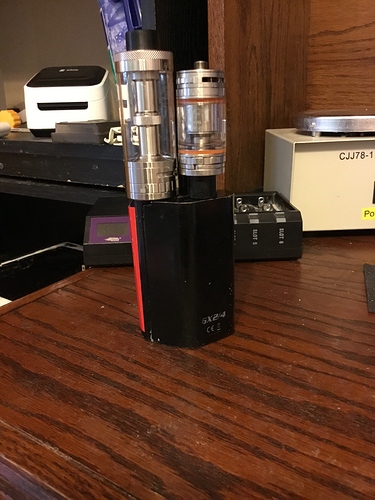 Thank you @whosyourdaddy. I think I have like 5-6 of those big display stands, but I'm already OUT of room LOL. You never have enough. I don't closet anything, except my big jugs of PG and VG. The racks (and flavors) just stay where they are. I have heavy curtains, so no UV coming in and I've had no real issues storing them like that, and I have so many now, it's impractical to set them all up, mix, then tear down. As far as steeping, I've never really did the whole, "Dark closet, dark drawer" thing, and I steep all my "not sure if I'm going to like this or not" mixes in clear PET bottles. Once I have a keeper, or big batching for sale(s), I steep them all in varying sizes of black PET bottles with twist tops.