Note: USPS under threat of stopping delivery of vaping related goods in March.
Note: US politicians in danger of citizens exercising their 2nd Amendment rights.

Continued from the vape-mail-2020 thread
then I just happened to be looking in the manual and packaging and they've got the RDSA pictured everywhere… can't find too much chatter on the thing (even on Youtube)… thank you good sir, ordering one now
@streamylc I'm glad that helps and that you were able to locate one. They also released a metal cap with additional airflow. Don't bother with wasting money on it, the flavor is greatly reduced with it. Unless you're collecting to keep the Steam Crave family members together. The Steam Crave RDSA likes big coil builds. I've been using 5.5mm diameter coils and there is room to go even bigger! Be sure to buy the silicone tip covers if you can find them. They are very nice and allow for chain vaping without burning your lips.
Just arrived today… A late Xmas present to myself (yes, everyday is christmas for us vapers isn't it?

) .
Aspire & Sunbox Mixx SBS mod dressed in sexy Tuxedo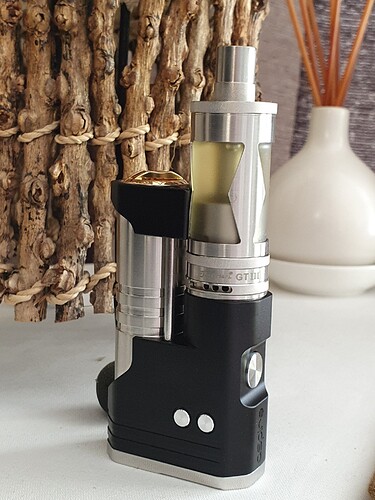 UH OH. 22 flavors ?? !!!
I was INTRIGUED by Delosi's statements regarding their VG…
USP Vegetable Glycerin

US Pharmaceutical Grade.
Kosher Certified.

Delosi® Labs Vegetable Glycerin (VG) is the highest quality available with a water content of only 0.03-0.05%. It is the thickest, purest, un-diluted VG on the market and has the consistency of cold honey or molasses. Simply put, thick VG makes thick clouds; water makes steam. This is the best VG for Soaps, Lotions, e-Juice, e-Liquid or any other application where pure, un-diluted VG is required.
Upon receipt, TWO THINGS came immediately to mind.
The VG is the THICKEST VG, I had ever used.
The Delosi Vanilla Cream almost had me DRINKING IT, it smelled soo good !!!
Juggerknot V2 is no joke, this is my second one, first one was ordered as an afterthought to get my hands on the new QP Violator. Running a single 4mm in this one and the flavor just pops. The other one dual 3mm triple core and the flavor rivals a great mesh RTA. Seriously impressed with this version, was not a fan of the first Juggerknot. This might just be my favorite QP tank for flavor over the Fatality, which I love as well, and definitely has the edge flavor wise over the new Violator.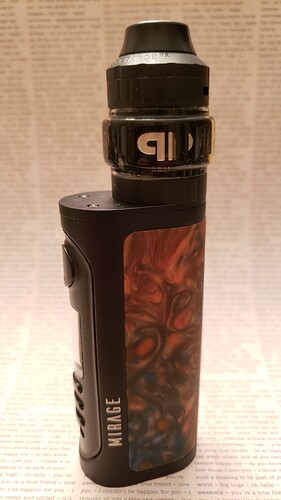 Thanks for link im gonna order 120 ml VG to see whats what…
Delightfully Mediocre lmao
The VG is SHOCKINGLY thick.

did you ever get to use the VG from Gremlin DIY/ Farms? they used a brand called Silver Fern Chemicals. unfortunately they stopped carrying it sometime last year due to Washington state not allowing PG/ VG/ nic to be carried alongside flavors bc that "proves its for vaping". so lame.
anyway, I swear that VG was better than any other VG I've ever gotten (usually Musim Mas VG). it's not like make or break different, but I could def tell the difference between juices used with the different VGs (the stuff from Gremberry produced more clouds, the VG was slightly thicker, the flavors seemed to be a tad brighter/ more pronounced, the VG alone tasted a bit better like "cleaner" it's hard to explain). Again not a gigantic, insanely noticeable difference, but enough for my picky self to be able to tell the difference between the same recipes. I'm really excited to hear your thoughts on the Delosi VG!! I emailed Silver Fern Chemicals to ask where I can buy their VG (as they only sell 55 gallon drums lol) & they said they'd look into it for me in Nov & I still haven't heard back

I'm anxiously waiting for your results. I have sugar cookie, custard, vanilla yogurt, peach, watermelon and chocolate coconut in my shopping cart.
I may pick up their VG too.
@errrkah I never tried Gremlin's VG, and can't comment on that.
I'll let you know @robin, all 22 are mixed up and short steeping.
I forgot my main point in there LOL, I had also noticed that their VG was thicker than any other VG I had tried, so I'm def going to grab some of this Delosi VG!!! I feel like thick VG is a better sign than thinner VG! thanks for sharing with us! excited for your Delosi SFTs, my wallet won't be grateful but I will
I have the VG and several flavors in my cart waiting to hear your outcome also

I don't have anything in the cart yet, just wondering, are you gonna do those alphabetically or just start off with the Glazed Donut ?
Also with the thick VG, is there a huge difference in SG that needs to be taken into account when mixing

Not sure on how I'm going to do them yet @Rocky02852 hehe. As far as the SG, not sure. I'm comparing it to my current VG stash, and it DOES appear thicker.
Anyone know why OOO discount code isn't working?
Ah ha! That's another one, vanilla. Caramel and vanilla, the two flavors I'm always looking for as the holy grails of. I just happened upon your post per chance. I have Delosi Caramel and not impressed unless 7-8% is not enough! IIRC, the suggested pct was high.
@Rocky02852 I just placed some orders from OOO and OSDIYS. I got your fav Honeycomb cereal one. Can't remember the right name now but that and Glazed Donut and VC Cheesecake.