Holy smuts, that's beautiful!
Good to see VSO now carries 15ml, didn't know that, use to be 30ml as the smallest. The VSO Coconut and Espresso are delicious, didn't know caramel was now available from VSO.
I haven't been keeping g up on flavor brands. Where's VSO Flavors from? Have they been around for a while?
@INOIROC Shane's been making some really good flavors for a while now, and I had the chance to try out some of them, and some of his One Shots / Blends too.
Also going to be testing out the Lost Vape Thelema Quest, and the GeekVape Obelisk.
Nice to see a tiny Red Dates making an appearance.
Damn…whats the peach and wild BB for…There are a few flaves i should buy in that size but I get worried ill all of a sudden not need them lol
Sounds like me,

learnt my lesson ordering big bottles early on
That happened to me with FW Hazelnut. I finally broke down and got a big bottle (120ml) and have barely used it since. I started finding other nuts that I liked and when I went back to it I just wasn't into it anymore. Maybe, I should get rid of most of it.

Hehe, I know. I burn through them pretty heavy and I have my low warning set at 500ml. Both are actually not the strongest flavors.
I found a 100ml bottle of LA CCI the other day that still has the tape on the cap from when it was shipped.
Must be about 3 years old now

Obviously still had some when I ordered that big bottle, which I'm sure if I looked I find that as well

Ahhh that sucks …And the fact that there are better replacement flaves for that really sucks
Alright @Deb50 I keep looking at that gem. What is it ??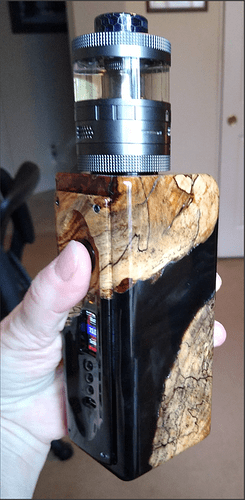 It is a JD Customs DNA 250C 4S Lipo. It's a beauty but HUGE. lol
It's my first Lipo mod and that's still throwing me a bit as I don't yet know how to really use them properly. I know not to let them drain down past a certain point and not to let them sit at 100% without using it ( that has me puzzled ) I mean if it's sitting it's gonna drain a bit right? Or maybe they don't, I don't know. I charged it to 90% last night and I looked it it this morning and it was at 88% so it obviously did drain a little. I will get used to it and learn all the do's and don'ts