Oooh, I loved The Stand!

M-O-O-N. That spells "read it about a dozen times and still can't get enough of it."
Laws yes!
Currently reading "Ahsoka". It's a Star Wars novel.
Don't judge me…
Have you ever seen the US TV series "Castle"? It's based on a book series by a guy writing under the nomme de plumme (spell?) Richard Castle.
The book series is about a detective by the name of "Nikki Heat" who's forced (at first) to have a journalist ride along with her during investigations.
I'm on book 6. Don't let the ABC or Disney branding fool you! It's more adult than you'd think with publishers and branding like that.
Very good series, so far. Really draws you in!
BTW, I've not watched a single episode but in book four or five, they VERY briefly mention the journalist talking about a movie option based on one of his articles … (LOL giggleSnort) … Someone mentions a Nathan in the background … Fun fact: Nathan Fillion plays the journalist/novelist character in the TV series… Hahahaha can you break the fourth wall in a book… LMAO
I finally finished "Acceptance". Meh. IMO you can just read the first book of the trilogy and call it a day.
Also finished "The Curious Incident of the Dog in the Night-Time" by Mark Haddon - that was pretty entertaining.
Currently reading "Let's Explore Diabetes With Owls" by David Sedaris - pretty entertaining. I don't know what I was expecting, but it's sort of like reading a stand-up comedian's set.
That one is staring at me from the table. Gotta finish the Pendergast series first.
The Pendergast-series - you're reading 20 books?

I assume they're good? I'm looking for something - I'm almost done with "Lamb" by Christopher Moore. Not as funny as the reviews led me to believe. Not bad, but I had hoped it was funnier

EDIT: I guess we'll see - I just sent Relic and Reliquary to my Kindle

Though I just realized I have a few actual paper books that I haven't read. One of them is "Jonathan Strange and Mr. Norrell" by Susanna Clarke…
Yep, 8 more to go, I can't put them down.
Already dreading the black hole that will follow after finishing the last book of the series.
It will take me a while to get into something different after that.
Give that Richard Castle series a try, @Josephine_van_Rijn. They are supposed to tie in with the TV show but it's not necessary to watch to enjoy them. They're surprisingly good.
Thanks girl, I've got plenty on my reading list, that's not the problem.
My mind has to adjust after a binge like that. Anyway, I'm not there yet, just starting two graves.



Well, my holiday is over and I've just finished the last of the Pendergast books. It begs for a followup.
I hate that, when they leave an open ending and you have to wait for the next one.
I hope they write faster than George R R Martin, still waiting for the final two books of GOT

Started on the Curious Incident of the Dog in the Night-Time.
It's for kids actually, 12 to 14 year olds so perfect for me.
It's rather funny.
My dog writes faster than that guy.
This Is Going to Hurt: Secret Diaries of a Junior Doctor.
It is about the everyday challenges a junior doctor faces. very witty and interesting.
Astrophysics for People in a Hurry
Very accessible and interesting, even if you know quite a bit about astrophysics. narrated by the legend himself Neil deGrasse Tyson.
The Euro: And Its Threat to the Future of Europe
For those interested in European politics.
I picked up a few books of the street. One of them is from Caroline Kepnes, called Providence.
There's a Netflix series based on one of her books, You. It's the one with the creep who can't keep his girlfriends alive and then has another problem keeping them dead.
I got through about a third of it but I find it boring and pretentious. Maybe I'm not in the right frame of mind, or maybe it is boring and pretentious.
So I started on another one called Silent Scream by Karen Rose and found this little nugget inside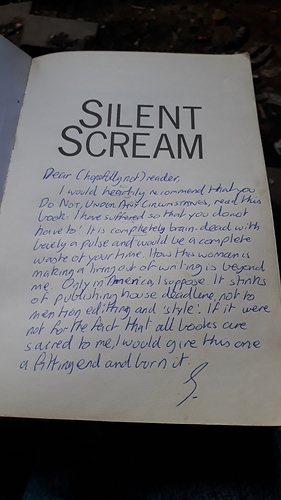 I got through a few pages of it, but so far the foreword has been the best bit.

I gave it a rest and have now decided on Anathem by Neal Stephenson.
See how that goes

Recently finished re-reading Joseph Wambaugh's The Choirboys. Havent read that in decades. Still a great book(so much better than the movie)! Not a PC book by any means and although a novel, it gives a little insight into what policing was like in the 70's.
I'm currently reading the young adult "Matched" series by Ally Condie. After that I'll be re-reading the "Acorna" series by Anne McCaffery.