Think of what you can get with those, you can work in warehouses, shipping/receiving, etc… Now that you've worked at place that does some sort of inventory and whatnot. Try and find jobs that include such work, when writing a cover letter highlight why you're interested in a position that has that sort of work.
Cover letters are a great way to set you apart from just a bunch of people handing off a resume. I'd like to think I'm somewhat decent at them because I've had to read them when I was in the position to hire people. They usually were at the top of the pile here at least.
It also helps to bring up the website of the job or job description that you're applying to. Often times the person reviewing the resumes will be the one that wrote the advertisement for the position. That's one good trick, because it means you read in detail the message and presented key points from the Ad that seems to perk people's ears up. But not word for word, maybe just a phrase. etc etc.
Regardless, winter is usually a really good time to look for work in Alberta as things pick up quite a bit when the oil patch is getting busy…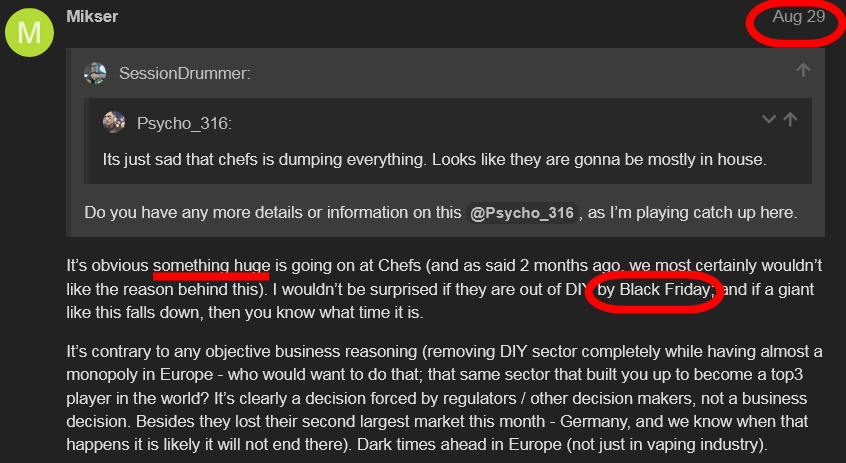 (
here
)
So so sad. Thank you Chefs Flavours for all these years!
Wow @Mikser you called that one pretty spot on.
It just didn't make any sense what they said the cause is - to stop DIY and start oneshots only business.

Nailed it they are out of business
I'm kind of sorry I've ever posted this (different topic). Don't get me wrong, there were interesting segments, but…
The amount of mails were driving me bonkers. I got one mail where this doctor was talking about something like 7 ways to protect yourself and your family against the next, deadlier Covid pandemic.
You had to buy his book to find out, naturally. I hate that. If I knew 7 ways you could protect yourself, I would tell as many people as I could.
Everybody seems to be a fucking parasite these days

A lot of that going on these days.
Gotta make money before the Saudis switch from the Dollar, then BOOM Central Banking Digital Currency time baby, get your shots or don't buy groceries, pay bills, fuel or nicotine!
I'm not getting the jabs and if they want to prevent me getting food, good luck.
My place up north has plenty of deer and black bear running around. I've got enough wood on my property that I'll have heat till I'm in the ground.
I was up there all this week. It was nice being away from all the bullshit.
Well reach out, help people out if things start going south… Good to have a couple jerry cans on hand or if you have a slip tank even better.
The action group Viruswaarheid (virus truth) has stopped yesterday.
Their bank account has been closed, ING! The government has labelled them a terrorists organisation and told the bank to eliminate them financially.
Three court cases against it to no avail.


Who's next?
I admire your persistence @Joel

I used to point my finger about 2 inches away from my brother to instigate him to try and hit me, I'd hover it around his face and be like, "I'm not touching you, I'm not touching" you.
That's why it's called 'The City of Brotherly Love'