Seeing as how the old one (2019/2020) is now 1600 posts long… We need a new one!
I got the GC recently so I am mixing things I may not have been bothered with before that have long steep times. Recipes with thick creams and custards with some other long steepers like MF flavors and others such as Pandoro that usually take a few weeks. I am also making my way through a heap of SFT I have not had a chance to get to. Look forward to everyone's creations and awesome inspiration.
Great looking recipes you have there mate, thanks for sharing. Apart from the Strawberry Biscuit are the other flavours the same as Purilum but just branded Nicotine River? I know that they have something to do with each other but I'm not certain.
@Lucas_James_Holden, sorry about that, I loaded the flavors incorrectly, they all are Purilum from River Supply Co.
As far as the connection between them and River Supply (Nicotine River), never did find out the exact relationship. I couldn't find Purilum sold on any other site, but they are (apparently) a separate company.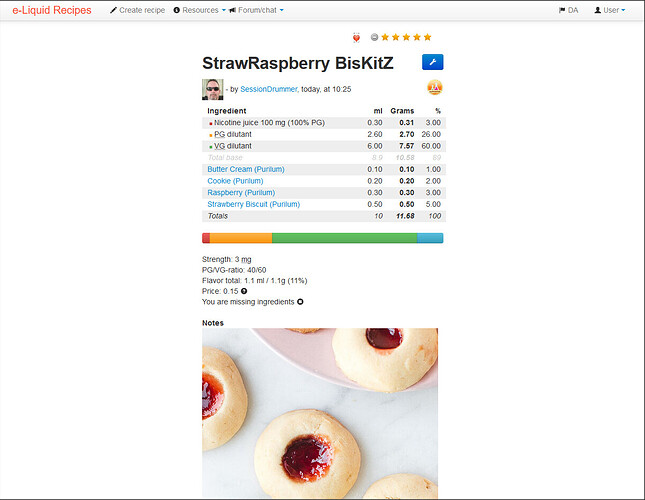 Mixing Today, a little Blueberry-Yogurt mix Experiment. See what happens in a couple weeks.
BLEW-GERT :
0.60% Blueberry (MF)
2.00% Blueberry Jam (CAP)
1.40% Lemon Cheesecake (SSA)
3.00% Sweet yogurt (SSA)
Flavor total: 7%
Also mixed up a half dozen peach / nectarine mixes still chasing the Sugared Nectarine profile
No problem mate, I'm glad to hear that the flavours are by Purilum as this means that I will be able to try your recipe now. Only a handful of Nicotine River flavours are available in the U.K. and luckily one of them is that Strawberry Biscuit you are using.

Rainbow Vapes sells both Purilum and some of Nicotine Rivers flavours and NomNomz sells Purilum. I use both of these vendors and they are both very good. Rainbow Vapes offers free shipping on orders over ten quid.
looks good Rocky… get that GC out will ya!
I just got mine the other day. Looking forward to putting some time aside to put it together and get things going. How is it working out for you so far?
Pretty good. I have a little set-up now that is working for me very efficiently.
I'm vaping Freshpie's Old Skewl (Vanilla Custard S&V). This 3 flavor combo has endless possibilities besides being a quick vape custard (without containing any custard!).
Sounds great. I think I'm going to get a small crock that I can set up in my vape space so I can have everything at my disposal. What are you using to heat your liquid?
I use a baby bottle warmer. I now just put 20ml of water into the compartment and it heats 30ml of VG to over 60C in 2 minutes easily. I made a video showing 100ml of VG being heated to 62 degrees in about 4.5 minutes as a test for larger batches.
Thanks for the heads up on the Purilum mate,it's much appreciated. I have a few of those that you listed except for the Boysenberry Preserves and the Lemonade which I shall have to pick up on a future order. I had been after their Condensed Milk for a few years before it became available here in the U.K. as it was in quite a few recipes that I fancied and I also managed to get one of their popular coffee flavours but the name escapes me right now.
The strong fruit flavor is perfectly integrated into it, giving people a rare enjoyment.
Would it be Cappuccino Coffee? I have that one and waiting to be tested.
Care to link us to the product? I like the fact that it's small.