Hey folks,
I'm new to the forum and new to mixing. Mixed my first batch last night. Wasn't bad but I had some question for those in the know.
I bought a starter kit from a Canadian company that came with everything but the nicotine. My bad, I made the assumption that a starter kit would have everything to get started. So I ordered some Nic from another company. To get more bang for my buck the rep suggested I buy the highest nic ratio because the prices are pretty much the same. So I order VG based with 20% nicotine (Max allowed in Canada). Just to be sure I used these settings. Are they correct and do I check the "Use Vape Ready Nicotine Base?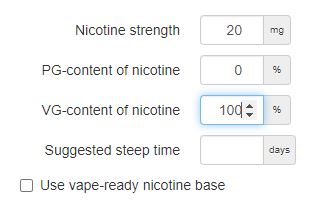 I also ordered some flavours and a couple of them weren't brand name. When adding to my flavour stash the others were found by brand name but two are just Cherry and Watermelon. How do you add those to your flavour stash or do you? In the future I'll just order brand name.

Lastly, when it comes to mixing I was wondering how you experiment with the flavours. A lot of recipes here use 4 to 6 different flavours.If I want to just create a Cherry flavour by itself and it calls for .30G do you add a little more because that's the only flavour and the same would go for multiple flavors, do you add a little less? Does sweetener help?
I know it's all about experimenting but just wanted some pointers to get started so I don't waste my overly taxed products. Thanks in advance!