May not be the best thing to say when a fella makes a reference like that!

You know I love you, Phil. After all this stress lately everybody needs a good laugh.
Not helping!!!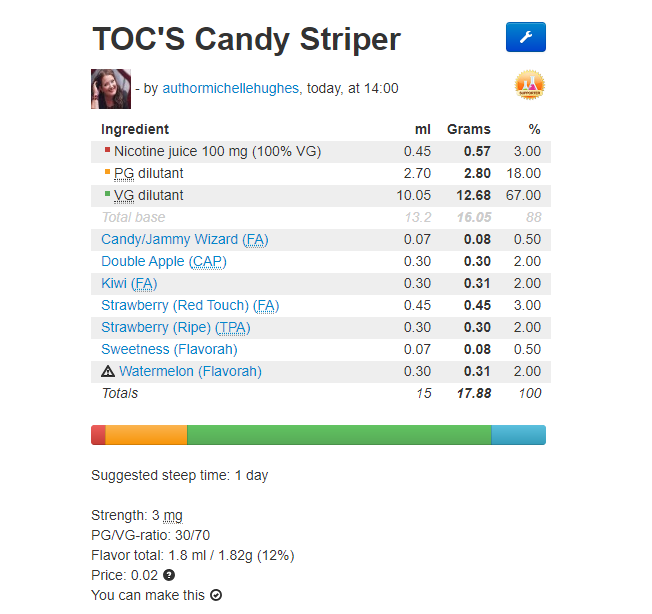 Mixing this up it might be a monstrosity or something decent. I was going to call it candy stripper but figured striper would work better…
This might make me really laugh…
Another example of how I do things

Ovaltine plain malt power contains Contains milk and soy ingredients. Sugar, Whey, Corn Maltodextrin, Malt Extract (Malted Barley , Barley , Caramel Color, Soy Lecithin), Nonfat Milk , Caramel Color, Beet Juice (for Color), Natural Flavors, Soy Lecithin, Salt, Molasses. I happen to love Ovaltine so my brain says hey let's figure out how to make this work. Recipe I'm working on for a Vanilla Malt milk shake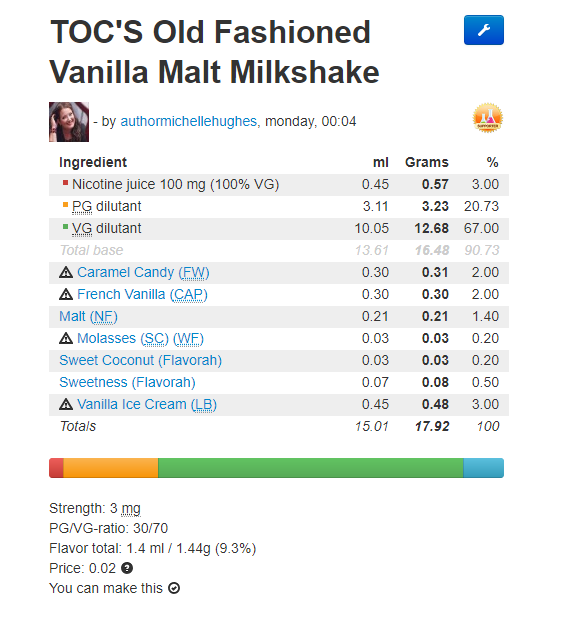 TPA Malted Milk is good for shakes too. Don't SF it at 20% because it becomes mozzarella cheese. Wait, you don't have to worry about that.

Heck no I don't have to worry about that LOL but I DID do a mix of brie cheese and cream cheese icing to see if it would work for cheesecake LOL it did but I added more cheesecake in too. And you forgot Steve 0's fun with cinnamon Flv at 21% that takes some serious coconuts LOLOLOL
Well, really I haven't be gone so much as not active as I mix my liquids here when I do. Business is busy but I'm trying to put some time in places I want to when I can.
That is good that business is busy, BB…
Im slammed here atm…

I cant complain but when a chance to sit comes, I am snatching it!

There is a reason why it is not there… like here… it will only start yet another argument on should you do solos or not. One would think common sense prevailed but its been shown not many use that either

yeps I went there yet again.
Seriously either do it or don't… Mix the same way like… forever… Do not change, while your mouth is begging to be heard, and your flavors change all the time. It won't matter, most can not detect flavor changes unless they are drastic changes. Who really cares?
Keep on happy mixing!

Note: @Rocky02852 this is not a slam towards you or anyone else… however it might wake up others that do not know any better. Those that do know… really do not care if others will or not… its all helpful suggestions… take it leave it do it or watch others do it…

That implies it was intentionally omitted ??
Screw it, I do a lot of SF Tests, someone make a tut on SF Tests, and let's add it to the list. THEN we can FINALLY END THIS.
It will be up there, and if people do it, or skip it, we never have to talk about it again !!!
Or you know people that don't want to SFT can stay on this post and those that do can go to the SFT topic (GASP) LOL that compromise thing you know. And Session I respect that you do SFT so the rest of us don't have to… Said it to you will say it here too. I'm glad Developed has written notes in detail as well… oops one more edit and HIC, and Wayne, and everyone who took the time to do this so the rest of us can jump on in and mix our little hearts out

Not a clue if it was intentionally or not… @daath could say tho…


I already make a tutorial on how I do flv sft… and that is part of the reason this thread was created. 4+ people in my mail box to confirm it.
We should change that to the more common term, "Single Flavor Test(ing)", and see if @daath can squeeze that link into his Beginner Tutorial Linkage Page.