Not with one of these Bad Boiz!!!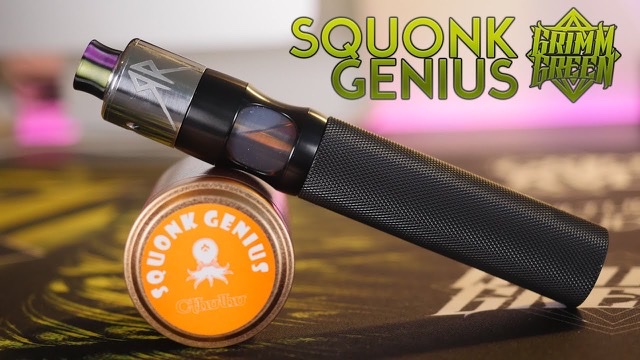 WHHAAAATTTTT???
but why have I not heard of this until now?
Damnit, Kinni… I had plans for today.
No! No! No!

Don't do it!
TOT-TALLY KIDDING!

It was a fair concept… just poor design! Bummed me out particularly, since I'm a mech guy.

I wanted it to work soooooo bad. Thankfully, I didn't $ fall $ for it before the reviews

Sum it up for me without making me watch a 7 minute video, eh?
…better than some of Phil Busardo's epically long BS reviews… where by the time he's done, you've thought about downing a couple of glasses of grain alcohol w/rat poison to make it all stop!

…the plastic sleeve dislodges from the tank when pushed too hard… SPLOOSH! Out it all comes on your mod!

Plus… big voltage drop, if you're not using a copper mech.

Not gonna lie, I could almost see this being re-done with proper R&D in the future … * crosses fingers *
…I've still got a well done, regulated, 21700, tube mod on my wish list.
I have use them both and I would say the Unity. I just don't take RDA's out and about. That's just me though. I mean, there is less chance of a mess when you have a Tank. Not only that but the Unity really does have spectacular flavor.
Therein lies the rub!

I agree @streamylc … it would be a cool thing to have and to hold.

How do you feel about unregulated tube mods… say, a Copper Keen? I run a Brunhilde MTL on mine most of the time; serves me well.

I've actually never used a mech mod before (only bypass mode on my regulated mods, which I'm sure is leagues different)
Lol not sure I could trust myself with one… been tempted to pick on up for home to mess with, and not let it leave my desk

The Unity is great, the Profile is great. The difference I see is that the Profile has a better mouth feel for me. Because the vape doesn't have to travel through a chimney, the vape is a bit denser. I use the Unity when I want to use a dual battery mod like the Gen that will last all day as opposed to a single batt squonk mod. Fitting into the back pocket is a plus when I'm out and about. The Rage is not pocket friendly.
Also I have to add that the Elder Dragon RDA is right up there with the Profile as far as…well everything. Give one a try and see if it fits to your liking.
I'm pretty darn excited to get my hands on an Elder Dragon.
I just wanted to clarify that flavor, airflow, and vapor quality are actually the least of why I consider the Profile top of it's class (even though it has those handled as well)… it might be something you'd not know window shopping for one online; but there's a reason the Profile stands apart from any other RDA I've tried, and it's the amount of cotton used to wick (and juice delivery being right behind that)… It's designed in a way that doesn't allow standard coil RDAs to come even close to doing what it does.
-way more forgiving regarding dry burns (how it impregnates/injects juice directly into the wick behind the mesh)
-way more wick life…
-hot spots are practically a non-issue…
-really hard to over squonk…
-and other things that are just nice little cherries on top (like how smooth and silent it's airflow is)
It's actually far from my favorite RDA anymore because of having to buying the mesh strips for it, and how much cotton it eats up if your flavor profiling, or wick wrong, etc… but it still conquers it's role and I've been unable to find anything else that can stand up to what it delivers. It and the Topside are made for each other as far as being on-the-go/"no nonsense"/user friendly hardware… which is ironic, because I have things that literally make me hate both with a passion… but they do what they do sooooo well that you can't really give them any flak.
(not directing this at you Marbles… I'm just stating it for the record/archives given the context of the discussion from OP

)
We've all got our reasons for liking what we do. Vape on brother!
I don't know any other squonkers IRL, but I have 3 VT Inboxes and 4 Topsides. I bought a shitload of bottles for the inbox, at least 30, maybe more. I have 14 TS bottles and I want more. I dedicate bottles to recipes I love and know I'll vape for a long time (I've been using a few for over two years now). I don't want nor like cleaning bottles if I really don't have to. I wonder how long the bottles will last. I haven't had a single one give out yet.
I use the Unitys for other recipes. I have three of them on three Battlestars so I can keep a constant rotation of new recipes going. I test all new recipes on a Hadaly clone. If I really like it on that, I know I'll love it on my daily gear.
Your lucky lol I've been through 8 bottles with my kanger dripbox 2, but they are plastic and not silicone so they crack over time, especially when I forget about plastic eater flavors and put a cinnamon or lemon mix in it lol, just ordered 10 more from slowtech, so I'll get to use that mod next Christmas lol
The Kanger was my first squonk, think I got about 10 bottles for that one. I imagine that even the silicone ones have a limited life as well. I wonder if they degrade. I guess I need to look into that.
Which mesh are you using?
I live for RDTAs! Ignore the crap about wicking issues, since that's mostly, idk, I can't see how the wicking is a big deal. BUT… I ignore every reviewer as well as the instructions. Always be able to see your wicks! That means cutting off like the quarter inch of cotton that you twisted up to get it in the coil. That's it…clip that even it up, and use a small piece of round wire to poke it thru the holes to the tank. You have to fluff wicks and comb them before you stuff, but they work just fine. Depending on juice, you'll most likely rewick every week. Any type of IJOY's RDTA box I have, and I have had to take a couple apart and re-do the seals (Smok has one, too, but, the flavor just isn't there.). I'd do it again as the vape is that damn good, too. Beg, borrow or steal a Wotofo Faris and slap it on any squonker…problem solved. BTW, if you have small hands, you'll want a small squonker, and for the money, Ijoy's Capo is really a good starter set up.