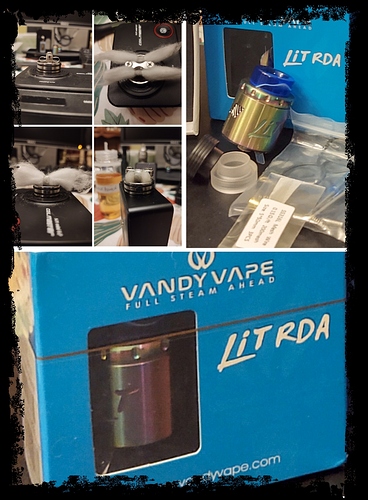 My first Mesh RDA. My first Mesh build.
Features of the

Lit RDA

Single post build deck
Clamp style post
Can be used with mesh or wire coils
You can mount wire coils horizontally or vertical
Can accommodate most any size coil legs
Can accommodate most any size coil
Deep juice well
Clever Air inlet.
Two types of inlet opening to choose from.
-The first is two arrays of 16 same-sized round holes, one on each side. They have it made so you can open each hole one-by-one!!
How is that
EDIT: I was mistakenly thinking of the Vandy Vape Bonza V1.5
-The second choice is two arrays composed of 4 angled slit openings per array, one on each side.
My first impressions:
Right away I was greeted by a nice smooth and dense vape. But hey, something is wrong, where is the flavor? I loaded the Squonk pump with a well steeped mixture of an adapted "Apple Punch V2" recipe that has tons of delicious Apple goodness.
I didn't set any kind of high expectation but this just didn't seem right. Unphased, I kept Vaping away, mainly because I was also trying out a new Squonk mod that uses a pump lever and I need to get a feel for how much juice is supplied with each pump.
Thank goodness, the flavor kicked in "the next day". I'm guessing that mesh (SS-316) takes awhile to break in? I don't know but now the flavor is definitely in the house, and it's very good


I think I'm starting to like the Lit


Boy is it thirsty! Like a Labrador on a hot summer day, it demands so much juice the Squonk pump can't even keep up. I maybe able to adjust the pump, I'll check and see, but I have to give a pump for every other draw. Sometimes 2 or 3 pumps. I haven't measured but it might be consuming more juice than my Steam Crave Aromamizer Plus. Maybe that's another thing with using Mesh? There is a lot of surface area with mesh and the way the mesh forms a figure-eight it essentially forms two big round tubes of coil. I didn't measure but I estimate at least 5mm openings, probably more.
Do I like it? Watch my short video and decide for yourself

UPDATE 9-31
On the way out to grab a healthy lunch from MacDonald's

I snatch a to-go Squonker, the asMODus Spruzza sporting the Vandy Vape Lit

RDA. I'm in gear and on the road, Pandora playing Motörhead (cover - Sympathy for the Devil), I hit the Mod and what do you know? No flavor.

Second hit and still no flavor. The cloud seems much thinner than I remember too. I close down the air inlet. That helped a little but this doesn't seem right. I open the air inlet more than before. Still no flavor and the clouds are not to be.








Than it hit me


Are the airholes on the barrel lined up with the massive Mesh coil?
No! No they are not. The barrel isn't keyed to the build deck. I position the barrel so the air inlets line up with the side of the Mesh and Wala, problem solved; Flavor and clouds galore. I am no longer "One Step Beyond".

I'm guessing this is why I experienced an unusually long break-in time. I had been putting the barrel on at random up to this point.

So, if this were a review and I were to list the Pros and Cons, I would list under the Cons that the barrel is not keyed to the build deck.
If Vandy Vape releases an updated version with a keyed barrel, I hereby rename it
     JiM210 in collaboration
   with Vandy Vape 🔥re-Lit🔥